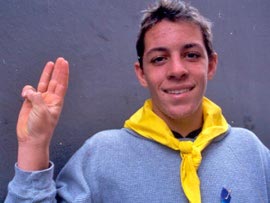 SCOUT'S HONOR
"To keep myself physically strong, mentally awake, and morally straight" have, since 1910, been the closing words of the Boy Scout Oath. The question of what, exactly, constitutes "morally straight" is the subject of Tom Shepard's award-winning documentary Scout's Honor, which will be screened at the Figge Art Museum as part of Quad-Citians Affirming Diversity's June 16 fundraiser.
In 1980, 18-year-old Tim Curran was expelled from the Boy Scouts when his troop discovered he was gay; 10 years later, Eagle Scout James Dale participated in a seminar for gays and lesbians at Rutgers University, and was similarly ousted. The expulsions of both men led to well-publicized court cases, and as an exploration of those affected by the Scouts' public stance on gays within their ranks, director Shepard's work could easily have been filmed in a spirit of righteous indignation and anger. Yet instead, the prevailing attitude in Scout's Honor - an often extraordinary testament to moral courage - is one of befuddlement.
Shepard interviews both Curran and Dale after judgment was passed on their landmark cases - Curran's ousting was upheld at the California Supreme Court, while the New Jersey Supreme Court ruled that Dale's expulsion violated the state's anti-discrimination laws - and both men speak with a surprisingly genial combination of incredulity and wonder: How could this organization they dedicated their young lives to treat them so shabbily?
The director underscores their confusion with well-chosen footage and happy reminiscences from the Scouts' members and advisors (Scout's Honor makes the Scouts' activities and community efforts look like tremendous fun), and Curran's and Dale's recollections are moving. Yet the stories you find yourself most engrossed in are those of Dave Rice (who will speak at the QCAD event following the screening) and Steven Cozza.
At the age of 69, Rice - a heterosexual man involved with the Scouts for some 60 years - was expelled by the organization for challenging its anti-gay stance via "Scouting for All," the not-for-profit group he co-founded dedicated to overturning the Scouts' policy of discrimination. And Cozza, a "Scouting for All" representative, was 12-years-old (and, like Rice, is straight) when he began petitioning to overturn the Scouts' anti-gay ban, enduring the ostracism and suspicion of friends in the process. In Scout's Honor, the integrity and conviction of Rice and Gozza is almost beyond inspirational; Rice seems as sensible and forthright a man as you could hope to encounter - the type of person every Scout should strive to be - and as for Cozza (currently a professional cyclist living in Belgium), he may only be 21 right now, but if he runs for president in 14 years, I'm voting for him.
Scout's Honor will be shown at the Figge Art Museum on Friday, June 16, at 7:30 p.m., as part of a Quad-Citians Affirming Diversity fundraiser, co-sponsored by the Petersen fund of Davenport's Unitarian Church. Suggested donation $20. For more information, call (309)786-2580.