Mississippi Valley Blues Challenge, 3 p.m.
The first Mississippi Valley Blues Challenge final round is being held at the festival this year with three bands vying for a chance to be named the victor. Each of the bands will play for 20 minutes, with the winner of the challenge qualifying for the 30th International Blues Challenge in Memphis, as well as receiving a paid bandshell slot in this year's Mississippi Valley Blues Festival - at 5 p.m. on Saturday, July 6.
The challenge started with three preliminary rounds at the sponsoring venue, The Muddy Waters in Bettendorf, where one band from each round advanced to the finals. The Mississippi Valley Blues Challenge preliminary rounds featured a strong field of competitors, including Harris Collection, the Jared Hughes Band, Mississippi Misfits, and Wheelhouse.
The three bands that advanced to the finals were the Chris Avey Band, Serious Business, and the Rock Island Rollers - playing Friday in that order.
Chris Avey Band. Chris Avey, former lead guitarist and backing vocalist for blues icon Big Pete Pearson, fuels the band with his stinging guitar attack and fiery vocals. Since striking out on his own with his band, he has released two CDs - the critically acclaimed Devil in My Bed and Preacherman. Chris's vocals and guitar are reminiscent of a younger, more-fiery Coco Montoya, mixed with a dash of Tab Benoit. Blues Blast Magazine says: "Blues with intensity and emotion. More energy than a power plant." The rhythm section is Dave Abdo on bass and Wes Weeber on drums.
Serious Business. In the spring of 2012, local blues band Serious Business took to the stage and won the Iowa Blues Challenge preliminary round at The Muddy Waters, with performance styles in rockin' boogie and soulful blues. This year, drummer Eladio Pena and founder and lead guitarist John Pena decided to create a new lineup that would give Serious Business a whole new sound before entering into the Mississippi Valley Blues Challenge. After John Pena recruited longtime friend and singer Willie "The Mac" McNeil and his son John Pena II on bass guitar, Serious Business has since created a sound featuring a combination of high-energy original material and cover tunes. Keeping it real with blues as the core of their live performances, people will also hear a combination of rock, jazz-fusion, funk, soul, and R&B flavors.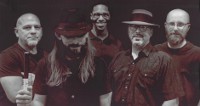 The Rock Island Rollers. From the heart of the heartland - Des Moines, Iowa - comes the Rock Island Rollers. Soulful and funky, their sound will go straight to your gut and move your spirit. Since their founding in January of 2012, the band has quickly become known as one of the best in the Midwest. Since winning the 2012 Iowa Blues Challenge, they've begun work on their first record, to be released this month. The Rock Island Rollers have one simple philosophy: Let the music speak for itself. The Rock Island Rollers consist of Jeff Bands on vocals and guitar, Heath Alan on sax and vocals, Justin Appel on keyboards and vocals, Kip Heaberlin on bass, and George McCutchen on drums. - Kristy Bennett
Jimmy Nick & Don't Tell Mama, 5 p.m.
JimmyNick.com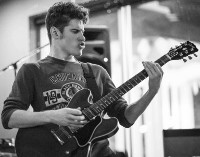 The band consists of Jimmy Nick Goffron on vocals and guitar, Ben Thompson on tenor saxophone, Lowell Todd on bass, and Joel Baer on drums.
Jimmy Nick is a blues-guitar prodigy who has been developing his chops and licks on guitar since he was 16 years old in Chicago clubs. That's where he cultivated his boundless energy and stage presence. He was a finalist in the Chicago Blues Guitar Slinger Challenge in 2012 and the winner of the River City Blues Society's Blues Challenge, and he performed at the International Blues Challenge in Memphis. He was also voted best band under 21 in 2006 and 2007 by Suburban Nitelife Magazine.
They put out the CD Whiskey 'n' Rain in 2011 with 10 original songs, and a five-song CD, Who Ya Kiddin', in 2013, which was put together for their trip to the IBC in Memphis. Don't let the number of songs keep you from buying it, though, because every song is great!
The first time I saw the group was when they were performing in Peoria's blues challenge. I was away and got a call that I'd better get over to that stage because you did not want to miss this band! The buzz was going through the crowd everywhere. By the time they did their final (winning) set, the place was standing-room only. I went another time to see the band when they were doing a full set rather than the shorter time period of the blues challenge; I wanted to see if they had the stamina and energy for a full show. Needless to say, I wasn't let down!
So if you're feeling down, blue, old, or just in a slump, then don't miss this band! I guarantee you'll feel a whole lot better afterward! - Steve Heston
Samantha Fish, 7 p.m.
SamanthaFish.com
Just since 2010, when Samantha Fish was only 21, she has seen an almost meteoric rise to recognition and fame. That year, she was "discovered" in her hometown of Kansas City, and through a lucky connection she was next asked to join Cassie Taylor and Dani Wilde for Ruf Records' Girls with Guitars CD project and the following tour of the U.S. and Europe. Then she won the Blues Music Award for Best New Artist Debut in 2012 for her solo effort, Runaway.
Samantha's guitar-playing has been described as a cross between Jonny Lang and Susan Tedeschi, and her throaty vocals belie her young age. Pitch of Kansas City describes her style this way: "Fish's sultry voice and rootsy, groove-oriented sound aren't quite Delta, Chicago, or KC in style but an amalgamation, with room for Tom Waits, Cedric Burnside, and Lightnin' Malcolm."
Fish started out as a drummer, but then picked up the guitar at 15, cutting her teeth on Bonnie Raitt covers. Observing local talent on the Kansas City scene - along with watching countless hours of B.B. King and Stevie Ray Vaughan concert DVDs - helped Fish become a gifted player. She considers the members of Trampled Under Foot her mentors for allowing her to watch them and jam with them.
According to the Kansas City Star, Samantha also studied a variety of blues players such as Freddie King, Skip James, Son House, and Charlie Patton. Live-music influences included Mike Zito and Tab Benoit. She was very diligent about watching other guitar players and then working out her "lessons" on guitar at home.
The Blues Revue review of Runaway asked this question: "If you're 22 years old, live in the Midwest, and have reviewers claim you 'paid your dues' after a mere two decades of life, can you really sing the blues?
"The answer here is yes, especially when supported by great technique, which Samantha Fish demonstrates magnificently on this debut solo album. One reviewer likens her to Alvin Lee of Ten Years After, while others place her in the pantheon of contemporary female guitarists, including Ana Popovi?. No mere clone, Fish is also inventive in the way that Hendrix, Jimmy Page, John Fogerty, and Bonnie Raitt made the guitar speak just for them." - Karen McFarland
Anthony Gomes, 9 p.m.
AnthonyGomes.com
What can I say about Anthony Gomes? Well I can start out by saying he is one of those artists that play with passion. You can tell this easily by the way he plays, the way he grips that guitar like it is an extension of his arm. He just doesn't play that thing; he is that instrument, at that time and place. Look into his eyes when he is performing and you will see what I mean. You can feel his emotion.
Yes, I have heard about and read many articles about this artist and also some of the questions asked. Is he really a blues artist? Well my answer to that is: Absolutely, no doubt about it. In my opinion he does it all. He rips off those blues riffs and sings like he has been doing it all his life. From the opening note to the last, he is there, in the zone or the moment. He has stage presence that is mesmerizing.
You can tell this artist has studied his history of the great blues players that came before him. He has respect for all of them, and it shows in his music.
I recently saw him in a small club in this area where he had two background singers with him, and I left thinking that this was one of the best blues shows I had attended in a long while. I was there, not just in the audience, but right there with him. He had the crowd up on its feet from the first song to the last. Anthony Gomes plays a song called "Blues Is the Medicine," and with him playing, it truly is. I read somewhere that sometimes music is the only medicine the heart and soul needs. Come on over to the bandshell on Friday and I think you'll agree. - Michael Livermore
Mighty Sam McClain, 11 p.m.
MightySam.com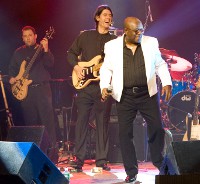 According to Richard Skelly in the All Music Guide, "Vocalist Mighty Sam McClain is a specialist in Southern soul-blues, one of the original masters from the 1960s, when the music enjoyed its peak popularity. He carries on the tradition of vocalists like Bobby Bland, Solomon Burke, Otis Clay, James Carr, and Otis Redding."
Sam McClain's family heard his singing talent when he started belting out gospel songs in church at the age of five. Born in Monroe, Louisiana, Sam left home at 13 to follow his recognized talent and was singing lead with "Little Melvin" Underwood by the age of 15.
Sam soon learned that the road could be harsh, and for 15 years he was ignored by the music industry and had to work menial jobs. At times he lived homeless and would have to sell his blood just to buy a meal. But it was that tough experience in his life that gave him the familiarity and life-living songs that later became Sam's gift.
At Sam's lowest time, he was discovered by the Neville Brothers and was soon touring and recording worldwide. Within a few years, Sam found his way to New England, where he recorded Blues for the Soul and Sweet Dreams, both receiving W.C. Handy Award nominations.
Because of his experiences, Sam has a deep desire to help the homeless, and in 2008 he co-wrote (with saxophonist Scott Shetler) and recorded "Show Me the Way" as a duet with Jon Bon Jovi. This song was added to the Give Us Your Poor CD, which continues to help raise funds to prevent homelessness.
McClain recorded Too Much Jesus (Not Enough Whiskey) in 2012. The following year the title song, written by McClain and Pat Herlehy, was nominated for a Blues Music Award in the Best Song category. For more than 40 years now, it's been full steam ahead for Sam. His performances translate his life experiences with amazing depth and power, singing from the bottom of his heart. His "Soul of America" song describes him best: "I'm a singer, a man with a song, and I've got a message for you." - Kristy Bennett