Reverend Raven & the Chain-Smokin' Altar Boys, 3 p.m.
ReverendRaven.com
I agree with how its Web site describes Reverend Raven & the Chain-Smokin' Altar Boys as playing "traditional blues, straight up with a big dose of passion. With smoking grooves, served up with hot harmonica and smooth, stinging guitar, they play original songs peppered with nods to Slim Harpo, Little Walter, Jimmy Rogers, Billy Boy Arnold, Junior Wells, and the three Kings."
In 1971, the Reverend saw Freddie King in his hometown of Chicago. That's when Rik Raven decided he wanted to play guitar. After serving our country in the Navy, he came back stateside and settled in Wisconsin, where he backed up Madison Slim (longtime harmonica player for Jimmy Rogers) for 10 years. Eventually, he formed the Chain-Smokin' Altar Boys and started opening for greats such as B.B. King, Gatemouth Brown, and Elvin Bishop. The Wisconsin Music Industry awarded them "Best Blues Band" in 1999, 2000, 2004, 2005, 2008, and 2010.
I saw Reverend Raven & the Chain-Smokin' Altar Boys the last couple of times they've played in the Quad Cities, and they were excellent shows! Reverend Raven plays guitars, P.T. Peterson is on bass, Bob Sellers is on drums, Danny Moore plays keyboards, and Big Al Groth is on sax. Start the party early and come on down to the bandshell at 3 p.m. on Saturday to hear this band. You won't be disappointed! - Jack Allen
Mississippi Valley Blues Challenge Winner, 5 p.m.
The 44s, 7 p.m.
The44sBluesBand.com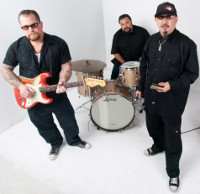 I first heard about the 44s from my Orange County (California) brother-in-law Tommy, who hangs out with L.A. guitar whiz Kid Ramos on a regular basis. Then the 44s got booked into the Muddy Waters here, with Ramos sitting in. (Kid was here for the motorcycle swap meet at the Mississippi Valley Fairgrounds.) Wow! This is a real blues band with that West Coast sound, original material, and mesmerizing rhythms to dance to.
And I was not alone in my praise: The 44s were the first band that the entertainment committee unanimously picked for a slot at 2013 festival. I predict they will be the sleeper band of the festival!
Making their first mark in the blues scene in 2007 when they finished fourth in the International Blues Challenge in Memphis, the 44s have been touring nonstop and playing blues-roots rock ever since. Their first release, Boogie Disease, was self-produced for $800 with the help of Kid Ramos and was quickly snatched up and issued on Rip Cat Records, hitting a peak position of number 12 on the national Living Blues radio charts and number two on B.B. King's Bluesville on satellite radio.
The 44s play vintage instruments and channel a blues style of days past, but there is a distinct rawness to this blues quartet. Based out of Los Angeles, the band displays a genuine talent for bringing its audiences to their feet and begging to hear more. Kid Ramos has said of the 44s: "They play like their life depends on it, and you can quote me."
The 44s make their appearance at the Mississippi Valley Blues Festival with a topnotch cast of characters, including Johnny Main (guitar and vocals, songwriter) and Tex Nakamura (harmonica), who will be giving a free workshop at 4 p.m. Reminscent of Howlin' Wolf and Muddy Waters, the 44s will have you up and rockin'! - Karen McFarland
W.C. Clark, 9 p.m.
WCClark.com
Blues Revue says: "Clark conjures the vocal power of Otis Redding and Wilson Pickett and the guitar of Steve Cropper and Albert King." Clark's mix of modern Texas blues, searing guitar, and heartfelt, Memphis-style soul vocals have made him a favorite of blues and R&B fans alike.
Known as the "Godfather of Austin Blues," W.C. Clark has been mentoring countless young blues and soul players in the finer points of the music for almost 40 years. Born in 1939, he began in the early 1960s a six-year stint with Blues Boy Hubbard & the Jets at the popular Austin nightclub Charlie's Playhouse. There he met R&B hit-maker Joe Tex, who recruited W.C. to fill the vacant guitar slot in his group. Clark toured the Southern "chitlin' circuit," learning music firsthand from Tex and countless soul and blues stars along the way, including Tyrone Davis and James Brown.
In the early 1970s, W.C. met and befriended Jimmie Vaughan's guitarist brother Stevie Ray. Clark eventually quit his day job as a mechanic to become the bass player in the Triple Threat Revue with Stevie, keyboardist Mike Kindred, drummer Freddie Pharoah, and singer Lou Ann Barton. While playing in this band, Clark and keyboardist Kindred co-wrote "Cold Shot," which became one of SRV's biggest hits, and recently earned W.C. his first platinum record.
In 1989, the critically acclaimed PBS television show Austin City Limits celebrated Clark's 50th birthday by bringing Clark together with his disciples Stevie Ray Vaughan, Jimmie Vaughan, Kim Wilson, Lou Ann Barton, and Angela Strehli. The broadcast, one of the series' most popular, brought Clark to the attention of a national audience for the first time.
On his 2002 album From Austin with Soul, produced by Mark "Kaz" Kazanoff of the Texas Horns, Clark made his Alligator Records debut. Clark's emotional duet with Marcia Ball, on "Don't Mess Up a Good Thing," is only one of the album's many musical highlights. Blues Revue declared: "With From Austin with Soul, Clark has painted his masterpiece. Few artists rival Clark's ability to sing as soulfully as Al Green and play guitar with such tasteful precision." - from WCClark.com
Kenny Wayne Shepherd Band, 11 p.m.
KennyWayneShepherd.net
Kenny Wayne Shepherd has really made a name for himself, even though he is still only in his 30s. He was born in Louisiana and met Stevie Ray Vaughan at age seven and shared the stage with New Orleans' Bryan Lee at age 13. Guitar World lists Shepherd as the third-best blues guitarist ever, placing him right behind B.B. King and Eric Clapton. He has sold millions of records.
His band includes Noah Hunt on lead vocals. While in college, he formed the band Uncle Six and recorded four albums; he has been with the KWS band since 1998. A familiar name, Chris Layton is on drums; he joined Stevie Ray Vaughan & Double Trouble in 1978 in Austin, Texas. Following Stevie's death, he and bassist Tommy Shannon joined with Charlie Sexton and Doyle Bramhall II and formed Arc Angels. He has played on many of Shepherd's CDs and eventually started touring with him in 2006.
Tony Franklin on bass is the newest addition to the band. He got his first big break playing in the Firm with Jimmy Page, but he has played with a huge number of people and has appeared on more than 150 albums. Riley Osbourn on keyboards is from Austin, Texas, and is a much-sought-after studio player who has performed on more than 100 albums. He joined the KWS band in 2007.
Shepherd realizes how much of an emotional role music can play in the lives of his listeners. He is quoted as saying: "I get up on stage every night to play my heart out and try to turn people on their ear. I want to bring light into people's lives with my music. If I can make people feel good for an hour and a half and they forget about whatever might be stressing them out, then I'm doing my job." One thing is for sure: He's been doing his job right for a long time! - Steve Heston