Detroit Larry Davison & Chris Avey, 4 p.m.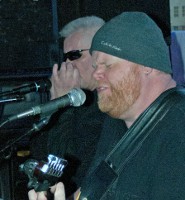 Detroit Larry Davison and Chris Avey are both veteran blues musicians on the Quad Cities scene. They are both stellar performers - Larry on harp and Chris on guitar and vocals. Together, their acoustic act sounds like Maxwell Street transported to your front porch.
Larry is acknowledged by local listeners - including other harp players - as the best harmonica player in town. He's been a vital part of many bands, including the Ellis Kell Band and John Resch & the Detroit Blues. And he took the stage in Memphis as part of the Avey Brothers Band when they reached the finals of the Blues Foundation's International Blues Challenge in 2010. (They were the only real blues band in the finals, but the judges were after something else.)
You'll be seeing a lot of Chris Avey at the 2013 blues fest. Besides this acoustic set with Larry, Chris heads the Chris Avey Band (finalists in the Mississippi Valley Blues Challenge), and the Avey Brothers are the host band for the 2013 after-fest showcase.
The Avey Brothers were voted back-to-back champions of the 2008 and 2009 Iowa Blues Challenge. They have shared the stage with many top-tier artists such as Kenny Neal, Delbert McClinton, Lil' Ed & the Blues Imperials, Walter Trout, Ronnie Baker Brooks, Lonnie Brooks, and Big Pete Pearson of Phoenix, Arizona; Chris was his guitarist and backing vocalist for many years.
So come on out to hear Larry's and Chris' set - more of the best blues that the Mississippi Valley has to offer. - Karen McFarland
Toby Walker, 6 p.m.
LittleTobyWalker.com
Making his first appearance at our festival will be internationally acclaimed finger-style guitarist Toby Walker. While not yet well-known in our immediate area, he comes to us highly recommended. John Hammond calls Toby "a real killer with fantastic technique."
I personally was first made aware of Toby Walker several years ago when he first submitted a CD for consideration for our festival. I must say I was less than impressed. In fact, in looking back at my notes (which I usually keep private), I commented that I thought he was a "frantic finger-picker with a frail voice."
Well, times have changed, Toby's changed, and, yes, I've probably changed, as well. His latest CD, Shake Shake Mama, is undoubtedly one of the best country-style blues CDs to be released in years. While still possessing the dexterity and speed to re-create the lines of Blind Blake or Big Bill Broonzy, his playing can now capture the raw emotion that other forefathers of the genre, such as Willie Johnson or Robert Johnson, first demonstrated. With his vocals, Toby has developed a more relaxed and mellow style that proves itself to be most appropriate for the wide variety of material he performs.
Toby's lovely wife Carol provided the solid backing on Shake Shake Mama on upright bass, and we are hopeful she will be here to join in, as well. If one show isn't enough, you can come early Saturday and catch his 2:30 p.m. workshop at the Freight House stage.
We know that at our festival with multiple stages, no one can see it all, but believe me, Toby is a "must see." Don't take my word for it, though. As Jorma Kaukonen says: "Flat out, you have to hear this great musician. I'm blown away!" - Bob Covemaker
Ironing Board Sam & Ardie Dean, 8 p.m.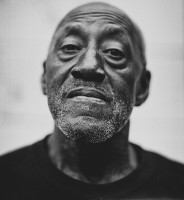 The Mississippi Valley Blues Society prides itself on bringing a diverse group of blues artists to the festival that may not be in the national spotlight but are extremely talented - blues musicians with many years of performing this great art form.
Ironing Board Sam is a Music Maker musician. We have worked before with the Music Maker Relief Foundation, which was founded to preserve the musical traditions of the South by directly supporting the musicians who make it, ensuring their voices will not be silenced by poverty and time.
This is what the foundation has to say about Ironing Board Sam: "After playing professionally for more than 55 years, Ironing Board Sam has amassed a staggering repertoire of both originals and classic blues and R&B songs. A truly gifted and engaging performer, Sam's powerful, soulful voice and remarkable piano prowess remain undiminished.
"In his heyday, Ironing Board Sam was nearly a total obscurity - working primarily in local scenes around the South with only minimal touring, and recording sporadic singles, all for different labels and none approaching hitdom. But those who got to see him, whether in person or on the R&B television program Night Train, remember him well, for Sam could put on a show.
"Born Samuel Moore in Rock Hill, South Carolina, in 1939, he began gigging locally on piano and organ at age 14. By the late '50s he was on the scene in Miami, where, lacking a stand for his electric organ, he mounted it on an ironing board. But make no mistake, Sam was already a showman - a slightly mellower Little Richard crossed with a slightly saner Screaming Jay Hawkins - as he moved back to Memphis, then to Chicago, Iowa, Los Angeles, [and] Memphis once more."
Ironing Board Sam will be accompanied by Ardie Dean on drums.
And for all you folks who have smart phones, check out the video of Ironing Board Sam at RCReader.com/y/sam.
Ironing Board Sam will also host a workshop at 5:30 p.m. - Michael Livermore
C.J. Chenier & the Red Hot Louisiana Band, 10 p.m.
CJChenierAndTheRedHotLouisianaBand.com
According to The Boston Globe, "C.J. Chenier attacks the accordion with the tension and drive of James Brown ... creating contemporary, turbo-charged dance music." Downbeat says, "Aspirants to the zydeco throne vacated by Clifton Chenier's death in 1987 are many, but Clifton's son C. J. may well be the true royal successor. He lets the blues and funk rip like a strong wind off the Gulf."
Clayton Joseph Chenier was born September 28, 1957, the son of the King of Zydeco, the legendary Clifton Chenier. C.J. grew up in the projects of Port Arthur, Texas, far from the bayous of Louisiana. His earliest musical influences were a mix of funk, soul, jazz, and Motown, and his first musical instruments were piano, tenor saxophone, and flute. It wasn't until his 21st birthday, after winning a scholarship and studying music at Texas Southern University, that C.J. first performed with his father and the Red Hot Louisiana Band - as a sax player.
C.J. went on the road with his father and the band, but by 1985, Clifton was ill from diabetes, and he asked C.J. to take up the accordion. After Clifton's death in 1987, C.J. inherited his dad's accordion as well as the Red Hot Louisiana Band. But he took his father's traditional zydeco music and infused it with elements of the music he grew up with.
When Paul Simon recorded his 1990 album Rhythm of the Saints, he handpicked C.J. Chenier to play accordion (alongside Ringo Starr on drums), then asked him to join his "Born at the Right Time Tour." Then Alligator Records signed C.J. in October 1994, and his debut album, Too Much Fun, became a favorite with fans and critics alike. A 1995 appearance on the Jon Stewart Show, and a 1996 performance at the New Orleans Jazz & Heritage Festival picked up by VH1 brought a wider audience to C.J.'s zydeco.
Alligator Records reports: "When zydeco superstar C.J. Chenier stepped onto the main stage at the 2001 Chicago Blues Festival and looked over the crowd of 60,000 eager fans, he had one thing in mind: get them on their feet and make them dance. Almost immediately after launching into their first song, C.J. Chenier & the Red Hot Louisiana Band had people young and old shaking their hips and cheering in unison."
That's the point! The zydeco of C.J. Chenier & the Red Hot Louisiana Band will make you want to dance - yes, even I will get up and dance to what C.J.'s serving up! What a great way to end the festival - by blowing the roof off the tent! - Karen McFarland