Selwyn Birchwood Band, 3 p.m.
SelwynBirchwood.com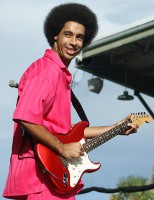 CD Baby says it best about Selwyn Birchwood's CD FL Boy: "Eclectic original tunes ranging from swampy roots music to upbeat front-porch blues to hip-shakin' funk grooves." That description applies to his band's high-energy live shows, too.
When I heard the Selwyn Birchwood Band at the Blues Foundation's International Blues Challenge in February, it was obvious to me that it was the best band in the finals. For the past few years, I've disagreed with and been disappointed by the winning bands chosen at the IBC finals, but in 2013 the judges got it right. The Selwyn Birchwood Band was chosen number one out of more than 200 bands in the competition, and Selwyn Birchwood won the Albert King award for best guitarist.
Selwyn Birchwood stumbled upon the blues at age 17 while attending a Buddy Guy concert in Orlando. After witnessing firsthand the raw energy and power the music created, he decided it was what he wanted to pursue. He has spent the years since then trying to hone his skill to convey the same intensity and feeling of the blues greats.
Texas bluesman Sonny Rhodes offered the 19-year-old Selwyn the chance to hit the road and tour nationally. Selwyn quickly took advantage of the opportunity and has frequently toured with his blues mentor across the U.S. and Canada. In the meantime, Selwyn has also managed to get a bachelor's degree in marketing and an MBA.
Besides Selwyn (who plays a mean slide on lap guitar), the band is composed of Curtis Nutall on drums (who traveled internationally with many bands including The Blind Boys of Alabama, and did a five-year stint with Joe Louis Walker), bass player Huff Wright, and Regi Oliver on baritone saxophone. - Karen McFarland
Interview article with Selwyn Birchwood

Howard & the White Boys, 5 p.m.
HowardAndTheWhiteBoys.net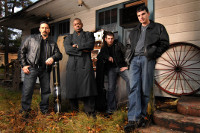 The members of Howard & the White Boys first met at Northern Illinois University in DeKalb in 1988 and began jamming together just for fun, but their fast-growing popularity soon convinced them they could make a career of it. After only a few months, they got their first big break by opening for B.B. King. The band soon made the move to Chicago and began performing with the biggest names in blues: Koko Taylor, Albert King, Junior Wells, Lonnie Brooks, Luther Allison, Bo Diddley, and Chuck Berry.
Between 1994 and 1997, the group made two highly acclaimed recordings, Strung Out on the Blues and Guess Who's Coming To Dinner? They began traveling extensively across the United States, and their growing popularity captured the attention of Philadelphia-based Evidence Records. The Big $core was the first of three successful discs released by Evidence, and the band wasted no time in promoting it via the first of many trips to Europe.
In 2004, longtime band members Howard McCullum, Rocco Calipari, and Jim Christopulos were joined by 26-year-old guitarist Pete Galanis. Galanis' tight blues chops - coupled with his natural versatility at handling the funk, R&B, and rock styles that have become Howard & the White Boys' trademarks - have magnificently slotted right in with the group's signature sound and have also lent it an exciting, youthful exuberance, readily apparent on their most recent CD, Made in Chicago.
Recorded in the Windy City, Made in Chicago is aptly titled. But it's also apropos because Chicago, a city steeped in blues history, is where the band has honed its chops since 1988. Howard & the White Boys have established a reputation as one of the city's favorite attractions, and regular appearances at Buddy Guy's Legends have afforded them an opportunity to reach a wider audience. Indeed, Buddy Guy has been their unofficial mentor. - from HowardAndTheWhiteBoys.net
Eddie "Devil Boy" Turner & the Trouble Twins, 7 p.m.
EddieDevilBoy.com
Eddie "Devil Boy" Turner's scorching guitar-playing lives up to his name. Born in Cuba, raised in Chicago, and entering the music scene as a young adult in Colorado, his music is a fiery stew of Afro-Cuban beats and the sounds that influenced him growing up, including blues and psychedelic rock. Every time I've heard him live, I'm reminded of Hendrix's straight-from-Mars style.
Hendrix is, of course, one of Eddie's major influences. So are Jeff Beck, Rory Gallagher, Jerry Garcia, Muddy Waters, Magic Slim, and Buddy Guy. His experience is also eclectic. In the '70s in Colorado, he played with the Immortal Nightflames (a punk/R&B band), then with Tracy Nelson & Mother Earth, and with the hard-rock psychedelic blues band Zephyr, whose singer's tragic death hit Eddie so hard that he took 10 years off from music to sell real estate in Denver, playing Motown covers in bands on the weekends. By 1995, Eddie was back on the music scene as a member of the Otis Taylor Band.
Eddie released his first solo album, Rise, in 2005, and it was nominated for Best New Artist Debut at the Blues Music Awards. His 2006 release, The Turner Diaries, won the Independent Music Award for Best Blues Album. And the title cut of Miracles & Demons (2010) was nominated for Blues Song of the Year at the 10th-annual Independent Music Awards.
If you like your blues rocked hard with a strobe-light edge, Eddie Turner & the Trouble Twins are just the ticket for an incredible set! - Karen McFarland
Chris O'Leary Band, 9 p.m.
TheChrisOLearyBand.com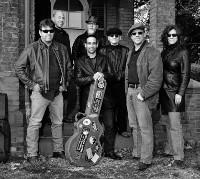 Every year the MVBS entertainment committee gets scores of solicitations from acts we've never heard of who want to be considered for the Mississippi Valley Blues Festival, but very few make the cut. This year we all agreed that the Chris O'Leary Band should be given one of our coveted slots at the fest. We heard a tight band playing good old-fashioned blues - and most of its songs are originals!
All of the band members are veteran musicians from the Hudson Valley area of New York. For six years, Chris O'Leary was singer, harp player, and frontman for Levon Helm's Barnburners. International tours with the Barnburners and an extended musical residency in New Orleans' French Quarter bring a wealth of influences to his singing, playing, and songwriting. The Chris O'Leary Band's 2010 debut, Mr. Used to Be, received critical raves, international airplay, a Blues Music Award nomination, and a Best New Artist Debut CD win at the Blues Blast Music Awards.
Downbeat Magazine had this to say about that album: "O'Leary is a more than capable singer and Chicago-style harmonica stylist; the proof comes in the shuffles and jump numbers he handles with suave assurance on his debut recording. It's really the slow tempo of 'Blues Is a Woman' that draws out his best singing, reminiscent of Jimmy Witherspoon. His Hudson Valley-based cohorts stir up the all-original material without faltering. Young guitarist Chris Vitarello merits notice for his technical powers and imagination, his reach extending to rockabilly and swinging jazz."
Chris Number 2 attended the Berklee College of Music and has played guitar with many well-known musicians, such as Jimmy McGriff, Bruce Katz, Tad Robinson, and Mitch Woods & the Rocket 88s. Chris Number 3 - DiFrancesco - is a classically trained clarinetist who plays sax in the band. Andy Stahl on sax and Frank Ingrao on bass round out the rhythm section.
So check out this band - and don't forget Chris O'Leary's harp workshop at 4 p.m. on Thursday - and you'll know we made a great pick! - Karen McFarland
Walter Trout, 11 p.m.
WalterTrout.com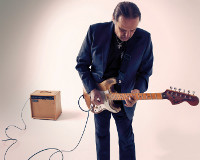 Walter Trout knows all about the life-shaping power of a great record. In the mid-'60s, he was put on his path by an older brother with a habit of blasting the family home in New Jersey with blues-rock platters, from Paul Butterfield's 1965 debut to John Mayall's seismic Bluesbreakers with Eric Clapton. "He brought home John Mayall, and told me, 'You gotta hear this guy!'" reflects the 62-year-old guitarist, who was soon inspired to buy his first Gibson Les Paul while on a day trip to Philadelphia.
By 1973, Trout had made a move to L.A., where his ferocious talent on lead guitar soon marked him. "I went to a party and that's where I met Jesse Ed Davis, who was the first really famous guy I played with," he remembers of the sideman era that also saw him work alongside Big Mama Thornton, Lowell Fulson, and Joe Tex. He was in Davis' band for two years, followed by a three-year stint with Canned Heat.
Then he got a phone call from John Mayall, offering him the revered guitar slot in the iconic Bluesbreakers band. "As far as being a blues-guitar sideman, that gig is the pinnacle," states Trout. "That's Mount Everest. You could play with B.B. King or Buddy Guy, but you're just gonna play chords all night. [Mayall] features you. You get to play solos. He yells your name after every song, brings you to the front of the stage, and lets you sing. He creates a place for you in the world. Where do you go from there ... ?"
But in 1989, Trout decided to leave the Bluesbreakers and go out on his own. A quarter of a century later, what seemed like career suicide has been vindicated by a catalog of 22 solo albums, a still-growing army of fans, and accolades including a number-six placing on BBC Radio One's countdown of the Top 20 Guitarists of All Time. As Walter Trout powers into his 25th year as a solo star, there's a sense of growing momentum. "Instead of trying to rekindle past glories," says Walter, "I feel like I play with more fire than when I was 25." - from WalterTrout.com