Kevin "B.F." Burt, 4 p.m.
KevinBFBurt.com
For more than 20 years, Coralville's Kevin "B.F." Burt has been electrifying audiences throughout the nation, dispelling the myth that true blues has no roots in Iowa. His soul-inspired presentation is unique, which consistently gets him compared to a range of artists including Bill Withers and Aaron Neville, with the ability to build an audience rapport that has been compared with greats such as B.B. King.
Kevin is a self-taught musician (vocals, harmonica, and guitar) who has also had some stage-acting experience. In the off-Broadway play Klub Ka, the Blues Legend, Kevin played Papa Gee and arranged all of the blues music. The play, which originally ran in Iowa City and then in Washington, DC, also had a two-week run at LaMama's Experimental Theater in New York City and was sold out each night. Kevin has also had roles in several other plays at the University of Iowa - for example, playing Whining Boy in the acclaimed August Wilson play The Piano Lesson.
Kevin was recognized as one of the Midwest's top blues-heritage educators by Iowa Governor Chet Culver in 2009, and he has been an MVBS artist-in-residence for Blues in the Schools. Kevin is a registered artist educator with the State of Iowa Arts Council. He has written and published a classroom harmonica-method book called Just Play It: An Introduction to Blues Harmonica.
Kevin has shared the stage with many greats, including Albert Collins, B.B. King, Buddy Guy, Honeyboy Edwards, Janiva Magnus, Junior Wells, Lonnie Brooks, Luther Allison, Robert Cray, Rod Piazza, Terrance Simien, the Holmes Brothers, the Neville Brothers, and the Blind Boys of Alabama. Besides playing at the Mississippi Valley Blues Festival and other Midwest blues festivals, Kevin has performed at the Smithsonian Festival of American Folklife in Washington, DC.
Burt will conduct a workshop (with Hal Reed) at 2:30 p.m. on Thursday, and participate in BluSKool Friday and Saturday at 4:45 p.m. - Karen McFarland
Joe & Vicki Price, 6 p.m.
JoePriceBlues.com
When I think of Joe & Vicki Price, "Iowa Crawl" comes to mind. They represent to me a certain kind of Iowa Americana - blues from the Heartland. But in the past few years especially, Joe and Vicki have been touring everywhere; they're not just Iowa blues musicians anymore. They are regulars at Buddy Guy's Legends in Chicago. They've played nationally acclaimed blues festivals such as Telluride in Colorado and Bayfront in Duluth, Minnesota. They've appeared on Michael Feldman's Whad'Ya Know? show on NPR, and they've performed from Canada to California. In 2010, Joe won the Best Blues CD Independent Music Award for Rain or Shine.
Vintage Guitar had this to say about that album: "Iowa may not be known as a blues mecca, but from the opening 'Hornet's Nest,' it's clear that Waterloo native Joe Price is the real deal. He beats his National Steel with the kind of power associated with Bukka White, Big Joe Williams, or Mississippi Fred McDowell and sings in a style that is as lowdown as it needs to be without sounding at all affected. ... Somewhere, Hound Dog Taylor is smiling."
Eric Thom in Blues Revue had similar sentiments about the CD: "Rain or Shine is Price's sixth album. Its 10 songs combine traditional sounds - including boot-stomped rhythmic accompaniment - with modern-day lyrics. Price's vocals are simple yet powerful, every bit as impassioned as his picking and slide skills. (He shows distinctive flair on Reso-Lectric.) There's a boogie here and a rocker there, but nothing sounds derivative. Price's music is raw, bare-boned, and rhythmic. This Iowa native definitely has the music of Mississippi in his soul."
The All Music Guide posted a review by Greg Prato that summed it up this way: "Rain or Shine is a much-needed return to genuine blues - played straight from the heart. This is the real deal, folks." - Karen McFarland
Davina & the Vagabonds, 8 p.m.
DavinaAndTheVagabonds.com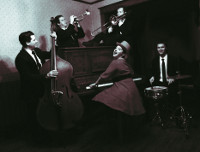 MVBS member Glenn Cotabish had been raving about Davina & the Vagabonds for a few years before I finally saw them live in Memphis at an IBC showcase, and he was right. Davina & the Vagabonds have a unique sound that casts back to the "classic blues" era of female artists in the '20s and '30s. The band is horn-driven, there's no lead guitar, and Davina is a powerhouse entertainer.
Here's a description from NPR's Marc Silver that gives a good picture of Davina & the Vagabonds' sound: "Davina Sowers' classically trained right fingers shimmy down the piano keys and meet up with an insistent boogie-woogie bass. Then she reveals her other musical talent: a sassy, salty, sweet voice that's childlike at the top, husky at the bottom.
"The song is 'lipstickandchrome,' named for the tube of ruby red that Sowers never leaves home without and the mirror on her roadster where she checks her makeup. Like many of the tracks she wrote for her band's new album, Black Cloud, the tune is rooted in early 20th Century blues and jazz, but freshened up with the 21st Century cheek of Sowers' teasing vocals and clever lyrics. A party anthem, it'd sound perfectly at home booming out of a 1920 Model T - if it had a radio - or a 2011 Prius, preferably with a sunroof."
Davina has been performing since the age of five with the support of a musical family. It didn't take her long after moving to Minnesota from Key West, Florida, in 2005 to start making a name for herself. With great vocals and piano, she commands attention on stage and leaves everyone smiling. Rounding out the band are Michael Carvale on stand-up bass, Alec Tackmann on drums, trumpeter Dan Eikmeier, and trombonist Ben Link. Davina & the Vagabonds are known in The Twin Cities as being the busiest band in town because of their hard-working professionalism, high-energy stage performance, and original sound. - Karen McFarland
Interview article with Davina Sowers

Southern Hospitality with Victor Wainwright, J.P. Soars, & Damon Fowler, 10 p.m.
SouthernHospitalityBand.com
It started as the idea to get Victor Wainwright to play the Blues Fest. I'd heard him twice live with his band the Wild Roots, and I just went crazy for his piano playing. Unfortunately - LOL - Victor's on tour this summer with Southern Hospitality, so we had to take the whole package including Damon Fowler and J.P. Soars! The following is from the Web site of their agency, PiedmontTalent.com:
"With echoes of Muscle Shoals, Memphis, and Macon, Southern Hospitality is composed of lap-steel-guitar master Damon Fowler, guitarist extraordinaire J.P. Soars, and keyboard wizard Victor Wainwright, each a master of his craft bringing a unique style and skill set to the mix. These musicians' musicians draw on their rich heritage of Southern soul, blues, and rock music to embody the soul and spirit of Dixie.
"Damon Fowler is a master of the six-string, slide guitar, lap steel, and Dobro who's been compared to Johnny Winter and Jeff Beck, while his slide guitar has a hint of the late Duane Allman. J.P. Soars and his band won the Blues Foundation's International Blues Challenge in 2009, and he won the Albert King award as the best guitarist in the competition. A singer/songwriter and guitarist best known for his distinctive gypsy-swing jazz playing with plenty of rock potency, he was nominated this year for a Blues Music Award as the best Contemporary Blues Male Artist. Memphis-based Victor Wainwright is known for his high-octane boogie piano, big soul sounds, powerhouse blues, and roots rock 'n' roll. This year Victor won the coveted Pinetop Perkins Piano Player Blues Music Award.
"The band originated when Fowler, Soars, and Wainwright, who were performing with their respective bands at a festival in Florida in July of 2011, decided on an impromptu jam together at a post-festival party. After witnessing the performance, the South Florida Blues Society approached the trio about playing for the Legendary Rhythm & Blues Pre-Cruise Party.
"Dubbing themselves Southern Hospitality, the three musicians added bassist Chuck Riley from Fowler's band and Soars' drummer Chris Peet to the lineup and made their official debut opening for Buddy Guy in August 2011 at the Heritage Music Blues Fest in Wheeling, West Virginia. This year Southern Hospitality released their CD Easy Livin', produced by Tab Benoit on the Blind Pig label. The album debuted at number nine on the Billboard blues sales chart."
The band's Victor Wainwright will conduct a free keyboard workshop at 5:30 p.m. on Thursday. - Karen McFarland