David Horwitz (blues photography workshop)
Friday July 5, 2:30 pm.
Photographer and educator David Horwitz of Tucson, Arizona, has been traveling to clubs and festivals for decades in search of great blues music for his ears and visual images to capture on film. Winner of the 1999 Blues Foundation's Keeping the Blues Alive Award for Photography, David has spent more than 25 years capturing moments of the blues masters. His works have appeared in countless publications. In 2011, he was inducted into the Arizona Blues Hall of Fame. This is his 26th year of shooting the Mississippi Valley Blues Festival, and the free photo exhibit near the workshops will showcase David's work.
David Berntson (harmonica BlueSKool)
Friday, July 5, and Saturday, July 6, 3:30 p.m.
What would the Mississippi Valley Blues Festival be without blues educator and harpist David Berntson? Three words: David brings it! Originally from Galesburg, Illinois, this Tulsa, Oklahoma, Blues Club founder, prevention educator, and drug/alcohol counselor continually shares his enthusiasm and passion for the blues with young people and adults. David presents Blues in the Schools at a number of schools, including alternative schools for at-risk students. Look out when he digs out his gigantic harmonica! His passion and his love for kids is unstoppable, and he leaves kids of all ages with something more than what they came with.
David is an endorsee for Hohner harmonicas and has taught harmonica classes through adult continuing education at Tulsa Community College for more than 12 years. He also teaches children's harmonica classes for the Tulsa parks-and-recreation department.
David's BlueSKool sessions feature free harmonicas and lessons for all the kids! - Ann Ring
Hal Reed and Ellis Kell with the Winter Blues Kids (BlueSKool)
Friday, July 5, and Saturday, July 6, 6 p.m.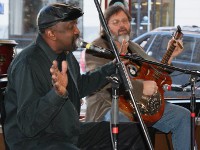 Blues harpist, guitarist, singer, bandleader, and educator Hal Reed was born in Mississippi just a few miles from the Delta, where he grew up influenced by his grandfather, a talented Southern folk-blues artist who, in addition to inspiring young Hal's love for the blues, taught Hal the need to pass it on from generation to generation. Hal Reed is a veteran musician on the Quad Cities scene. He's fronted various bands, and took one of them to the International Blues Challenge in Memphis.
Ellis Kell, director of programming and community outreach at the River Music Experience in Davenport, is also a pillar of the Quad Cities blues scene. As guitarist, songwriter, and bandleader, he's kept the Ellis Kell Band together for 22 years.
Ellis and Hal conducted a very successful Blues in the Schools residency a few semesters back, and this is their sixth year collaborating with graduates of the River Music Experience's Winter Blues program at BlueSKool.