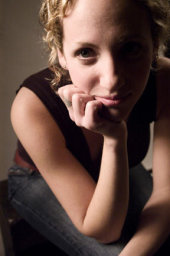 Natalia Zukerman might as well have been born on the road. She is the child of two classical musicians who traveled a lot. (Her father is violinist, violist, and conductor Pinchas Zukerman.) She said last week that she got on a plane for the first time when she was six weeks old, and "I've learned to pack and unpack since I was a little kid.
"Having a regular, stay-at-home home life, that's the challenge for me and my family," she continued. "I love that it's something that is definitely in my blood. My grandfather was a klezmer musician and a gypsy of sorts. Traveling troubadour is part of my DNA."
She's carrying on the tradition.
Zukerman, who will be opening for Ani DiFranco on Saturday at the Capitol Theatre, studied violin as a child, but the physical challenges of the instrument conflicted with the blessing and curse of perfect pitch. "It was just really torturous for me," she said. "Violin is a very difficult instrument ... to make the right sound on. And I was so used to hearing perfectly played music that it was difficult for me."
And although she grew up with classical music, her parents didn't discourage her interest in roots music. "As long as I was playing some sort of music, they didn't care what I was doing," she said.
Zukerman released Brand New Frame in May, and it's a warm collection of mild folk rock, pitched somewhere between the delicate perfection of Jenny Lewis and the visceral soul of Joan Osborne.
It was a change-up for Zukerman, who had previously worked mostly alone.
For the album's variety, she credits producer Willy Porter, with whom she had toured. Zukerman had planned to record at Porter's Milwaukee studio and sent him home demos in preparation. "He listened to a lot of the songs ... and he started talking to me about arrangements, and as time unfolded, it was like, 'Oh, you're taking on this producer role,' not to mention he's got amazing ideas. And I was really feeling like I needed some guidance, needed and wanted a ... different sound for this record."
They formalized the producer arrangement, and Zukerman said he pushed the songs into new realms. "A lot of the songs tended toward the country shuffle, a little bit more of a folk thing, and he was really helpful in getting it just a little bit out of its normal genre ... giving everything a little bit of a richer sound," she said.
She had self-produced (and self-released) her previous albums, but an outside perspective was helpful. "I spend so much time listening to my own music, and my own thoughts, and being in my own stink, so to speak," she said, "so to have somebody else there to really bounce ideas off of was just incredible, somebody who has a really different sensibility." While both she and Porter are "guitar slingers," she said, he has a "funkier approach" and "an incredible harmonic appeal."
Zukerman plays The Capitol Theatre alongside Ani DiFranco. For an interview with DiFranco, see "Jumping Out of the Corner."