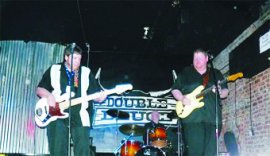 The Avey Brothers, 2 p.m.
The Mississippi Valley Blues Society is pleased to welcome the Quad Cities' own the Avey Brothers to this year's Blues Fest - again! The Avey Brothers were also the winners of 2008's Iowa Blues Challenge. They competed in the International Blues Challenge this February in Memphis, where the band winner of that competition, J.P. Soars & the Red Hots, shared the same venue as the Avey Brothers. This May, the Avey Brothers again were back in Des Moines for the Iowa Blues Challenge finals, where they once more came out on top against some heavy competition: Matt Woods & the Thunderbolts, Trouble No More, and Blues Explosion (the kids from Omaha). That victory has earned them - again! - an impressive prize package, including a slot at the IH Mississippi Valley Blues Festival, and the right to represent the state of Iowa in the International Blues Challenge in Memphis next year.
Brothers Chris (on guitar) and Mark Avey (on bass) initially gained local fame years ago with the Twin Towers Band and their hard-rock alter ego, Blue Ash Ink. After playing locally for several years, Chris relocated to Phoenix. While there, he took advantage of the thriving big-city blues and R&B scene to hone his chops. In addition to fronting his own band for a while, he played with several of the premier bands in Phoenix, including Southwestern blues icon Big Pete Pearson. Although there's no evidence that Chris sold his soul while he was down there, he returned after a few years with even more impressive licks than when he left.
Rounding out the lineup are "Detroit" Larry Davison on harp and Bryan West on drums. As a judge at the Iowa Blues Challenge, I objectively evaluated the Avey Brothers Band to be the best - and the other judges agreed with me. Don't miss their set, filled with new original songs.
For more information on the band, visit MySpace.com/chrisaveyband. - Karen McFarland
The Ellis Kell Band, 4 p.m.
On February 3, 1990, I walked into Rascal's on 15th Street in Moline and heard a harmonica player I respected and a dynamite guitarist backed by a very good band. They certainly won my vote that night (their first public performance), and since then the Ellis Kell Band won the 1994, '96 and '97 Quad-City Times readers' choice award for favorite musician/band, the 1995 Oil music magazine people's choice award for blues band, and the 2000 Dispatch/Argus readers' choice award for favorite local CD release. That's not all. They also won the 2003, '04, '05, and '06 River Cities' Reader award for best local blues band.
They're not just local favorites. The Ellis Kell Band has been featured on the nationally syndicated radio programs The House of Blues Radio Hour and The Red Rooster Lounge.
The band's talent comes from Ellis Kell's soulful singing and virtuoso guitar-playing. "Detroit" Larry Davison is widely considered to be the best harmonica man in the Quad Cities. Rick Stoneking is a versatile, talented keyboardist, and John Burchette supplies the steady bass. Terry Hanson's drumming has amazed anyone who's heard him.
As much as I liked 'em 19 years ago, the Ellis Kell Band has only gotten better since. If you miss this band Friday on the bandshell, you'll be missing some the best sounds the Quad Cities have to offer. For more information, see EllisKell.com. - Stan Furlong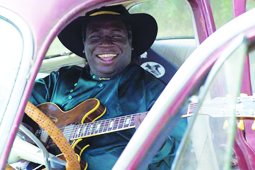 Eugene Hideaway Bridges, 6 p.m.
When the entertainment committee heard the Sam Cooke-style voice of Eugene Hideaway Bridges, we knew we wanted to have him play the festival. Here's what Blues Revue magazine said about his self-titled album (which was nominated in 2008 for a Blues Music Award for Best Soul Blues Album): "It must have been sweet to hear young Eugene Bridges sing hymns with his brothers in a rural Louisiana church. Bridges' honeyed, crystal-clear voice dazzles. ... The gospel music he sang as a child is still an integral part of Bridges' style. And if beautifully articulated soul isn't enough, the man also plays a mean guitar. His exquisite picking and crisp tones are riveting, and his guitar work conveys the same contentment that shines in his voice."
Eugene Bridges was born in 1963, the son of Hideaway Slim, his mother related to Tina Turner. By age five, he was playing around Louisiana with his father, and he sang gospel with The Bridges Brothers. He eventually became the musician for his church, and at 13 was entering talent contests and formed his own R&B band.
Eugene moved to Texas when he was 16 to join the Air Force; upon leaving the military he played with the Mighty Clouds of Joy. After moving to Houston, he formed his own band and toured the country.
By 1999 he had re-formed the Eugene Hideaway Bridges Band, was touring Europe as well, and had released his Born to be Blue album; he won Vocalist of the Year from Britain's Blueprint magazine. In 2000 he signed with Armadillo Records and released his CD Man Without a Home. Since then he's done three more CDs, and he's toured the world over, including Australia, New Zealand, and Singapore.
For more information on the band, visit MySpace.com/eugenehideawaybridges. - Karen McFarland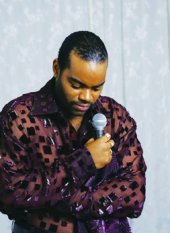 Ric E. Bluez, 8 p.m.
The Mississippi Valley Blues Society likes to have a variety of blues at the festival, and one kind we want to make sure to showcase is soul blues. This year's pick is Ric E. Bluez (Ricardo Bonds), whose 2008 Sexy Soul release really impressed the entertainment committee. Ric sings that deep Southern R&B-inflected soul music, similar to that of legendary acts he's performed with, such as Mel Waiters and Marvin Sease. He's also shared the stage with Bobby Rush and Theodis Ealey.
Ric E. Bluez now resides in Houston, but he was born in Mississippi on November 28, 1969, and brought up in the church. His music reflects a mix of blues and contemporary gospel seasoned with a big dose of rhythm and blues. Ric writes, arranges, and produces his own music. You can tell what kind of soul Ric has by looking at the song titles from the Sexy Soul album: "Somebody's Cheating," "I Want to Love You," "Runnin' Your Mouth," "A Real Good Woman," "Lovin' You Is Easy," "My Thrill Is Gone" (nothing like B.B. King's), "Shake" (funkier than Otis Redding's), "Pink Panties" - you get the idea!
Ric has a strong, smooth, and soulful voice, especially when framed by the backup singers, and his band is topnotch in providing the grooves. You'll want to hear this up-and-comer!
For more information, visit Ric-E-Bluez.com. - Karen McFarland
Eddy "The Chief" Clearwater, 10 p.m.
In 1980, Living Blues magazine founder Jim O'Neal approached left-handed guitarist Eddy Clearwater about making an album for his new label, Rooster Blues. That's when everyone started calling Eddy "The Chief," he told me in an interview, "because I wanted to wear my headdress and ride a horse for the artwork, for the cover." The headdress has since become a signature piece in Clearwater's stage shows.
Since the time of the appropriately titled The Chief on Rooster Blues, Eddy has traveled the world and recorded for various labels, with his latest release his first for the Alligator label: West Side Strut, produced by guitarist Ronnie Baker Brooks.
Clearwater is a practitioner of the west-side Chicago blues sound. But Edward Harrington grew up in the South, born in Mississippi in 1935. He was living in Birmingham, Alabama, at the age of 15, playing in gospel groups, when he got the call to come to Chicago. He had an uncle in the Windy City who knew Muddy Waters, Jimmy Reed, Howlin' Wolf, and Little Walter.
Eddy lived in his uncle's apartment, got a job as a dishwasher, went to school at night, and saved enough money to buy a guitar and amp. "I still played gospel, but I was always going to clubs to hear blues bands," he said. "My main influences was Muddy Waters and Jimmy Reed. I was heavily under the influence of Magic Sam and Otis Rush. I kinda got blues religion! They were real heroes." By 1959, Eddy had recorded a handful of 45s, first under the name Clear Waters (a play on Muddy Waters), which later morphed into Clearwater, and started receiving local radio airplay.
And now, Eddy's a Grammy nominee and Blues Music Award winner as Male Artist of the Year in 2001; he was also nominated this year for the Blues Music Award for Traditional Male Artist.
For more information, visit EddyClearwater.com. - Karen McFarland