T.J. Wheeler, 2 p.m.
Blues guitarist and educator T.J. Wheeler spent a week's Blues in the Schools residency in the Quad Cities during Black History Month this year; he conducted workshops at eight schools, one university, and one museum. The Mississippi Valley Blues Society education committee was so impressed with T.J.'s blues education abilities that he was invited back for the 25th-annual IH Mississippi Valley Blues Festival. Besides performing on the tent stage and conducting a workshop at 1 p.m. on Saturday where he'll share "Back Stories of the Blues," T.J. will preside over a BlueSKool slot along with kids he will have taught at the Martin Luther King Jr. Center in Rock Island just a few days before the Fest.
T.J. Wheeler was born in Bremerton, Washington, on April 16, 1952, and began playing guitar at the age of 12. By age 16, he had been inspired by the music of the Beatles and Rolling Stones, and T.J. began playing his guitar in venues such as coffee houses and bars in towns and cities up and down the Pacific coast. At 20, T.J. got deeply involved with the blues after hearing legends Mississippi John Hurt, Elizabeth Cotton, and Son House. He spent time in the Deep South, where he performed with and even lived with such blues legends as Bukka White, Furry Lewis, and Sleepy John Estes.
When T.J. reached the age of 25 in the late '70s, he moved to New England, where he still resides. In 1985, T.J. started his educational project The Blues Bank Collective (BluesBankCollective.org), for which he was later recognized by being awarded the Blues Foundation's Keeping the Blues Alive award. Since 1985 he has conducted Blues in the Schools workshops throughout the U.S., sometimes with blues greats Honeyboy Edwards, James "Son" Thomas, John Jackson, Fruteland Jackson, Corey Harris, and Mary Flower. - Jimmie Jones
Honeyboy Edwards, 4 p.m.
One of the last original Delta blues players, 94-year-old David "Honeyboy" Edwards still sings and plays the blues in the raw, untainted country style he learned in the early part of the last century from musicians such as Charley Patton. Born June 28, 1915, in Shaw, Mississippi, Honeyboy Edwards knew or played with virtually every major blues legend throughout the 20th Century, including Robert Johnson.
At 16, Honeyboy caught a train to Memphis, where he wasn't very successful trying to play for nickels and dimes on the streets, as he recounts in his autobiography The World Don't Owe Me Nothin'. While still 16, he met Big Joe Williams and spent eight or nine months hoboing with him all around the Delta. At 17, Honeyboy met and traveled with Howlin' Wolf. Later, Honeyboy became musical partners with Big Walter Horton. He also met and performed with Memphis Minnie, Yank Rachell, Sleepy John Estes, Memphis Slim, and others.
In 1942, Alan Lomax, a well known folklorist, recorded Honeyboy in Clarksdale, Mississippi, for the Library of Congress. The songs included "Wind Howlin' Blues" and "The Army Blues." He did not record again commercially until 1951, when he recorded "Who May Your Regular Be" for Arc Records under the name of Mr. Honey.
Like so many other Mississippi bluesmen, Honeyboy moved north to Chicago in the early '50s and was a vital player in the burgeoning blues scene of early Maxwell Street. In 1972, Honeyboy met Michael Frank (founder of Earwig Records), and they soon hit the north-side blues scene as The Honeyboy Edwards Blues Band.
More recently, Honeyboy has earned critical acclaim, winning a Grammy for Best Traditional Blues Album for Last of the Great Mississippi Bluesmen: Live in Dallas. He was also recognized in 2005 and 2007 with a Blues Music Award for Best Acoustic Blues Artist.
For more information, visit DavidHoneyboyEdwards.com. - Laura Ernzen
Fiona Boyes, 5:30 p.m.
Australian blueswoman Fiona Boyes will surprise and blow the crowd away! She doesn't look the part, being young and with her long blonde hair. Yet she plays the guitar as though she were raised in the Mississippi Delta. Her down-home fingerpicking guitar style has been recognized throughout Australia and around the world. After winning just about every major award offered on the Australian blues scene, Fiona headed to Beale Street in Memphis in 2003. There she competed in the Blues Foundation's International Blues Challenge, and she won the solo/duo competition.
From there Fiona went on to showcase at the Blues Music Awards, the Chicago Blues Festival, and Portland, Oregon's Waterfront Blues Festival. After she performed at legendary bluesman Pinetop Perkins' induction into the Blues Hall of Fame, Pinetop was quoted as saying, "I ain't heard a woman finger-pick a guitar like that since Memphis Minnie. She's the best gal guitar player I've heard in more than 35 years."
After signing with the Memphis label Yellow Dog Records in 2006, Fiona went into the studio with friends Bob Margolin, Marcia Ball, the Texas Horns, Joel Guzman, Derek O'Brien, Larry Fulcher, and Frosty Smith and recorded Lucky 13. The album received rave reviews and hit the tops of major blues charts, including XM Satellite radio. Lucky 13 earned Fiona a 2007 Blues Music Award for Contemporary Blues Album.
Fiona performs solo, playing acoustic fingerstyle guitar, resonator, slide, vocals, and foot percussion. She also performs as an acoustic trio singing and playing guitar and resonator with double Blues Music Award winner and upright-bass player Mookie Brill and Rich DelGrosso on mandolin, guitar, and vocals. Their album Live from Bluesville was nominated for a 2009 Blues Music Award for Acoustic Blues Album.
Boyes will also lead a workshop on fingerpicking styles at 2:30 p.m. Friday. For more information, visit FionaBoyes.com. - Ellen Clow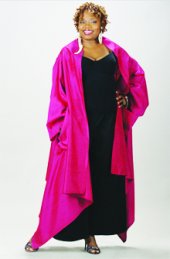 Dee Alexander, 7:30 p.m.
It was pointed out in the Jazz Institute of Chicago's February 2007 newsletter "Jazz Gram" that vocalist Dee Alexander is one of Chicago's hidden treasures and that she is known as a musician's musician because of her ability to tune her instrument in myriad ways.
Alexander has been performing gospel, R&B, blues, soul, and jazz around Chicago for more than 20 years. A turning point in her career occurred when tenor saxophonist and member of the Association for the Advancement of Creative Musicians (AACM) Light Henry Huff added Alexander to his band Breath. Huff taught Alexander to never be afraid to take chances and always be willing to try anything.
Alexander continued her work with AACM musicians when trumpeter and bandleader Malachi Thompson invited her to record on three songs on Thompson's CD Blue Jazz in 1991, followed by Thompson including Alexander on two additional CDs.
Alexander began to get recognition for her vocal talents when she was featured singing songs related to Ella Fitzgerald backed by 55 musicians performing with the Orbert Davis-led Chicago Jazz Philharmonic Orchestra at the 2004 Chicago Jazz Festival.
Alexander joined the AACM around 2005 and has performed and recorded with a number of AACM bands ever since. She was featured vocalist with Douglas Ewart's Inventions at the 2005 IH Mississippi Valley Blues Festival and also with the Great Black Music Ensemble at the 2008 festival. She has led her own groups performing "Sirens of Song - Tribute to Nina Simone & Dinah Washington" in the U.S. and Europe, and "Homage to Light Henry Huff," performing songs Huff composed for her.
Dee Alexander's first official CD, January's Wild Is the Wind, includes compositions by Alexander and Huff, and songs related to Nina Simone and Dinah Washington. Her appearance at the Blues Fest this year will feature her tribute to Dinah Washington.
For more information,visit DeeAlexander.net. - Jimmie Jones
Sugar Pie DeSanto, 9:30 p.m. (9:15 p.m. RiverRoad Lifetime Achievement Award Ceremony)
Sugar Pie DeSanto is probably the best-kept secret of this year's fest. Born October 16, 1935, Umpeylia Marsema Balinton was one of 10 children; her mother was a concert pianist and taught Umpeylia how to sing. When she was 19, Umpeylia was discovered by bandleader Johnny Otis at a talent show. Otis is also responsible for naming her "Little Miss Sugar Pie."
Sugar Pie toured with the Johnny Otis Revue, and with Johnny Otis she recorded her first single for Federal Records in 1955. She recorded her biggest hit, "I Want to Know" (written by Sugar Pie and Bob Geddins), with Pee Wee Kingsley in 1957, which climbed to number three on Billboard's list of R&B bestsellers in 1960 when Chess picked up the single from Geddins' Veltone label for national distribution. This success earned her a contract with Chess Records and a nationwide tour. She appeared more than 20 times at the Apollo in New York, which is where James Brown discovered her on the same bill with Ike & Tina Turner. She toured with James Brown for the next two years.
Meanwhile, Sugar Pie was writing songs for Chess Records. At that time, artists on the label included her cousin Etta James, Chuck Berry, Muddy Waters, Buddy Guy, and Bo Diddley. In 1964, Sugar Pie was the only female act on the American Folk Blues Festival tour that went to Europe. Other headliners included Willie Dixon, Sleepy John Estes, Sunnyland Slim, Hubert Sumlin, Lightnin' Hopkins, and Sonny Boy Williamson.
Over the years Sugar Pie has written more than 100 songs, two of which she recorded as a duo with Etta James. Throughout the years Sugar Pie has continued to tour, and she is known for her dynamic stage shows. In 2003 she was honored as a Blues Legend by the California Music Awards, and she was nominated as Female Soul Blues Artist for the 2007 Blues Music Awards. - Karen McFarland