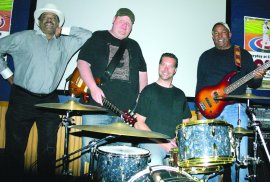 The Steady Rollin' Blues Band, 2 p.m.
If you're into the Quad Cities blues scene, you're bound to be into the Steady Rollin' Blues Band featuring Jimmie Lee Adams. The hippest Quad Cities blues fans have been listening to them every Sunday night at Creekside Bar & Grill when they host a jam that's frequented by every local blues musician worth hearing.
Jim Van Hyfte, who favors "gut bucket blues," has drummed with Twin Towers, Ron LaPuma, Craig Bentley, Harmonica Slim, Shane Johnson's Blue Train, and John Resch & the Detroit Blues. Chris Avey also plays guitar with the Avey Brothers, this year's Iowa Blues Challenge winner. Perry Hultgren's keyboard adds significantly to the band's versatility, and Jimmie Lee Adams kicks it up by adding his R&B vocals to the mix.
Bandleader Tom Norman has been a fan of hard drivin' blues, jazz, and R&B since he moved here from Waterloo. He has played bass with Earl Hooker, Sam Salomone, New Complexion, Harmonica Slim, and the Peña Brothers.
I asked Jimmie Lee who his influences were, and he mentioned the local bands from his area: Johnny Taylor, Little Milton, Z.Z. Hill, Bobby "Blue" Bland, and B.B. King! Jimmie Lee grew up near Beale Street, and you can hear it in his voice. Since he came to the Quads, Jimmie Lee has been performing with Donald Shipp & Company, Eddie Hodge, Jazz Express, QC Express, Three Plus One, and New Complexion. He has a voice that won't quit and he uses it with feeling.
If you've been a regular at the Sunday-evening jams, then I'm sure you'll want to start out your Independence Day celebration with Steady Rollin'. If you haven't heard this band yet, then get in front of the stage and listen to what you've been missing. - Stan Furlong
Robin Rogers, 4 p.m.
Robin Rogers was nominated for the 2009 Contemporary Female Artist Blues Music Award. Even though she didn't win, she and her band performed an outstanding set at the ceremony. Music has been an overwhelming passion of Robin Rogers since her days as a teenaged street singer. To break away from a troubled home life Robin became a runaway teen "living the blues" while she traveled through several states.
Robin emerged from her troubled teens to become an independent, strong-willed individual who has spent the past 30 years making a living performing the music she loves. In 1989 Robin became drug- and alcohol-free. Moving to North Carolina in 1990, she became involved with the Charlotte Blues Society. She married a fellow musician and blues lover Tony Rogers. They performed as an acoustic duo, Tony playing guitar/dobro and Robin on harmonica and percussion.
Jim Brock, a producer/musician, heard her music and asked her to do a CD. A contemporary blues record, Time for Myself, was released in 2001 with six originals penned by Robin and Tony.
In support of that release, Robin and Tony put together a band and in 2003 won the Charlotte Blues Society's Blues Challenge. In January 2004 they competed in Memphis at the International Blues Challenge, where Robin and her Hot Band emerged as one of nine finalists.
Crazy, Cryin' Blues was released in 2004 and won the "Best Self-Produced CD" award from the Blues Foundation as part of the International Blues Challenge. In 2008, Robin signed with Blind Pig and in June released Treat Me Right. It features "Color Blind Angel," a second-place winner in the blues category of the 2007 International Songwriters Competition.
For more information, visit RobinRogers.com. - Patty Britt
Craig Horton, 6 p.m.
Craig Horton defies easy classification. This San Francisco Bay-based artist is hardly a newcomer to the music scene, having played for nearly four decades. Yet his first solo album, In My Spirit, didn't hit stores shelves until 2001. Prior to launching his solo career, Horton's time was spent performing with blues greats such as Chuck Berry, Sam Cooke, Dinah Washington, Muddy Waters, Buddy Guy, Freddie King, Sam Myers, and The Mississippi Delta Blues Band.
Horton's newest release is a natural progression of the heavy swingin', hard shufflin' classic blues sounds of Chicago and the South that were reflected in his first CD. In Touch of the Bluesman, he carves out new territory with his deep, gutsy voice, unique delivery, and soulful interpretations. The sound impressed the entertainment committee enough to invite Craig Horton to the festival.
Touch of the Bluesman is a product of Craig's evolution as an artist - a style that only he can own. As an artist, he doesn't emulate but rather creates his own distinct sound based on a diverse foundation of jazz, R&B, rock and roll, and blues. A gifted songwriter, singer, and guitarist, Craig takes chances, playing music that comes from his soul.
His accomplishments are critically acclaimed. He received the "Patience Is a Virtue Award" from Real Blues magazine, and In My Spirit earned him Best Debut Album of 2001 from Living Blues magazine. In February 2004, The Bay Area Blues Society named Craig Horton blues guitar player of the year and his band as blues band of the year.
For more information, visit MySpace.com/craighortonblues. - Laura Ernzen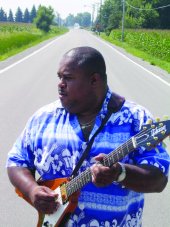 Larry McCray, 8 p.m.
Larry McCray was born April 5, 1960, and raised on a small farm in Arkansas. His father played the blues on harmonica and guitar, and his older sister Clara was a guitarist and disciple of Freddie King. Larry is one of a handful of talented young blues performers leading the genre across boundaries and into the new century. McCray's savage blues-rock guitar and warm, soulful vocals have drawn attention worldwide.
In the early 1970s, McCray and his family moved to Saginaw, Michigan, where he took a job at a General Motors plant while finishing school. His sister Clara taught him some guitar fundamentals and showed him how to play blues classics such as Muddy Waters' "Got My Mojo Working" and Freddie King's "Hideaway." Over the next decade, he worked on the GM assembly line during the day and performed with local blues, rock, country, and jazz-fusion groups at night.
McCray's hard work paid big dividends when he became the first artist signed by Virgin Records' (now defunct) blues division - Pointblank Records. In 1990, it released his debut, Ambition, which was well received by the U.S. and European press. It included the standout track "Nobody Never Hurt Nobody with the Blues."
1993 saw the release of McCray's second album, Delta Hurricane, which was recorded in Memphis with the notoriously funky Uptown Horns. In 1998, Born to Play the Blues moved the story of McCray's broadly appealing music forward another giant step. The year 2000 found the guitarist establishing his own independent record company together with his manager Paul Koch, forming Magnolia Records. McCray has since released three CDs on the label.
McCray also cites as a career highlight being honored as the Orville Gibson 2000 Male Blues Guitarist of the Year.
For more information, visit LarryMcCrayBand.com. - Patty Britt
Rod Piazza & the Mighty Flyers, 10 p.m.
Rod Piazza & the Mighty Flyers are making their fourth appearance at the IH Mississippi Valley Blues Festival, after previous performances in 1992, 1999, and 2004. Piazza is one of the foremost blues harp players alive and an icon of the West Coast blues scene.
Piazza's enduring career was spawned in the blues revival of the mid- to late 1960s, playing in clubs in southern California. He eventually hooked up with George "Harmonica" Smith, who was to become his mentor. After sitting in with each others' bands, the two joined in a band together in 1968 with a dual harp sound. He performed in other bands before going solo in the early '70s.
Mighty Flyers piano player Honey Piazza turned to the blues after hearing a recording of the legendary pianist Otis Spann. A classically trained pianist in her youth, she focused on learning Spann's music in the early 1970s. She played in a number of bands before joining a band with Rod in 1973.
The Mighty Flyers formed and recorded their first album in 1980 and have been going strong ever since. Their music combines the jump blues and swing of West Coast blues and the grit of Chicago blues and is sure to get the people in LeClaire Park up and dancing!
For more information, visit TheMightyFlyers.com. - Glenn Cotabish