Marquise Knox, 2 p.m.
Marquise Knox is a young blues artist who comes out of the St. Louis area. The guitar is his instrument of choice on which he says he can best express himself. Marquise also plays the harmonica and of course sings - very well, I might add. I had the pleasure of seeing him perform this year in St. Louis on our return trip from the International Blues Challenge in Memphis. I was pleasantly surprised to see the poise this young man has and the stage presence of someone many years older.
I have read in a few articles that this young man grew up listening to Lightnin' Hopkins, Muddy Waters, John Lee Hooker, and B.B. and Albert King, to name a few. These influences show in his music. After listening to one of his sets, you can not only hear him play the blues but I myself can feel him play this art form.
No, Marquise Knox is not one of those young, fast, and in-your-face guitar players. Marquise Knox seems to have sat down and taken a good look at this music, at the ones who came before him, and made it his own. He seems to have that certain something that a really good blues player has. I don't know exactly what or how to describe it, but once you listen to and watch this young man, I think that you would have to say, "Yeah, man, this guy has it." It, of course, is the blues and all that goes with it. Marquise has just come out with a CD of his own music, and I assume he will have copies of it with him when he plays for us. So check him out! I am sure we will all be hearing more of him in the future.
For more information, visit Facebook.com/pages/Marquise-Big-Daddy-Knox/82159183758. - Michael J. Livermore
Cedric Burnside & Lightnin' Malcolm, 3:30 p.m.
Cedric Burnside is the grandson of R.L.Burnside. Cedric was born and raised in Mississippi, and one can just imagine the places and influences he was raised with. It has been written by IntrepidArtists.com that "at age 13, he was playing the drums behind R.L." Now that alone doesn't make him an outstanding artist, but once you tune into his beat , his keen timing, and his proficient use of those skins, you can tell he took it all in and has developed into one of those masterful drummers who knows when and where to put it down. BluesSource notes that he plays a relentless, high rhythmic charged style with strong hip-hop and funk influences. I tend to think he has that, but somehow with that down-home north-Mississippi feel to it.
Steve "Lightnin'" Malcolm is the guitar player for this two-man crew. Taking the written words from their Web site that says it better than I, he remembers he was seven or eight, "and the grown folks was parked out on the road listening to music and carryin' on. They put on a tape called Muddy Waters' Greatest Hits, and when I heard that voice shootin' out of that speaker, I was shocked. I fell in love with it, and I promised myself then and there that if I grew up to be a man, I was gonna try to do that!" And that he did.
These two got together and play some truly original blues music. It's as though fate has stepped in and here they are playing off of each other almost as one. These guys are keeping the blues alive and well while putting their own touch of something exciting and new to this genre. The music we all love and enjoy will be in good hands with these two gentlemen.
For more information, visit MySpace.com/jukejointduo. -Michael J. Livermore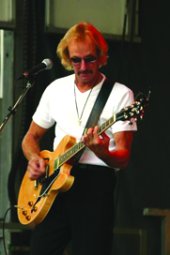 Kenny Brown, 5:30 p.m.
Kenny Brown is a blues slide guitarist skilled in the north-Mississippi Hill-country blues style. Kenny grew up in the Hill country of northern Mississippi and knows the music well. As a fifth-generation blues guitarist, Brown has been influenced and taught by some of some of Mississippi's best second-generation bluesmen.
As a 10-year-old, Brown learned to play guitar from his neighbor Joe Callicott and has played with Mississippi blues masters ever since. In 1971, he met and began playing with R.L.Burnside, which continued off and on over the next three decades. Brown's musical style has been influenced by such blues greats as Junior Kimbrough, Fred McDowell, Jesse Mae Hemphill, and Muddy Waters. Brown also cites Johnny Woods, Mojo Buford, Johnny Winter, and Johnny Shines as major influences.
Kenny Brown has stayed close to his roots yet has managed to craft a style of his own. "As with all blues vocalists and musicians, the attraction to the blues is because it comes from the heart," Brown says. His debut album Stingray was released on Fat Possum Records in 2003.
Kenny Brown is a member of the Arts Commission's Artist Roster Program, and he has traveled all over the world spreading the north-Mississippi Hill-country sound. He is also rated as a master artist by the Mississippi Blues Commission. He vows that he will continue on his own or with other artists as a part of the evolving blues of the red-clay hills of Mississippi and the Delta blues.
Brown will conduct a 2:30 p.m. workshop on Saturday on the Hill-country blues. For more information, visit MySpace.com/kennybrownmusic. -Ellen Clow
Diunna Greenleaf, 7:30 p.m.
Diunna Greenleaf & Blue Mercy will be making their first appearance at the IH Mississippi Valley Blues Festival this year, and we are in for a treat! The band won the 2005 International Blues Challenge and has been collecting other prestigious awards ever since.
Diunna Greenleaf hails from Houston and was heavily influenced by gospel music as well as blues greats Koko Taylor, Sam Cooke, Muddy Waters, Aretha Franklin, Charles Brown, and Sister Rosetta Tharpe. Her resulting style blends elements of jazz, gospel, and soul that takes one on an emotional roller-coaster ride.
Guitar player Jonn Richardson was honored with the Albert King award for the most promising guitar player at the 2005 International Blues Challenge, and is definitely one of the up-and-coming guitar players in the blues world. The combination of Diunna's vocals and Jonn's guitar will blow you away. Make sure you get a good seat in the tent for this show!
For more information, visit Diunna,com. - Glenn Cotabish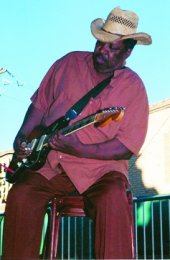 Magic Slim & the Teardrops, 9:30 p.m. (9:15 p.m. RiverRoad Lifetime Achievement Award Ceremony)
Magic Slim is a living blues legend who migrated from the South to Chicago during the 1950s. Slim plays raw, intense blues. His guitar tone is tough and cutting, united with a vibrato formed by using his fingers against the strings to reproduce the sound of a slide guitar while still being able to bend the notes. With an encyclopedic repertoire of hundreds of songs, his selections reflect the audience, giving his live shows a charming impromptu quality.
Magic Slim has a demanding travel schedule playing from Mississippi to the nightclubs in Chicago to concert stages throughout the world. Magic Slim & the Teardrops' performances have become legendary. The Teardrops consist of Jon McDonald on guitar/vocals, Danny O'Connor on bass, and Lenny Media on drums/vocals. They play the blues with an undeniable intensity that will leave you out of breath, lying on the floor, and in need of more. Magic Slim's live shows are so electrifying that Eddie Vedder invited him to open Pearl Jam's concert in Chicago after catching the Teardrops' performance at a local nightclub.
This big man of the blues was born Morris Holt in Torrence, Mississippi, on August 7, 1937. The son of sharecroppers, Magic Slim took an early interest in music, fashioning a guitar for himself with baling wire from a broom, which he nailed to the wall. Magic Slim earned his nickname playing with Magic Sam, who referred to the then lanky adolescent as Slim.
Join the Mississippi Valley Blues Society in celebrating Magic Slim's illustrious career. He will be presented with the RiverRoad Lifetime Achievement Award at 9:15 on Saturday. An unforgettable set will follow on the tent stage.
For more information, visit MagicSlimBlues.com. - Laura Ernzen