Radoslav Lorkovic, 5 p.m.
In 1985, Radoslav Lorkovic played at the first Blues Fest. At last year's festival, Radoslav was the piano man with the Holmes Brothers. He adds their name to a long list of musicians he's collaborated with in performance and on recordings, including Odetta and Greg Brown. His long touring career on the R&B and folk circuits has led Radoslav from the venues of the Midwest's upper Mississippi River area to Italian castles, the Canary Islands, the Yup'ik villages of Alaska, and Carnegie Hall.
It all started in Zagreb, Croatia, in 1958, where Radoslav's first exposure to music came from his two grandmothers. Antonija Bujas, his maternal grandmother, sang him Croatian, Slovenian, and Czech folk songs. Classical music played in the home constantly due to the influence of his paternal grandmother Melita Lorkovic, an internationally famous classical pianist. Radoslav moved to the United States at age six. He was destined for a classical music career until, at the age of 14, he was bitten by the blues bug, blindsided by a blues scale that a friend had taught him.
Radoslav began touring at age 20 with Bo Ramsey & the Sliders. By this time he had mastered the boogie-woogie styles of greats such as Albert Ammons and Pete Johnson. His time in the Sliders put him under the influence of Ramsey's deep interest in the blues of Howlin' Wolf, Muddy Waters, and Little Walter. That's when Radoslav began to draw from the Chicago styles of legends Otis Spann and Pinetop Perkins. Several years later he added another layer by adapting the polyrhythmic sounds of Professor Longhair and James Booker, and along the way he picked up Tex-Mex and zydeco accordion. Since his solo recording debut in 1990, Radoslav's been touring the world and performing at venues such as the Woody Guthrie Folk Festival, Mountain Stage, and A Prairie Home Companion.
Radoslav Lorkovic will also hold a blues-piano workshop on Saturday at 5:30 p.m. For more information on the artist, visit RadoslavLorkovic.com. - Karen McFarland
Hawkeye Herman, 6:30 p.m.
The Mississippi Valley Blues Society entertainment committee felt that a successful 25th IH Mississippi Valley Blues Festival could not be held without the Quad Cities' own blues legend, guitarist and educator Michael "Hawkeye" Herman, present for a tent-stage performance and an adult workshop slot.
Hawkeye was born January 11, 1945, in Davenport but was reared in Rock Island. He purchased his first guitar at age 14 with money earned from his newspaper route. Within two years he was performing gigs. While in college he spent two summer vacations on Chicago's South Side, checking out the great blues artists. In 1968, at the age of 23, Hawkeye moved to Oakland, California, where he spent many years getting his blues education while learning from and playing with blues legends such as Son House, Bukka White, Mance Lipscomb, Lightnin' Hopkins, Charles Brown, and Cool Papa.
Hawkeye first started touring out of California in 1984. He has since kept a busy schedule performing and conducting workshops at festivals, concert halls, clubs, schools, colleges, and blues cruises throughout the U.S. and Europe.
Hawkeye began conducting Blues in the Schools workshops as far back as 1980. He has been involved in Mississippi Valley Blues Society educational residencies in 1990, 1995, 1997, 2000, 2003, and 2007. In 1998 Hawkeye was the recipient of the Blues Foundation's Keeping the Blues Alive Award for achievement in education.
In the late 1990s, Hawkeye moved to Ashland, Oregon, where he performed his compositions for the play El Paso Blue before capacity crowds. He has been an educator and performer at the "Blues sur Seine" festival in Paris for many years, and he joins us at our blues fest after a recent trip to perform at a festival in Cali, Colombia.
Hawkeye Herman will perform a workshop at 4 p.m. Saturday on early country-blues guitar styles. For more information on the artist, visit HawkeyeHerman.com. - Jimmie Jones
Bo Ramsey, 8:30 p.m.
I've always thought of Bo Ramsey as the Bob Dylan of Iowa - the way both can write a song whose images and music stay with you after only one listen, cover a song and make it their own, deliver a hybrid American music, roots in the blues, that has their particular sound stamped all over it. While Dylan's a genius poet, Bo's a guitar wizard, keeping an arsenal of axes in different tunings so that he gets the tone just right for whatever sound he's after: Americana or rockabilly or blues.
Muddy Waters has been a major influence on Bo, and the legend's stage persona had a big impact. "He was totally himself with no show business involved - I was struck by that and I carried that with me down the line," Bo told me in an interview. Bo broke out in the early '70s with the Mother Blues Band, which also featured Iowa blues legends Joe Price, Patrick Hazell, and Steve Hayes. After that came Bo Ramsey & the Sliders, who played the Blues Fest in 1986.
Bo played guitar on Lucinda Williams' Grammy-winning Car Wheels on a Gravel Road, and also performed on her promotional appearances, including The Late Show and The Tonight Show. That 1998 collaboration led to Bo's producing Lucinda's later albums and cemented his role as the record producer of note for folks including Greg Brown, Iris DeMent, and Kevin Gordon. Other TV appearances, include playing with Lucinda in German film director Wim Wenders' "The Soul of a Man" segment for Martin Scorsese's seven-part series on the blues for public television.
An album of songs by some of his favorite blues artists - Elmore James, Little Walter, Jessie Mae Hemphill, Willie Dixon, Muddy Waters, Jimmy Reed, Howlin' Wolf, and Sonny Boy Williamson - 2006's Stranger Blues was Bo's way of "paying tribute to that music that's driven me through my career."
For more information, visit BoRamsey.com. - Karen McFarland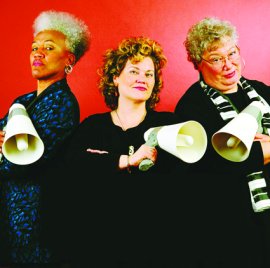 Saffire - the Uppity Blues Women, 10:30 p.m.
Saffire - the Uppity Blues Women are celebrating their silver anniversary this year, too. But this is Saffire's last year together as a group. When the entertainment committee heard that summer 2009 was to be Saffire's "farewell tour," we jumped at the chance to book them for the blues fest.
In a press release, Saffire explains why they're parting ways as a group: "For many years our visions coincided, but as we have aged and grown, our individual needs have changed. Our love of the music and our love for each other has not changed. [But] as Ann so clearly put it, she wants to be 'musically promiscuous, instead of faithful to the same partners.' Gaye and Andra say, 'Ditto.'"
Ann, of course, is pianist Ann Rabson, multiple-year nominee for Blues Music Awards. Her compatriots are Gaye Adegbalola on guitar and harmonica and Andra Faye on upright bass, mandolin, and fiddle. Gaye started out as Ann's music student (she was an eighth-grade science teacher, for which she was honored as "Virginia Teacher of the Year" in 1982), and Andra originally pursued a career as a registered nurse until she was influenced by blues legends Howard Armstrong and Yank Rachell.
After gigging around their hometown of Fredericksburg, Virginia, Ann and Gaye pooled their money and recorded an album that they forwarded to Alligator Records president Bruce Iglauer. The original songs and the musicianship - but most of all the feisty personality that shone through - impressed Iglauer.
Their 1990 self-titled debut album became one of Alligator's biggest-selling releases ever. Gaye won a Blues Music Award for Song of the Year for "Middle-Aged Blues Boogie." The group quickly went from being local favorites to internationally recognized blues stars, sharing stages with Koko Taylor, B.B. King, Ray Charles, and Willie Dixon, who said of the band, "They knock me out."
The group will also hold a 1 p.m. workshop on Friday on "The Art of Writing Uppity Songs." For more information on the band, visit UppityBluesWomen.com. - Karen McFarland