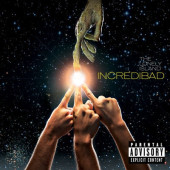 The Flight of the Conchords should look over their shoulders, as the comedy-music department gets some stiff competition next week from Saturday Night Live's Andy Samberg and staff writers Akiva Schaffer and Jorma Taccone, calling themselves The Lonely Island. Their new CD, Incredibad on the Universal Republic imprint, features the smash Saturday Night Live hits "Lazy Sunday" and "Jizz in My Pants," plus new songs with guests Jack Black, Julian Casablancas of The Strokes, T-Pain, E-40, and Norah Jones. The cover spoofs the film E.T., and the CD adds a bonus DVD with eight of the group's videos, including the new singles "Just 2 Guys" and "We Like Sportz," and the YouTube sensation "Dick in a Box" with Justin Timberlake.
Television Alert
The Tonight Show with Jay Leno welcomes will.i.am Wednesday and Ben Lee on Friday; The Late Show with David Letterman hosts Lyle Lovett and John Hiatt Wednesday and Mark Olson and Gary Louris on Thursday; The Late Late Show with Craig Ferguson boasts Franz Ferdinand on Friday, Adele on Monday, and Sean "Diddy" Combs on Tuesday overnight; Jimmy Kimmel Live presents Morrissey on Thursday overnight; The Drive-by Truckers roll into Austin City Limits this weekend; and Annie Lennox visits the set of Live With Regis & Kelly next Wednesday morning.
New Releases Coming Tuesday, February 10
Lily Allen - It's Not Me, It's You (Capitol) featuring the single "The Fear"
Trevor Andrew - Trouble Andrew (Virgin) remastered reissue from the pro snowboarder and two-time Olympic athlete
Dan Auerbach - Keep It Hid (Nonesuch) new from The Black Keys' guitarist and vocalist
Beastie Boys - Paul's Boutique (Capitol) 20th-anniversary reissue on vinyl, featuring a bonus poster and download card to hear commentary by the band
Sam Bisbee - Son of a Math Teacher (le Grande Magistery) with guests Mike Viola and Leona Naess
Alice Cooper - School's Out (Audio Fidelity) 24-carat-gold CD reissue, remastered with the label's Kensei Audio Transformer
Guy Davis - Sweetheart Like You (Red House) opening with a relaxed take on Bob Dylan's "Sweetheart Like You," the blues guitarist shines in new originals and covers of Lead Belly and Muddy Waters
Mike Dillon's Go-Go Jungle - Rock Star Bench Press (Hyena) new from the founding member of Critters Buggin
Herman Dune - Next Year in Zion (Everloving) vinyl edition of one of last year's best albums
Taylor Hicks - The Distance (Modern Whomp Records) all new from the American Idol star, currently performing as the "teen angel" in the Broadway production of Grease
Hot Panda - Volcano ... Bloody Volcano (Mint) like a manic mash-up of The Fall and Talking Heads and '90s Brit-pop, this Canadian quartet's full-length debut is a smart, aggressive attention grabber
India.Arie - Love & Politics (Universal Republic) with guests Musiq Soulchild and Gramps Morgan
Sally Kellerman - Sally (Music Force Media) the actress' new collection of standards including Nina Simone's "Sugar in My Bowl" and the Aerosmith/Diane Warren hit "I Don't Want to Miss a Thing"
Hilary Kole - Haunted Heart (Justin Time Records) with producer and guitarist John Pizzarelli, this collection of standards includes the jazz vocalist's take on Tom Waits' "Old Boyfriends" and Blossom Dearie's "You for Me"
Jorma Kaukonen - River of Time (Red House) solo collection of originals and covers from the Jefferson Airplane and Hot Tuna co-founder, featuring his breezy take on Merle Haggard's "More Than My Old Guitar," Mississippi John Hurt's "Preachin' on the Old Camp Ground," and the Delmore Brothers' "Nashville Blues"
Ben Lee - The Rebirth of Venus (New West) with guests Missy Higgins and Cary Brothers and an album cover that re-creates Botticelli's Birth of Venus, his seventh album of bright pop thrills features the songs "Yoko Ono," "What's So Bad (About Feeling Good)?" and the gender-bending "I'm a Woman Too"
Annie Lennox - The Annie Lennox Collection (RCA) with two new cover songs, Ash's "Shining Light" and Keane's "Closer Now," and a bonus DVD of 14 music videos
The Modern Society - The Beat Goes on (Original Signal)
moe - Dr. Stan's Prescription, Volume 2 (Fat Boy) two-CD set recorded in 2001
Van Morrison - Astral Weeks: Live at the Hollywood Bowl (EMI/Listen to the Lion Records) the entire 1968 classic album recorded over two nights this past November, with three bonus tracks on the two-LP vinyl set
Morrissey - "I'm Throwing My Arms Around Paris" (Decca) import-only new single from his upcoming Years of Refusal album, with two exclusive B sides, including "Shame" featuring guest vocalist Chrissie Hynde of the Pretenders
NCIS - original television series soundtrack (CBS) two-CD set featuring new and previously unreleased songs from Ministry, Oasis, Dashboard Confessional, Nitzer Ebb, Perry Farrell, and more
OWL - OWL (Overit) new from Cult bassist Chris Wyse and The Clay People's Dan Dinsmore
Point Juncture, WA - Heart to Elk (Mt. Fugi)
Iggy Pop - Lust for Life (ZEIT1) live DVD recorded in 1986, featuring an interview with the late Ron Asheton
Prince & the Revolution - Purple Rain (Warner Bros.) audiophile reissue on 180-gram vinyl
Red - Innocence & Instinct (Essential/RED) featuring a cover of Duran Duran's "Ordinary World"
Miranda Lee Richards - Light of X (Nettwerk) with Mazzy Star drummer Keith Mitchell and Beachwood Sparks' Josh Schwartz
Dex Romweber Duo - Ruins of Berlin (Bloodshot) all new from the Flat Duo Jets founder and his sister Sara, formerly of Let's Active and Snatches of Pink, with a killer guest list to match his bluesy, rockabilly tone including Cat Power, Neko Case, Exene Cervenka of X, and Rick Miller of Southern Culture on the Skids
Klaus Schulze & Lisa Gerrard - Rheingold: Live at the Loreley (SPV) two-DVD set from the film composer and former Dead Can Dance vocalist, filmed last year in Germany with a bonus interview conducted by Steve Wilson of Porcupine Tree
Kevin Seconds & His Ghetto Moments - Rise Up, Insomniacs! (Asian Man) all new from the 7 Seconds founder
Charles Spearin - The Happiness Project (Arts & Crafts) all new from the member of Broken Social Scene and Do Make Say Think
Glenn Tilbrook & the Fluffers - Pandemonium Ensues (Quixotic) import-only new album from the Squeeze co-founder, featuring guests Johnny Depp and Vanessa Paradis
Steven Wilson - Insurgentes (Kscope) debut solo album from the Porcupine Tree founder with guests Tony Levin and Jordan Rudess, also available as a deluxe set of four 10-inch vinyl discs or a two-CD set with a 5.1-channel mix
various artists - Andy Smith Document (Greensleeves) remix CD from the Portishead DJ, featuring music from Wailing Souls, Yellowman and Augustus Pablo
John M. James can be reached at yeahyeah@cinci.rr.com.