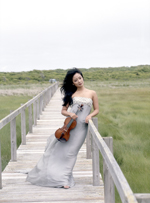 When Chee-Yun takes the stage this weekend with the Quad City Symphony Orchestra, she'll be performing a Saint-Saëns violin concerto she first picked up 24 years ago - when she was just nine years old.
But don't think the Korean-born violinist has tired of the piece after all these years, or that she's done exploring the music.
"How much of an expert can you really be on a piece unless you've spent time with the composer or spent your whole life on a piece?" she said in a recent phone interview. "I'm still young and I'm still learning. Great music always gives so much to work on, so much to be fascinated by, so much to discover every time you play. I never get tired of it."
The work is Saint-Saëns's third, and final, violin concerto. Completed in 1880, the concerto is a standard piece in the violin repertoire.
The concert also includes Edward MacDowell's Indian Suite, Hindemith's Mathis der Maler, and Corigliano's Voyage. Performances are at 8 p.m. October 7 and 2 p.m. October 8 at Augustana College's Centennial Hall.
Chee-Yun started playing the violin at age six. She was invited to perform a Young People's Concert with the New York Philharmonic at 13, and studied at The Julliard School with Dorothy DeLay. Her awards include the Avery Fisher Career Grant, a nomination for Best Debut in the first annual Cannes Classical Awards, and the "Nan Pa" award, Korea's most prestigious musical honor.
Now living in New York City, Chee-Yun performs roughly 80 concerts a year as a soloist and in chamber ensembles, with her concerts taking her across Europe, Asia, and North and South America.
This doesn't leave much time for practicing, especially for music she has been playing for years.
"When you're in school, that's the time to really learn as much repertoire as you can if you want to be a serious concert violinist," she said. "If you see my schedule, I really don't have time to practice. You have to be able to review things very quickly."
And by quickly, she means just a few hours.
"I remember in the beginning of my career I got a cancellation call for a big artist. I was given a night to review the Mendelssohn concerto and just memorize it and play it the next day," she said. "You can do it if you learned it really well in school. ... It comes back to you."
Chee-Yun was used to this level of preparation. She would approach every lesson with that attitude.
"Every lesson for me was like playing a concert, especially with Dorothy DeLay, because I knew she was listening to the same piece played by Itzhak Perlman and Midori, who were 10 times better. I didn't want her to think that I was slacking or being lazy, so I was a very serious student. That sort of attitude carried me over."
If she isn't completely prepared, she can't enjoy the music on stage, she said. Chee-Yun said she has to know the piece well to be "completely soaked and immersed in music.
"That's the only way to communicate. If you're so worried about notes and things like that, you're not going to enjoy it and people are going to know it."
Chee-Yun plays on a violin made in 1669 in Cremona, Italy, a region known for the instruments made by Antonio Stradivari. She has been paired with her Francesco Ruggieri-built instrument since her first recording contract in 1990.
"Up until that point I was playing on a violin I had been playing since I was 10 years old," she said. I'd won competitions on it, and my violin sounded pretty good in a concert hall, but I thought I should sound better, especially when I was playing on a radio station."
When she got her recording contract, she decided it was time for a new instrument: "I thought I could probably graduate onto a violin that was a little better than the one I was playing on when I was 10 years old."
This has made traveling a challenge, because of stories about smashed instruments. "I never check my violin case," she said. "I've never, ever done it. I've been traveling for concerts since 1989, and I refuse to get on the plane if they ask."
She hasn't missed a performance because of this, but it has forced her to change flights to avoid airports in certain cities, such as London, where musicians must check their instruments.
Chee-Yun said she doesn't mind her constant traveling. It allows her to always be working with different symphonies: "It's like trying out a different flavor. It really is. And I'm fascinated."
For more information or tickets, visit (http://www.qcsymphony.com).