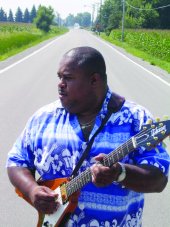 Welcome to the 25th-anniversary IH Mississippi Valley Blues Festival! On behalf of the blues society, I would like to say we are proud of our quarter-century of bringing you, the fans, the best quality blues festival possible. Ours is a fest of not only quality but diversity. We strive to provide you a sampling of the many different styles of America's original music, the blues.
We could not have done this all these years without our sponsors and our many volunteers. To them we are deeply indebted.
There are many changes to be aware of this year, too many to enumerate here. If you are unsure of where your favorite venue is, please ask a volunteer or check your program.
In closing I would like to thank you the fans for supporting us all these years. Hopefully with your continued support we will continue for many years to come.
Sincerely,
Bob Covemaker, Mississippi Valley Blues Society President
How to Buy Tickets
Advance tickets for the 2009 IH Mississippi Valley Blues Festival are available at all IH Mississippi Valley Credit Union locations, the River Center/Adler Theatre Box Office, and through Ticketmaster. The price of an advance three-day pass for the fest is $30. Individual fest tickets at the gate will cost $5 on Thursday, July 2, and $15 on Friday, July 3, and Saturday, July 4.
IH Mississippi Valley Credit Union and Mississippi Valley Blues Society members can purchase individual advance fest tickets at a discounted rate of $12.50 each only at IH Mississippi Valley Credit Union locations.
Children 14 and under will be admitted free if accompanied by an adult with a ticket. Tickets are good for admission only on the day printed on the ticket.