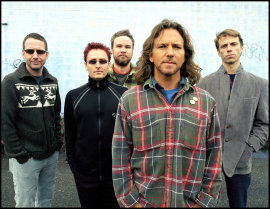 With the record industry in seasonal hibernation, I'm looking ahead to some of the events, tunes, and DVDs of the coming year.
In conjunction with the album's inclusion in Rock Band this spring, Pearl Jam has announced that no fewer than four special editions will grace the reissue of Ten, the group's debut from 1991. Due in March, the campaign signals a proposed two-year celebration of surprises leading up to the band's 20th anniversary. With bassist Jeff Ament serving as art director, each version of the reissue will contain the album two ways: the remastered original and a new complete remix by producer Brendan O'Brien. Six bonus tracks thicken out the basic editions, plus a 5.1-channel surround-sound DVD of their complete 1992 MTV Unplugged as buyers climb the bonus-goodies ladder, ending in a "super deluxe" box set that boasts the CDs, DVD, four vinyl LPs including a concert in Seattle in 1992, a replica of the band's original demo "Momma-Son" cassette, and a composition-style notebook packed with memorabilia.
Here's a dream date to pencil in that new calendar: attending the All Tomorrow's Parties festival in Monticello, New York, the weekend of September 11 with the Flaming Lips as guest curators. Originally scheduled for the Labor Day weekend, the second-annual New York soirée follows last year's guidance by My Bloody Valentine. Participants announced so far include David Cross, Panda Bear, Animal Collective, and Black Dice, with a special performance of the Ocean Songs album by Dirty Three.
I can't wait to hear what the culture jammers and audio miscreants of Negativland have in store with a new signing to its own Seeland Records imprint. Calling themselves Poptastic, the experimental duo of Chris Fitzpatrick and Thomas Dimuzio have created a faux boy band for the once-disgusted, now-amused generation. Confusing, absurd, and mashed up with sinister glee, The Teen-Pop-Noise Virus features such teen-angst ditties as "Torn Photo & a Broken Heart" and "I Want This Love to Last."
The RZA and Mitchell "Divine" Diggs recently joined forces to create a new artist-controlled label, Wu Music Group, and the imprint's debut release, the Wu-Tang Clan's 8 Diagrams. Late January brings the label's second offering, the soundtrack to Spike TV's Afro Samurai: The Resurrection, season two. Masterminded by The RZA, the guest list includes Sly Stone, Boy Jones, Rah Digga, and Kool G Rap.
Another terrific guest list is under Norman Cook's direction in his latest post-Fatboy Slim adventure, The Brighton Port Authority. The group's debut album, I Think We're Gonna Need a Bigger Boat, arrives in early February on Southern Fried Records with Iggy Pop, Pete York, Martha Wainwright, and more. Rolling Stone has picked the first single, "Toe Jam" featuring Dizzee Rascal and David Byrne, as one of the top-20 singles of the year, and the peek-a-boo video is worth searching the Web for.
David Byrne shows up in another fun project, mixing Brazilian beats with Squeak E. Clean and DJ Zegon in The Spirit of Apollo by N.A.S.A. (North America/South America). Due in February, the Anti- Records release features guests Tom Waits, Chuck D, Nick Cave, Karen O, Spank Rock, Ol' Dirty Bastard, MIA, Santogold, Kanye West, and Method Man.
Next month Merge Records will debut of the digital versions of Volcano Suns' first two albums on the beloved Homestead label: 1985's The Bright Orange Years and 1986's All Night Lotus Party. The expanded reissues promise rarities from radio sessions and seven-inch singles.
Red Hot Chili Peppers' guitarist John Frusciante is wrapping up his 10th solo album, released next month from Record Collection Records. The Empyrean promises one interesting cover choice: a take on Tim Buckley's "Song to the Siren" from his 1970 album Starsailor. A handful of guests make the scene, including Johnny Marr of The Smiths and Chili Peppers bassist Flea.
Two cool films in limited release look to find a wider audience via DVD in 2009. Guerrilla filmmaker Brendan Toller has created a love letter to the 3,000 indie record stores that have closed in the past decade in I Need That Record! The Death (Or Possible Survival) of the Independent Record Store. With commentators from behind the cash register alongside Thurston Moore of Sonic Youth, Mike Watt of the Minutemen, Lenny Kaye of the Patti Smith Group, Chris Frantz of the Talking Heads, and authors Noam Chomsky and Legs McNeil, the film looks to explain what the heck happened to a little slice of cultural heaven with an eye to the inevitable future.
Also dipping into the relationship between music and humanity is The Heart Is a Drum Machine by director Christopher Pomerenke, premiering in February at the Phoenix Art Museum. Featured in the documentary are a variety of musicians, including Wes Borland, George Clinton, Jason & Rachel Trachtenburg, Kimya Dawson, and John Doe of X, with Kurt Loder of MTV, Nic Harcourt of KCRW-FM, and Carl Sagan's widow, Ann Druyan. Steven Drozd of The Flaming Lips crafted the film's original score, also turning in a nifty cover of Elton John's "Rocket Man" with vocals by Maynard James Keenan of Tool.
New Releases Coming Tuesday, December 23
Arcade Fire - Miroir Noir (Miroir-Noir.com) digital-only 70-minute documentary film of last year's tour, directed by Vincent Morisset
Chrome - Blood on the Moon (Metropolis) reissue of this Damon Edge and Helios Creed mind-twister from 1981, expanded to two CDs
Dan Peart - Truth Be Told (Muddy Multi-Media) bluesy, rootsy, pickin', grinnin', and crying by the tasty acoustic guitarist and his harmonica
Savage - Savage Island (Universal Republic) featuring the single "Swing" with Soulja Boy Tell 'Em and recently heard in the film Knocked Up, this New Zealand native is a founding member of the Deceptikonz
Slumdog Millionaire - original motion picture soundtrack (N.E.E.T./Interscope) featuring music by A.R. Rahman and M.I.A
Russell Watson - People Get Ready (Universal) import-only collection of soul classics reinterpreted by the operatic tenor, featuring the title track by The Impressions and The Temptations' "Papa Was a Rolling Stone," Billy Paul's "Me & Mrs. Jones," and The O'Jays' "Backstabbers"
various artists - Hommage a Nesuhi (Rhino Handmade) the final project by producer Joel Dorn, this five-CD set honors his mentor Nesuhi Ertegun and the 60th anniversary of Atlantic Records with more than 60 selections by The Modern Jazz Quartet, Mose Allison, Chris Connor, Rahsaan Roland Kirk, Ray Charles, LaVern Baker, and more