As students sit around computers, microphones, and mixing tables, they ignore the technology and listen intently to Newton's laws of motion, learn an equation to find the frequency of a room, and see what a wavelength looks like. In audio engineering 101, on the second floor of the River Music Experience (RME) on the last Saturday in August, half a dozen beginners are being taught the fundamentals of acoustics.
Jesse Topping, 17, is one of these students. He grew up in a musical household; his mom played the cello since she was little, and Jesse plays piano, bass, and guitar. He has a computer recording program but is taking this class to better understand how to use it.
"I love the expression, the limitless possibilities of what you can do with sound as art," Topping said.
The class is a part of The Sound Lab, now in its fourth semester. The program offers three courses for aspiring music producers as well as for musicians who want to learn more about the recording industry.
Audio engineering 101 starts with the basics of recording, both live and in the studio. Students are introduced to professional software -- ProTools -- and learn how to record and mix broadcast-quality sound. They learn that quality sound is as much about the producer/show manager as the musician.
Many students are learning both sides of the business. The instructor, Lars Rehnberg, said about half his students are also musicians.
In 101, he explains is how to equalize the room where the musicians are playing to optimize sound for a room's acoustics.
"Every room resonates sound, and one thing students are learning is how to find the frequency of the room" using the height, width, and length of the space as variables, he said. Hearing the correct frequency on one's own is difficult, Rehnberg said, but some musicians can do it. To facilitate communication between musicians and engineers, Rehnberg created a chart comparing musical notes -- a system the students are already familiar with -- to Hertz, the standard unit for frequency.
In audio engineering 102, students study the complex machinery that complements the sound -- microphones and PA systems -- as well as how to build their own equipment. They also study psychoacoustics, or connections between sound and the brain.
Audio engineering 103 delves into the logistics of producing: developing a business plan, marketing an event, using graphic design and the Web, and running a studio and a stage show.
The Sound Lab's students get hands-on experience running sound at shows at Mojo's (the RME coffeehouse) and the Redstone Room in the advanced classes. Classes meet two to three times per week, for two hours, in an eight-week semester.
Rehnberg said students need to take their time learning these skills, which combine both art and science.
"Slower is faster," he tells students. "Take the time to learn how to do it properly; what you don't have time for is banging your head against the wall in frustration."
"Just the Right Time"
The Sound Lab was an initiative to expand the River Music Experience's educational curriculum and was created by Tom Swanson, the organization's general manager; Justin Farley, its production manager and sound engineer; and Ellis Kell, the director of programming. (The RME also provides private music lessons through West Music and Rock Camp USA.)
Swanson -- who, like Rehnberg, is a former employee of the River Cities' Reader -- applied for and received in early 2007 a $30,000 grant from the Scott County Regional Authority to build and equip the facility, which started in the basement of the RME building and has expanded to the second floor. Swanson himself worked on some of the construction and assembled work stations that Sound Lab students would later learn on, he said via e-mail. Classes began in 2008.
"We provide an economical way to learn more about current recording technology," Kell said. "It's valuable for people to record original material at a quality level."
Around the time Swanson was looking for an instructor, Lars Rehnberg, now 29, was planning his own program for recording technology. He got a tip that the RME was seeking someone like him: a person with a teaching background and a talent and passion for music. Rehnberg previously taught English at the University of Alabama and special education in his hometown of Rockford, Illinois, and has worked musically on- and off-stage since he was 15, playing guitar and charango, a South American instrument similar to a mandolin. Instead of starting from scratch and creating his own program through his record label, River Drive Records, he decided to collaborate with the RME.
"We found each other at just the right time," Rehnberg said.
The instructor has already added material to the curriculum, such as shooting music videos, because many of his students now are looking into television or film audio. His focus therefore is on skills that are broadly applicable in music-related fields.
---
More Than "Watch and Learn"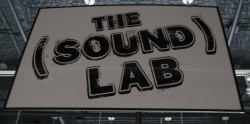 Audio production is a difficult career to train for as well as to break into, Rehnberg said, because it requires expertise in disparate fields: engineering, computers, other mechanical devices, and musical theory.
That's one reason that -- until The Beatles -- no major musician had experimented firsthand with producing. The band is so legendary in part because its members learned and mastered the technical aspects of recording.
"In the studio, on one side were the musicians," Rehnberg said. "On the other were actual scientists and engineers producing. [The Beatles] broke through the wall."
Now, many students at the lab want the same thing.
"It makes more sense to do it myself," said Kevin Gentz, a 103 student. "To see how it's done rather than others doing it for you."
Gentz, 23, plays guitar and plans on going into film audio. He previously took an audio-production class at the University of Iowa and job-shadowed at a recording studio, but he said The Sound Lab has been his best experience because of Rehnberg's emphasis on "hands-on" experiments; his other training was more "watch and learn."
Alyssa Morosko, 18, is a 101 student who said classes at The Sound Lab want to make her pick up her guitar again. She is also taking music-theory classes at Black Hawk College, but she said the classroom setting leaves something to the imagination, with less lab work. Two sessions into her class at The Sound Lab, Morosko has already learned how to record and manipulate the sound, something she had never done at Black Hawk or on her own.
That illustrates another barrier to entering the music-production field: the dearth of educational options. There are roughly 50 college-level programs in the United States, according to Education-Portal.com, but those can be expensive; an associate's degree program in audio production and engineering at the Institute for Production & Recording in Minneapolis runs $39,000.
And while music-business and music-theory classes are available at less-expensive schools such as Black Hawk College in Moline, there are no courses in audio production or engineering.
The Sound Lab can therefore serve as a survey of the field for people considering a more intensive program. Tuition for each class is $400, with a 10-percent discount for those who sign up for all three. The classes use the same textbook, an additional $40. (For more information, visit RiverMusicExperience.org/programs/soundlab.htm.)
Rehnberg said his students generally fall into two groups: 16- to 30-year-old men and women who want a career in audio production, and 45- to 55-year-old men who have been into audio for years as a hobby. Most are music lovers who want to produce or engineer their own music.
"A Fantastic Long-Term Investment"
Rehnberg said that as both an artist and a producer, he knows how hard it is to engineer his own recordings; it's tricky to separate and balance the emotional, artistic side of music with the technical production side.
But at the beginning of their careers, musicians almost always have to engineer themselves, he said. Knowing how to properly record your own music makes it easier to get gigs and be taken seriously by record labels.
"Recording and performing are kind of at odds mentally," Rehnberg wrote in an e-mail. "To engineer, you have to be very present and detail-oriented. To perform well, you need to be thoroughly warmed up, relaxed, and emotionally invested in the song, even emotionally transported. It helps to close your eyes. But of course, you can't monitor the input and output levels while being emotionally transported with your eyes closed."
Rehnberg has already made a mark on his students. Alumna Melanie Rivera took the classes last year in anticipation of a job at a recording studio in Liverpool, England. While that job didn't materialize, Rivera then founded a not-for-profit organization called Salsa Des Moines, which provides salsa classes to the community, entertainment at business meetings, and performances at festivals. She said the skills she acquired at The Sound Lab have helped in her new position.
"The Sound Lab is not just audio engineering; it's also the nitty gritty of recording," Rivera said. "I learned how to communicate with managers, the label ... the business side of organizing musical events."
Another alumnus, Dan Peart, recently competed in the Iowa Blues Challenge in the solo/duo division. He also recorded and released his first album, Truth Be Told.
Rehnberg summarized that knowing the technical and business aspects of the music industry is no longer optional: "There's almost no way to play music today without spending all your time around machines that need engineering, so learning to speak that language is a fantastic long-term investment for a musician to make."