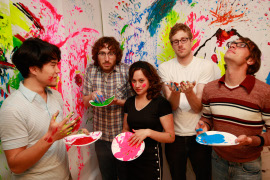 The All Music Guide's review of the Botticellis' debut full-length begins by noting that "you'd never know from listening that it took the Botticellis four years to craft their debut album Old Home Movies. It sounds like the work of one sun-soaked late summer afternoon spent playing tunes with friends and family."
Singer and songwriter Alexi Glickman - who is bringing the San Francisco-based quintet to the Capitol Theatre in Davenport on Friday as part of a quadruple bill presented by Daytrotter.com - would be pleased.
Old Home Movies, released in May, was obviously labored over but is not remotely belabored. The Botticellis sound like the New Pornographers with a Beach Boys fixation, crafting compact, detailed, brightly colored pop that sounds casual and gently aged. The record's title could not be more apt.
"Our main goal was wanting to have the experience of listening to one of our records that felt like the experience of listening to some of our favorite pop records, where it's not just a couple songs that you like ... ," Glickman said last week. "We just kept working until we felt we had a record that did that."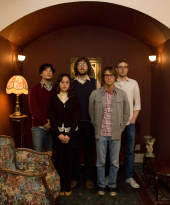 More than three of those four years were spent preparing the material and the aesthetic, Glickman said. "I guess it's an experience of listening to a pop record as a record, and being able to listen to it at different times and different moods and different ways, and being able to analyze it as a music nerd and not pay attention to it, and just have it in the background when you're doing something else," he said. "Even though it's a pop record ... there's a depth there that you can really go into lyrically and musically ... that I think is a result of just having a lot of nuance and a lot of time with the songs."
Recording those tracks, though, proved to be an adventure. "We knew what we wanted it to sound like and we had all the parts," Glickman said. "Unfortunately, the biggest thing we learned in the studio was that we didn't belong in a studio."
The Botticellis had booked a high-end analog studio, he said, and it turned out to be more hindrance than help. "The sound that we were after was much more than lo-fi than a good analog studio," he said. "A good analog studio with a ... 24-track tape machine and a great board sounds to me like a digital studio. It's very clean, and the techniques that those kind of engineers use are very modern, separated techniques. So we had to learn how to get the sounds that we wanted by experimenting on our own, which was really stressful, because that's not what we wanted to do originally."
In the end, to get the slightly melted sound the band sought, it recorded the album mostly live with a couple of microphones in the room instead of tracking separately.
While Old Home Movies was a more costly and time-consuming endeavor than it needed to be, Glickman said the experience provided some important lessons.
"I don't know about necessarily using the word 'waste,'" he said. "In that process, we learned how we're going to do all the rest of our records, which is extremely valuable, and way cheaper than we thought it would be."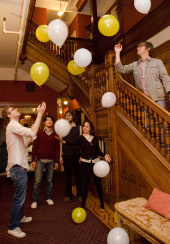 Glickman and Botticellis drummer Zack Ehrlich have known each other for 21 years - since kindergarten - and they started their first rock band when they were nine. The Botticellis grew out of that relationship. Lyricist Blythe Foster, who joined the band several years ago, was a key addition, Glickman said.
"When I met Blythe, we basically re-wrote a bunch of existing songs," he said. "We re-wrote the lyrics, and that also necessitated rearranging things and changing melodies."
Foster's contribution, he added, was to balance the lightness of the music with lyrical complexity. "It would have been easy for me to write lyrics that just sort of sounded like the music ... ," Glickman said.
In his hands, "New Room" was "too personal," he said, about a friend dying of cancer. "I had these really literal, really downer lyrics, and I never wanted to sing the song because of that. And so we never played it. ... And she was able to take some of those images and sort of re-write it so I could sing it again. ... I think it conveys the same thing to me, but it also allows for someone else to read their own experience into it."
I'm more enchanted by the opening couplet of "Flashlight," sweetly sung over organ and acoustic guitar: "I stole your flashlight / To dissuade you."
As much as the band wanted to create songs that would reward close scrutiny, its members also wanted them to be accessible.
"You try to do too much, and you end up sort of missing the point of rock music, or pop music, which is a lot about style and a lot about subtlety, and you end up sounding like King Crimson, or Kansas ... ," Glickman said. "The Botticellis was us trying to make something small and delicate and refined, as opposed to something that was really difficult to play."
The Botticellis will play at the Capitol Theatre in downtown Davenport on Friday, June 13. The show also features Driver of the Year, Drakkar Sauna, and the Eyes. The show starts at 8 p.m., and tickets are $5 at the door.
For more information on the band, visit (http://www.myspace.com/thebotticellis).