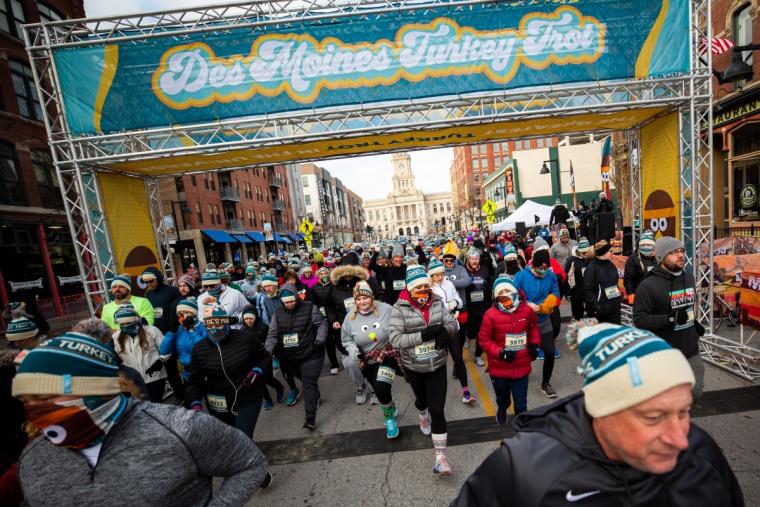 DES MOINES, IOWA (November 21, 2022) — For the eighth year running, The Des Moines Turkey Trot will welcome runners from across the country for a Thanksgiving morning 5K, 5 Mile, and Tot Trot run in the heart of downtown. Nearly 5,000 runners from 37 states are expected to attend this year's event which has been named one of the "Top Trot's in the Country" by Runner's World Magazine.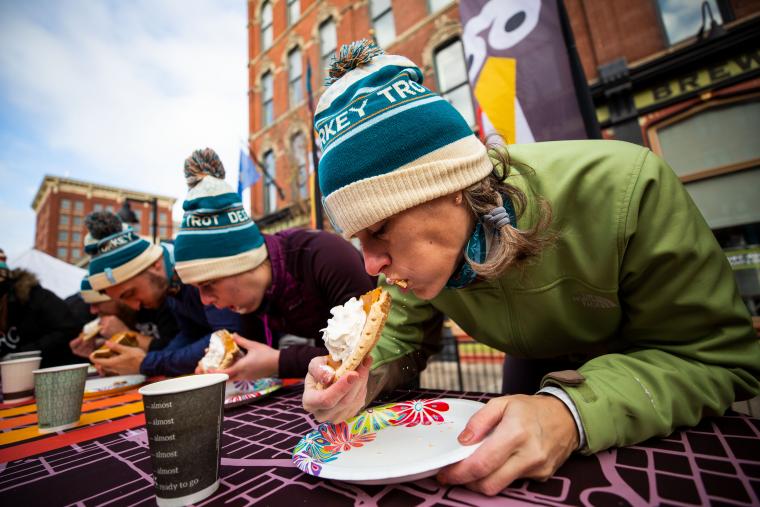 The annual event kicks off at 8:45AM in the Court Avenue Entertainment district of downtown with a "Pie and Egg Nog Competition," where a handful of runners attempt to be the first to gobble down a quarter of a pumpkin pie and a glass of egg nog, all before completing their run. The running event starts in waves at 9AM with holiday music ringing off the buildings.
"Whether you're looking to burn off a second helping, or create a unique memory with your family, there really isn't an environment quite like the Des Moines Turkey Trot anywhere else," says race director Michael Zimmerman. "People are singing carols at the starting line, stopping for selfies at the capital, and posing in an awkward family photo booth it's one my favorite hour of the year."
Since the coronavirus pandemic, running events, both locally and nationally, have taken a big hit. Registration numbers fell more than 30% in 2021, compared to 2019, and have remained low ever since. Yet Thanksgiving Day events have appeared to resist this trend, keeping it as the largest running day of the year in the US. Zimmerman believes the reason for this is the light-hearted nature of a "trot."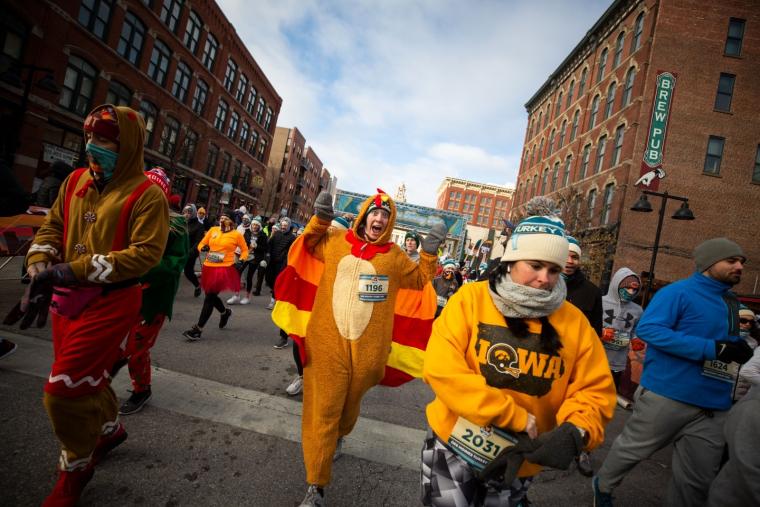 "Very few people show up to our Turkey Trot looking to set a PR (Personal Record). This is an event about dressing up, challenging your cousins, and ultimately making family memories," said Zimmerman.
In line with this fun-loving attitude, the event has erected a four-story tall turkey on the south side of Martin Luther King Blvd at 12th Street in downtown Des Moines. The turkey will remain until it is moved to the finish line this Wednesday.
Registration for the event is available online until Wednesday or in-person until 8AM on Thanksgiving morning. All registrants receive a "Des Moines Turkey Trot Knit Cap," Finisher Mug, Bag, and Bib. More information can be found at www.desmoinesturkeytrot.com.
RipRoar Events, host of the Des Moines Turkey Trot is a Des Moines based Endurance event production company. Their local events also include the EMC DAM to DSM, The Des Moines Women's Half Marathon Weekend and the RIpRoar Youth Triathlon Series.