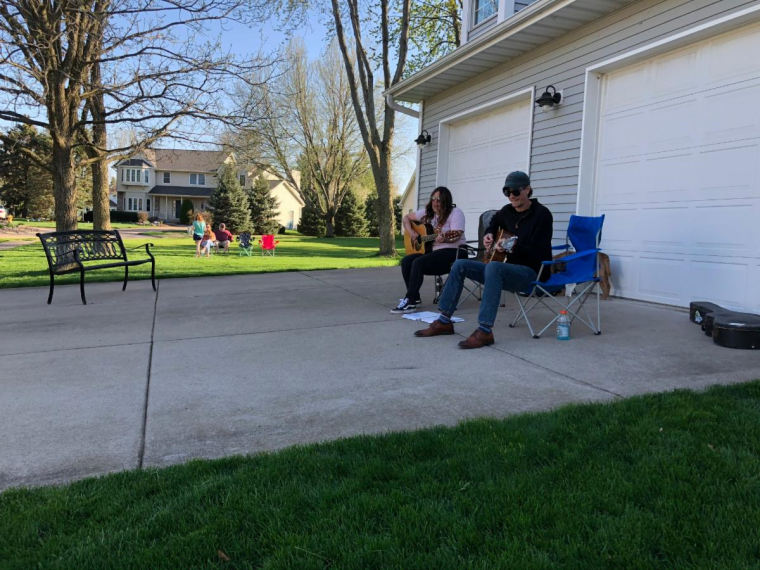 DAVENPORT, IOWA (May 1, 2020) — The River Music Experience is expanding its new Curbside Concerts program thanks to a generous sponsorship gift from Russell Construction. The program, which began April 23, brings together local musicians and RME staff to provide live music in neighborhoods and community sites throughout the Quad Cities during a time of social distancing.
"Our top priority, no matter the circumstances, is to continue carrying out our mission of providing opportunities to listen to, learn about, and play music," said Tyson Danner, RME's Executive Director. "Since live concerts in the Redstone Room are cancelled for the time being, we decided to bring live music to our community."
During the concerts, the musicians arrive and quickly set up outside a home or business at a safe distance, where they perform a 20-30 minute concert. Audiences have ranged from a single person to a group of coworkers to a whole neighborhood of families.
After all openings in the first four days of the program were quickly booked up, the RME staff realized they would need to expand the program. Curbside Concerts will now be offered throughout at least the months of May and June.
"This is a time for experimentation and innovation," said Danner. "Our staff has been trying a lot of different approaches to meet the needs of our community, and we've been surprised by how strong the response has been. The outpouring of support has just been incredible."
Thanks to the sponsorship from Russell Construction, RME will now be able to expand the program to offer free concerts at nursing homes, residential care-facilities, hospitals, and other community sites. The performances will provide live music and connection to members of our community who are especially isolated during this time, as well as the frontline workers who keep our community safe. RME expects to provide up to 25 of these concerts per week thanks to the partnership with Russell Construction.
"At Russell, we love (and miss) our live music. We commonly host musicians on the patio of our office and many of our team members are musicians. Music makes a difference to everyone, so we decided to do our part to support the community and spread some cheer through live music," stated President / CEO, Jim Russell.
Curbside Concerts are available to members of the general public on Thursdays and Fridays for a suggested donation of $60. Each day features a different popular local musician. The public can visit RME's website to register: www.rivermusicexperience.org.
RME's educational mission continues even in these challenging times. After ceasing all in-person programs, the nonprofit made quick changes to ensure students would not miss out on educational opportunities. The popular "Music Lab" program, an educational show for kids, airs live on Facebook at 10AM and again on Mediacom's MC22 channel at 1:30PM each weekday. Many private lesson instructors have migrated to online video lessons, and RME continues to distribute educational videos and activities to its students. Solitary Sessions online concert series are offered weekly on Facebook.