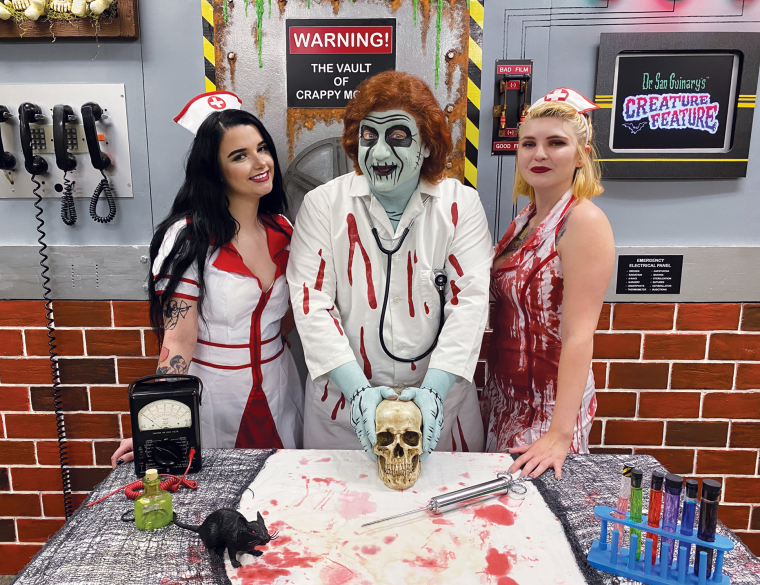 DAVENPORT, IOWA (June 26, 2020) — The Quad Cities has a new remedy for all that ails them, as Dr San Guinary brings his Creature Feature T.V. program to the Saturday night airwaves at 11PM, starting on July 4 on COZI 6.3. The one-hour program, hosted by Doc and his cast of cutie nurses and wacky characters, showcases a wide variety of horror and science-fiction schlock classics, as well as locally-produced material and shorts from around the globe. The show, which sometimes gets a little risqué with its cheesy comedy, is aimed at teenagers and adults, with lots of pop-culture references and in-jokes from the last 40 years, as well as borrowing and taking inspiration from film, TV, and news-headlines from yesteryear through today.
The program has been running since 2012 in Omaha, Nebraska, on the local Fox station. Created by Christopher Palmer and Jason Van Buskirk, the show is a reboot, of sorts, of Omaha's original Creature Feature program, which ran from 1971-1981, starring KMTV director John Jones as Dr San Guinary. Palmer, a long-time resident of the Chicago area, has recently moved to Iowa and wanted to bring the program closer to his new home. Palmer explains, "Jason has been a local TV commercial producer for years, and I have been on the production end of commercial graphic design for decades. We make a well-organized team to crank out a silly show simply designed to let people blow off steam and turn off their brains for a while. The chuckles we generate have always been important, probably more so now in 2020."
The program splits a movie into two parts, with comedy cut-ins and other special features. "Over the years, we found folks weren't tuning in for the movie, which is usually a cheesy piece of crap," Palmer states. "Our three cut-ins which originally filled about seven minutes, now run as long as twenty.
"Everything is scripted to emulate the 1970s era program. Whereas we have all the latest in digital and chroma-key technology, we like keeping it low-fi and simple. We keep the digital to sprinkles. Most of us grew up with a local horror host, Chicago's The Bozo Show, and British comedy programs such as The Benny Hill Show and Monty Python's Flying Circus, so we enjoy keeping the tradition of slapstick and yucks on TV alive in our own weird little way."
Producing a TV program also entails a lot of work in the digi-realm. Palmer adds, "As more people stray away from pay TV and turn to antenna and the web, we have kept pace. Most of our 12-member cast and crew play multiple roles within the show. Moose Epperson, who portrays the Professor character, also shoots and edits material for our website, Facebook, and DVD merch-offerings. Our show goes online worldwide the day after it airs on TV, so anyone can catch us anywhere. Eric Cramer, who is Larry the Woofman, handles podcasting duties. After a few hours of shooting the show, we spend a few more hours with the collateral material, which has recently included live web-casts. It is all time-consuming work we have been doing for years and considering we all have our careers and families to contend with, it is a labor of love. We don't make a cent doing this. Any sponsors we get just covers our air-time."
An interesting aspect of Creature Feature is its connection to the community. Palmer explains, "Jones utilized the San Guinary character to raise thousands of dollars each year for the Jerry Lewis Labor Day Telethon, as well as other charities. We have continued the tradition, holding Creature Feature Blood Drives, clothing collections, and food drives for Omaha shelters. Now that we are in the Quad, we will be holding blood-drives for the Mississippi Valley Regional Blood Center. Doc is always first to roll up his sleeve. Learn by example." The first blood-drive slated to be held at the Midwest Monster Fest horror convention in East Moline on September 5, with shelter drives slated for early fall.
Dr San Guinary's Creature Feature can be watched online at www.CreatureFeatureTV.com, and further information regarding the show may be found on Facebook at www.facebook.com/DrSanGuinaryTV/.