MUSCATINE, IOWA (August 30, 2021) — A new series of works by Iowa artist Rose Frantzen will be on view at the Muscatine Art Center from September 2 through October 31, 2021. Frantzen was born, raised, and returned to Maquoketa, Iowa, where the rural lifestyle and landscape continue to provide inspiration for her paintings. Her lifelike and radiant examinations of humans and our world bring together a long tradition of oil painting and portraiture with the skill and forward thinking of a 21st century artist.
Frantzen's exhibition, The Optics of Illusion, is an interplay of portraits in dialogue with optical illusions. The exhibition dives into our national conversations about identity, tribalism, and othering while exploring the likelihood that we might misperceive others and even ourselves.
In the piece entitled, Carrying the Weight on an Occluded Reflection, the woman's reflection is inverted and obscured within an archway that seems asymmetrical, within a framework that only appears to be misaligned. The viewer questions, "Is this the illusion?" and "Does the woman carry the weight of the viewer's misconception?"
Rose Frantzen explains, "I am an oil painter who finds the human subject fascinating. The painting processes I utilize, the direct and alla prima approaches, often require a great deal of time engaged with my subject. I have found whenever I really meet someone, as I do when I paint them, I meet their dignity."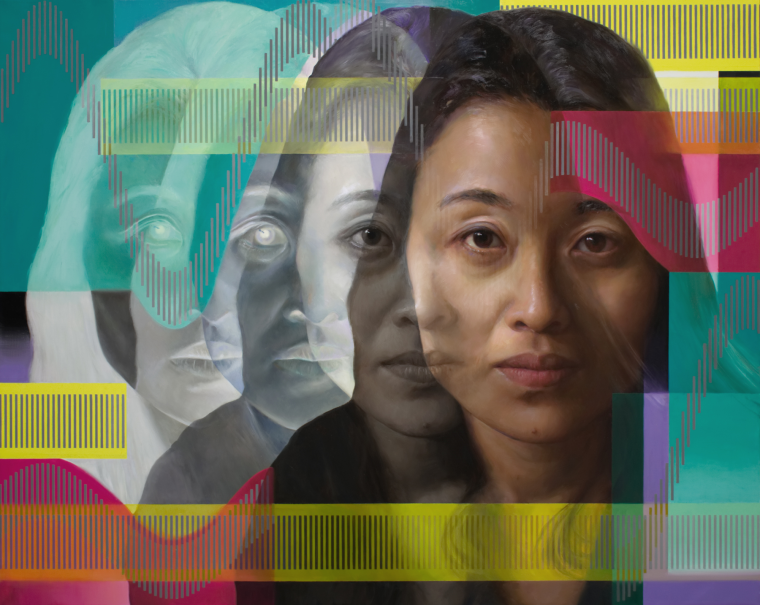 Waves of Misperception Migrating
The process of painting someone taught Frantzen that you cannot simply look at a person and think you know them. "Can we trust ourselves so much?" Frantzen asks. "Optical illusions remain persistent, even when we rationally know that we are seeing things incorrectly. If misperception happens with simple lines and shapes, why wouldn't this also occur when we encounter something as complex as another human being or even ourselves?"
This exhibition will be Frantzen's second at the Muscatine Art Center. In 2018, her series, Faces of Iowa State, was on view in the Stanley Gallery. That exhibition featured 39 portraits commissioned by Iowa State University to commemorate presidents, deans, accomplished faculty, and heralded alumni.
In June 2018, the Muscatine Art Center commissioned Frantzen to paint volunteer, Sandy Hallett, during the Ice Cream Social. "Rose set up in the Music Room," explains Melanie Alexander, Director of the Muscatine Art Center, "and painted Sandy for about five and a half hours in front of an audience. It was amazing to see the portrait transform from green and lavender undertones to a fully realized portrait."
Frantzen attended the American Academy of Art in Chicago, the Palette and Chisel Academy in Chicago, and the Lyme Academy College of Fine Arts in Old Lyme, Connecticut. After years of living in Chicago and New York City, Frantzen returned again and again to her hometown of Maquoketa, Iowa, where she purchased the old city hall and created a gallery with her parents, renovating the building, which now exhibits her work alongside works by her husband, Charles Morris.
Visitors can meet Rose Frantzen on September 9, 5-7PM, in her exhibition on the second floor of the Stanley Gallery. Admission is free of charge.
The Muscatine Art Center is located at 1314 Mulberry Avenue in Muscatine, Iowa. Hours are Tuesday, Wednesday, and Friday, 10AM-5PM; Thursday evenings, until 7PM; and Saturday and Sunday, 1-5PM. Admission is free. Donations are appreciated.