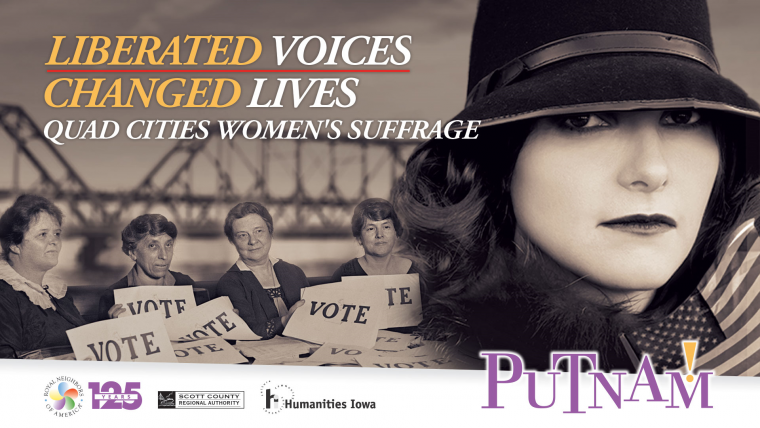 DAVENPORT, IOWA (March 5, 2020) — The Putnam's newest exhibit will uplift the legacy of local organizers in the women's suffrage movement, and highlight the innovations of the early 20th century that paved the way for change.
Starting Saturday, March 7, the exhibit "Liberated Voices/Changed Lives" will open at the Putnam Museum.
"Liberated Voices/Changed Lives" celebrates 100 years since the ratification of the 19th Amendment, which affirmed women's right to vote. The exhibit will include artifacts, photos, clothing and recorded re-enactments that tell the story of area organizers in the push for and against suffrage from the 1900s to the 1920s. Museum-goers will use touch-screens throughout the exhibit to learn about suffragists such as:
Dr Mabel Palmer, "First Lady of Chiropractic" from the Quad Cities;
Ms Eldorado Jones, Moline factory owner and inventor;
Mrs Francis Baker, African American rights leader from Davenport;
and many more.
"With this exhibit we want to honor the women who, in some cases, risked everything to obtain the vote and the other rights women in this country have come to expect," said Christina Kastell, Putnam Curator of History and Anthropology. "We want girls to ask their mothers and grandmothers to tell them stories of their female ancestors."
The exhibit also tracks how innovations and inventions from the simple toaster to the more complex electric washing machine gave women the free time to organize for suffrage.
Displays include early electric household items that revolutionized home life for women during the early 1900s, as well as the way women's clothes and accessories changed during the height of the suffrage struggle.
MORE INFORMATION
The exhibit will be open seven days a week and is included with general admission: $9 for adults; $8 for youth and seniors; and free for Putnam members.
For more information, visit www.putnam.org/suffrage. To plan a group visit, please call 563-324-1933.
The new suffrage exhibit is generously sponsored by Royal Neighbors of America and is supported by grants from Scott County Regional Authority and Humanities Iowa, a state-based affiliate of the National Endowment for the Humanities.
This project is supported by Humanities Iowa and the National Endowment for the Humanities. The views and opinions expressed by this program do not necessarily reflect those of Humanities Iowa or the National Endowment for the Humanities.
About the Putnam
The Putnam Museum's mission is to Preserve, Educate and Connect. For more than 150 years, guests have experienced the Putnam's permanent exhibits like Unearthing Ancient Egypt as well as an array of programs. In more recent years, internationally recognized traveling exhibits have been among the museum's offerings. The Putnam is dedicated to helping guests discover and explore in a friendly and engaging atmosphere.