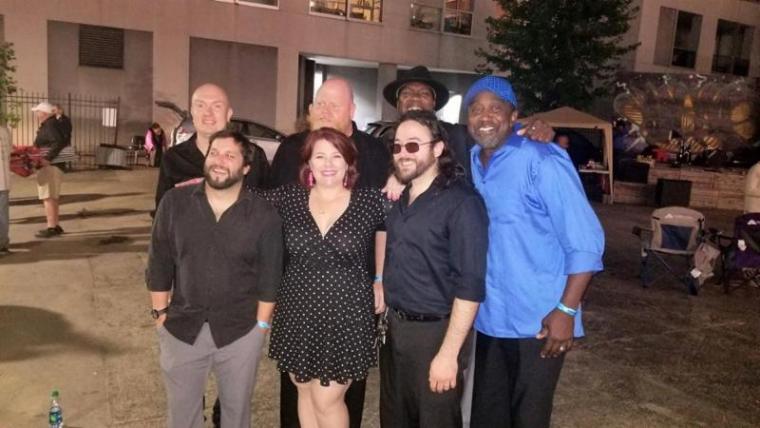 EAST MOLINE, ILLINOIS (June 18, 2019) — For the 26th year, the Central Iowa Blues Society, with the cooperation of the Southeast Iowa Blues Society, presented the Iowa Blues Challenge, on Sunday, June 16. The Iowa Blues Challenge is a music competition in two categories: Bands and Solo/Duo acts. This year, four bands and four solo/duo acts entered the competition and competed for a prize package that includes cash, recording-time, paid-performance opportunities, and entry into, and travel expense stipend for, The International Blues Challenge, to be held on historic Beale Street in Memphis, Tennessee in January 2020.
Generation of Blues wins the Solo/Duo Competition
Though both Hal Reed and Kent Burnside were both raised in separate areas of Mississippi, both of their journeys have somehow brought them together in the state of Iowa.
Hal Reed, a blues harpist, singer, and educator, currently lives in Davenport, Iowa, but was born just a few miles from the Mississippi Delta and grew up surrounded by legends of blues music. His playing brims with the stamp of authenticity, having a triple-fisted influence of Mississippi, Gospel, and Chicago-style blues pumping through his heart. His first exposure to blues music was when he heard his grandfather Lucious Smith play — a southern folk-blues artist who taught Reed insightful glimpses into early 20th century African-American music culture. Also passing down generational natural talent was his father, James T. Reed, and his grandmother, a devout member of the local Pentecostal Church, and his uncle, the great Lester "Big Daddy" Kinsey.
Kent Burnside, now living in Des Moines, Iowa, was also born into the blues. Though he was born in Memphis, Tennessee, Kent Burnside was raised in Mississippi with a horde of musical influences. Kent is the grandson of legendary blues man RL Burnside, who began teaching him to play guitar when he was just 9-years-old. It is his genetic drive to pursue music and continue his family line of great musicians: Kent is also the nephew of blues musicians Duwayne and Dan Burnside, and the cousin of blues performer Cedric Burnside. Kent learned from the masters.
It's a perfect partnership. These two bluesmen are passionate about the history of their art-form and striving to keep the blues alive by sharing their vast musical roots, while also adding their own version of the family blues form. Before passing, RL gave Kent a piece of important advice: "You gotta take a groove and just keep on driving it 'til you come up with your own style." And that's exactly what Generations of Blues is attaining to do.
You can catch Hal Reed and Mississippi Journey at the Mississippi Valley Blues Festival on Friday night 6-6:45 on the Pedigo/Jones Stage.
Avey/Grouws Band wins the Band Competition
Avey/Grouws Band hits hard with their gritty take on blues, blues rock, and Americana. After meeting at a blues jam in the Quad Cities, they formed and won the 2017 Iowa Blues Challenge. AGB started 2018 by making it to the semi-finals at the International Blues Challenge in Memphis and releasing their EP, "Road to Memphis". It's been a busy year for the band, including festivals such as Boogie, Blues, and Brews in Yuma, Arizona; Port Charlotte Chili, Brews and Blues Festival in Punta Gorda, Florida; Bowlful of Blues; North Liberty Blues Fest; Smokin' in Steele; Blues on the Chippewa; and many more. With a deep connection to the Quad Cities and the music of the Mississippi River, AGB is proud to be taking the main stage at this year's Mississippi Valley Blues Festival. Passionate, powerful, and always playful, Avey/Grouws Band is here to make music — and to have a good time doin' it. Avey/Grouws Band is Chris Avey, Jeni Grouws, Bryan West, Randy Leasman, and Nick Vasquez.
You can see the Avey/Grouws Band live at the Mississippi Valley Blues Festival on the Main Stage Friday night 5-6PM, and again Saturday night starting at 11PM as they host the 2019 After-Fest Jam in the Bend Event Center on the festival site.