DAVENPORT IOWA (July 20, 2021) — Rhythm City Casino Resort Event Center proudly presents renowned blues guitarist Tab Benoit and the 2021 Whiskey Bayou Revue, in concert on Thursday, August 12. Showtime: 8:30-10PM. Tickets: $25-$35. Info: (844) 852-4386 or visit https://rhythmcitycasino.showare.com/ordertickets.asp?p=118&backurl=//rhythmcitycasino.showare.com/default.asp. Opening for Benoit is Whiskey Bayou Records recording artist, Alastair Greene.
Benoit's recent "Chicago Takeover" featured the Louisiana-based musician performing for six evenings in June at the famed City Winery. "Tab Benoit residency helps usher in the return of live music in Chicago," writes the Chicago Sun-Times, who also interviewed Benoit. Read the entire interview, here. Benoit continues to add new dates to the tour, including four consecutive nights at the Big Blues Bender in Las Vegas, September 9-12 (updated itinerary below).
Benoit and guitarist Samantha Fish performed together last November at Nashville's famed Ryman Auditorium for a live concert streamed worldwide. "This is an artist whose playing speaks to you as much as his lyrics do," wrote Music Connection magazine, reviewing Benoit's Ryman show set. "What Tab lacked in theatrics he made up for with a warm and disarming stage presence and heartfelt playing."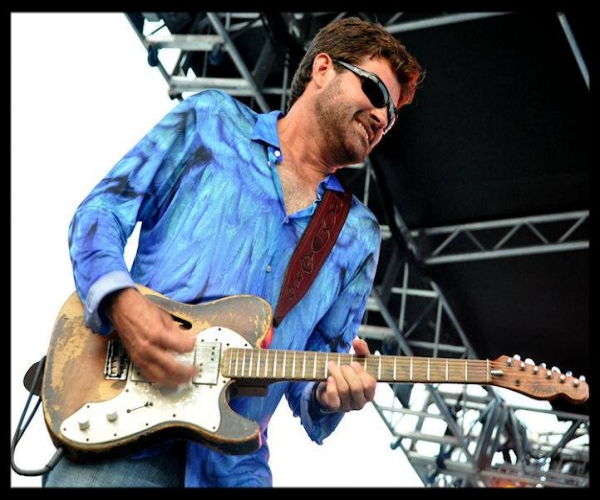 The Grammy-nominated Benoit was selected among the "30 Best Blues Guitarists In The World Today" by Guitar World in 2020 and also co-authored recently-released book, Blues Therapy, about the blues and mental illness.
Benoit, who throughout his thirty-plus career has always been known for his environmental activism, performed two nights in his hometown of Houma at the memorable 16th Annual Voice of the Wetlands Festival. He also appears prominently in the IMax motion picture Hurricane on the Bayou, a documentary of Hurricane Katrina's effects and a call to protect and restore the Wetlands, and produced a CD to help restore that state's Coastal Wetlands. Benoit was inducted into the Louisiana Folklife Center Hall of Master Folk Artists in the Spring of 2020.
Whiskey Bayou Records is a partnership between Benoit and his partner and manager, Rueben Williams. The label has thus far released albums by such established and up-and-coming artists as Eric McFadden, JP Soars, Alastair Greene, Damon Fowler, Eric Johanson, Jeff McCarty, and Dash Rip Rock.
TAB BENOIT & THE WHISKEY BAYOU REVUE ON TOUR!
July 20 (Sunday)                       SAM'S BURGER JOINT                                     San Antonio TX
July 21 (Monday)                      THE KESSLER                                                    Dallas TX
July 22 (Tuesday)                      STANLEY'S FAMOUS PIT BBQ                       Tyler TX
July 23 (Friday)                         THE 04 CENTER                                                Austin TX
July 24 (Saturday)                     THE HEIGHTS THEATER                                 Houston TX
August 7 (Saturday)                   THREE CAVES                                                   Huntsville AL
August 11 (Wednesday)            BARRYMORE THEATER                                  Madison WI
August 12 (Thursday)              RHYTHM CITY CASINO RESORT               Davenport IA
August 14 (Saturday)                 BAYFRONT BLUES FESTIVAL                       Duluth MN
August 17 (Tuesday)                 THE ACORN                                                       Three Oaks MI
August 19 (Thursday)                RIVER CITY CASINO                                        St Louis MO
August 21 (Saturday)                 MADISON RIBBERFEST BBQ                          Madison IN
August 22 (Sunday)                   THE KENT STAGE                                             Kent OH
August 24 (Tuesday)                 BEACHLAND BALLROOM                              Cleveland OH
August 25 (Wednesday)             JERGELS RHYTHM GRILLE                            Warrendale, PA
August 26 (Thursday)                LEESBURG THEATER                                      Leesburg VA
August 28 (Saturday)                  MICHAEL ARNONES CRAWFISH FEST       Augusta NJ
September 9/10/11/12                BIG BLUES BENDER                                        Las Vegas NV
September 14 (Tuesday)            RHYTHM ROOM                                               Phoenix AZ
September 15 (Wednesday)       RHYTHM ROOM                                               Phoenix AZ
September 16 (Thursday)           BELLY UP TAVERN                                          Solana Beach CA
September 17 (Friday)                WORLD RECORDS                                           Bakersfield CA
September 22 (Wednesday)       FELTON MUSIC HALL                                     Felton CA
September 23 (Thursday)           CORNERSTONE                                                Berkeley CA
September 25 (Saturday)            MYSTIC THEATER                                           Petaluma CA
October 19 (Tuesday)                RAMS HEAD ON STAGE                                  Annapolis MD
October 20 (Wednesday)           RAMS HEAD ON STAGE                                  Annapolis MD
October 21 (Thursday)               THE BIRCHMERE                                             Alexandria VA
October 22 (Friday)                    ELEVATION 27                                                  Virginia Bch VA
October 24 (Sunday)                  PARAMOUNT BRISTOL                                  Bristol TN
October 26 (Tuesday)                SELLERSVILLE THEATER                               Sellersville PA
October 28 (Thursday)               COHOES MUSIC HALL                                    Cohoes PA
October 29 (Friday)                    INFINITY MUSIC HALL                                   Hartford CT
October 30 (Saturday)                CENTER FOR THE ARTS                                  Natick MA
November 2 (Tuesday)               CITY WINERY                                                   Boston MA
November 3 (Wednesday)          BULL RUN                                                         Shirley MA
November 4 (Thursday)             SPIRE CENTER/PERFORMING ARTS            Plymouth MA
November 6 (Saturday)              BEACON THEATER                                          Hopewell VA
November 11 (Thursday)           MARTIN'S                                                           Jackson MS
November 12 (Friday)                SATURN                                                             Birmingham AL
November 14 (Sunday)              TAFT THEATER                                                Cincinnati OH