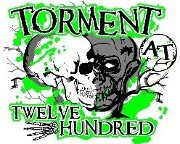 It is now that time of year again... a chill in the air, falling leaves, a harvest moon, and screaming off in the distance. The tormented souls of "Torment at Twelve Hundred" roam once again.  This October will be the fourth season of 'Torment'.  Steve and Nancy Patterson have taken "Torment at Twelve Hundred" in Orion, Illinois to a new level this year.  With seven new rooms, revamped rooms, added scares and new characters, 'Torment' will ultimately scare the yell out of you.  In addition to the new scares, 'Torment' has joined with "Wheels of Freedom", a non for profit organization that raises money for the American War Veterans.  By doing so a portion of the ticket sales goes to this worthy cause.  'Torment' still has there non for profit concession stand, which will quench your thirst and fill your belly from all the screaming.
"Torment at Twelve Hundred" opens it gates October 5th.  They are open every weekend in October including Halloween night.  Hours are from 7pm - 12pm Friday and Saturday, 7pm - 10pm Sunday and Halloween night.  Because of the trail through the woods, recommended footwear, no open toed shoes or high heels.  It is also recommend you be 13 years and older to enter the 'Torment'.
For directions and additional information be sure to visit www.tormentwelve.com or call 309-945-5237.  Torment at Twelve Hundred is sponsored by SUBWAY of Orion. 
Visit "Torment at Twelve Hundred" this October to find out what happened to Dr. Thomas Orment and who is really in charge at the Hidden View Sanatorium. Come and see what lurks in Clover Dale cemetery and experience what 'Torment' lies ahead... you may want to bring a change of underwear!!