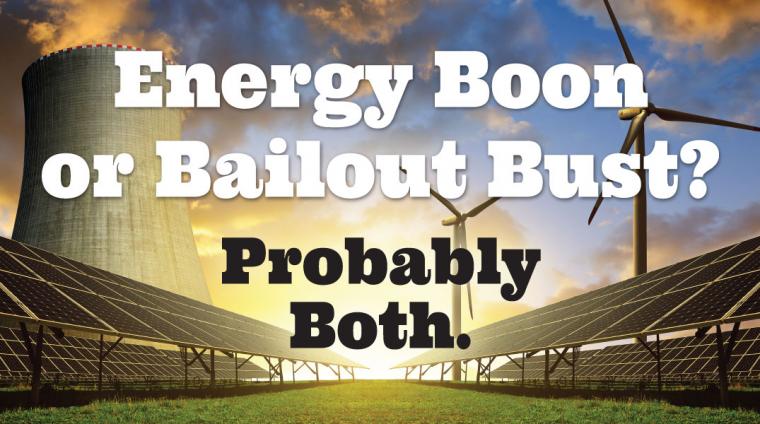 It's admittedly difficult to get your head around Illinois' recently passed Future Energy Jobs Bill – a massive, long-gestating piece of legislation that touches on many aspects of energy policy.
As UtilityDive.com noted on December 2: "The version just passed by the House and Senate was introduced into the General Assembly's shortened veto session in mid-November. The 440-plus-page bill went through about 30 rounds of changes before being approved late on the last day of the session."
In the Quad Cities, of course, coverage was distorted by a focus on local jobs – specifically saving Exelon's Quad Cities Generating Station, the nuclear plant in Cordova, Illinois, that employs 800 people and was slated to close on June 1, 2018. The Future Energy Jobs Bill provides more than $2 billion in utility-customer-paid subsidies to keep two of the company's money-losing nuclear plants open for an additional decade. (The other plant – in Clinton, Illinois – was scheduled to close on June 1, 2017.)
"If the plant had closed," Exelon said in a written response to questions, "virtually all those [800] positions, plus thousands of indirect jobs, would have been lost. As a result of the Future Energy Jobs Bill, Exelon is hiring more than 400 permanent employees at the Quad Cities and Clinton plants to assist with capital projects that will prepare them for long-term operations. These hires are in addition to the more than 3,000 electricians, pipefitters, welders, laborers, and contractors hired each year to perform refueling outages at the plants."
The coverage here was further warped by the fact that the legislation mostly affects customers of ComEd and Ameren, which serve nearly all of Illinois but not the Illinois Quad Cities. In an e-mail, Debora K. Blume, director of communications for MidAmerican Energy Company, wrote: "MidAmerican customers are not directly affected by the nuclear-energy purchase requirements in the legislation because our customers, unlike most other utilities in Illinois, receive the majority of their energy from MidAmerican Energy-owned assets, including MidAmerican's share of the Quad Cities [Exelon] plant. Prices for this energy are set by the Illinois Commerce Commission at levels that already recover the costs of these assets."
She added: "If the plant would have closed, MidAmerican Energy Company would have had to find replacement capacity and energy. It's possible this could have added to the price customers pay for energy" subject to regulatory approval.
Yet even though the legislation's impact on the Quad Cities is narrow, the Future Energy Jobs Bill is worth exploring more broadly. It will be a major change in Illinois energy policy when it takes effect on June 1. And it's an instructive study of the give-and-take of the legislative process – a case that was absolutely green and utility-friendly, but one that might not be nearly as kind to consumers as has been promised.
A key critic of the legislation estimated that direct costs to electricity consumers of the Future Energy Jobs Bill will be more than $13 billion, and that by 2030 indirect costs to Illinois will be more than 44,000 jobs and nearly $15 billion in economic activity.
The Devil in the Details
On the surface, this was a strikingly bipartisan effort. In a state in which the Democrat-controlled legislature and the Republican governor haven't been able to pass a budget for two years, the final bill was on December 1 approved by the House 63-38 and the Senate 32-18 (with votes from both parties), and Governor Bruce Rauner signed it on December 7.
It also brought together strange bedfellows, supported both by utilities and the 200-plus-member Clean Jobs Coalition. You wouldn't normally find Exelon – which owns the ComEd utility along with those nuclear plants – in agreement with Clean Jobs Coalition members the Citizens Utility Board and the Natural Resources Defense Council on an energy bill, but there they were.
The Clean Jobs Coalition primarily includes environmental groups and green-energy companies, but the Future Energy Jobs bill also received support from organized labor, the Chicagoland Chamber of Commerce, and the Illinois Retail Merchants Association.
In a November 28 editorial, the Quad-City Times was enthusiastic about the legislation: "Finally, the Exelon bailout is what it always should have been: a zero-emissions bill that would save jobs and millions in tax revenue for local governments. Finally, they got it right."
In a December interview, Citizens Utility Board (CUB) Executive Director David Kolata said: "As the legislative process became more focused, it [the legislation] got peeled back to its essentials. What we ended up with was something that expands investment in energy efficiency in the state – that's one of the main reasons that we like it, because that saves people money. It fixed the Renewable Portfolio Standard – so we're going to get investment in the state in solar and wind assets. And we found a frame, finally, with the nuclear issues that was fair."
A lot of praise has been heaped on the Future Energy Jobs Bill from many corners, and it's undoubtedly true that the legislation will reduce the state's energy consumption and increase its investment in renewable energy. The title is accurate in the sense that the bill will save and create jobs in the energy sector in Illinois.
Yet if it sounds too good to be true, it probably is. Specifically, each of those three elements outlined by Kolata comes at a cost that electricity consumers will ultimately bear.
You won't hear about those costs from the legislation's backers, but they need to be part of an honest discussion. A great many people will support improving energy efficiency and investing in green energy in Illinois, and a smaller number will support maintaining the jobs and electricity generation that come from the two nuclear plants – particularly in the parts of the state where those jobs are seen as essential.
The real issue is whether those benefits justify the cost.
Dave Lundy, executive director of the Better Energy Solutions for Tomorrow (BEST) Coalition, said cost increases will start small but grow for residential and business customers. On average over 14 years, he said, electricity bills for residential consumers in Illinois will be $4.50 higher per month compared to the present because of the Future Energy Jobs Bill – costing the typical customer $750 more over that period. Business customers will also see their bills go up substantially, although the amount will vary widely based on the company.
Overall, BEST calculates, the legislation will directly cost consumers $13.3 billion – including $2.4 billion for the Exelon bailout and $7.7 billion for energy-efficiency initiatives.
Because of those higher costs for consumers, BEST estimates (using an IMPLAN economic analysis) that the state will lose more than 44,000 jobs and $14.7 billion in economic activity through 2030.
"There were a lot of well-intentioned people who supported this legislation," Lundy said. "I'm not attacking why people supported this legislation. ... [But] the governor and the legislature just fundamentally made a mistake. In the 11th hour, Exelon made certain promises and assurances, and they bought them. Exelon has only consistently misled the legislature for years and years and years, but they bought them."
Exelon, for example, has claimed that its nuclear plants are at a competitive disadvantage because of subsidies for renewable energy – which is the source of its claim that the Future Energy Jobs Bill "levels the playing field with solar and wind energy by valuing the zero-carbon energy produced by the nuclear facilities." However, this ignores that, according to the Illinois attorney general's office, "Exelon's nuclear plants have benefited from two rounds of Illinois subsidies already. ... Illinois electricity ratepayers paid all of the construction costs for the Illinois nuclear plants."
Lundy said another problem was that the legislation was rushed through: "This all happened over the course of two days in the second week of veto session. People were not really in the mood to digest the details. ... Energy policy is hard, and the devil in the details is everything. And if you don't understand the details, you get taken advantage of. And that's, in my opinion, what happened here. I think that the proponents of this legislation got taken advantage of by people who were more sophisticated than they were."
"It Puts Us in the Top States"
The Future Energy Jobs Bill has three core components.
• It requires the state's largest utilities to reduce energy consumption by their customers, with financial penalties for failing to do so. ComEd would be required to reduce energy consumption 21.5 percent by 2030, while Ameren would be required to reduce consumption 16 percent by the same year. The legislation expands ratepayer-funded energy-efficiency programs to achieve those goals.
• It reforms the state's Renewable Portfolio Standard (RPS) to encourage investment in new renewable-energy projects in Illinois, and to ensure that funds meant for renewable energy can't be raided by the General Assembly. Environmental groups have called the existing RPS "broken" because the General Assembly sometimes "swept" money out of one fund, and the program encouraged investment in renewable projects in other states.
• It provides subsidies for Exelon's Quad Cities and Clinton nuclear plants, which Exelon says have lost $800 million over the past seven years.
Advocates for the bill say those three components work together.
Karen Hobbs, deputy director of policy for the Midwest Program of the Natural Resources Defense Council (NRDC), said in an interview last month: "Our focus ... was really on the energy-efficiency and renewable-energy components of the bill, which is really the most important climate and clean-energy bill ever passed by the state of Illinois. ... It puts us in the top states in terms of energy efficiency. It's been called the single most important action taken by a state to reform its energy policy in decades. It's true bipartisan legislation. This is a really big deal for Illinois."
Even though the NRDC finds nuclear energy problematic in general, she said, the organization ultimately supported the Exelon bailout as a tradeoff: "Our concern was ... [what would happen] if those plants had closed without a functioning renewable-energy standard in place in the state and [without] strong standards for energy efficiency."
She also made the case that the nuclear plants act as a carbon-free bridge to the future of electricity generation in Illinois: "We need time to build up those [renewable-energy] markets. Extending the life of the nuclear plants ... gives those markets a chance to mature and will enable us to make further investments in [renewable] energy over the long term."
That argument was echoed by CUB's Kolata: "The nuclear plants are important to both the Quad Cities area and the Clinton area. But they're important to the state, particularly at a time when the direction we're moving is toward more carbon-free sources of generation. ...
"If the nuclear plants had closed, our prices would have gone up. And so the question was, in effect: Is it cheaper to do nothing or cheaper to take action? And ultimately we concluded, as did the majority of the General Assembly and the governor, that it was cheaper to take action."
When I asked Kolata about the argument that Exelon and its plants benefited from higher energy prices and shouldn't get subsidies now that energy prices are low, he said: "We understand the logic behind saying, 'Live and die by the market.' But I think ultimately the state and consumers have a broader interest, and it's making sure we have policy in place that's going to lead to the lowest possible prices."
Exelon declined an interview request for this article, instead providing vague and indirect answers to questions about the public-policy rationale for subsidies for its two nuclear plants. I asked: "Exelon has resisted the characterization of the Future Energy Jobs Bill as a 'bailout' for the company's Clinton and Quad Cities nuclear plants. But if the plants were slated for closure because of a lack of profitability and will be receiving substantial subsidies under the law to remain open for an additional 10 years, how is that not a bailout? If it's not a bailout, what should it be called?" I further asked: "I have heard the argument that Exelon profited over the years from the competitive market when energy prices were high, so it should not be subsidized when energy prices are low. What's wrong with that argument?"
Although the nuclear subsidies remained controversial to the end, Kolata said that ultimately the legislation is consumer-friendly, with its emphasis on energy efficiency naturally leading to lower energy costs for consumers: "The cheapest electricity is [the electricity] that you don't have to use."
And he was also enthusiastic about RPS reform: "It sets up a system of basically 15-year contracts that will lead to a least 1,300 megawatts of new wind and about 3,000 megawatts of solar. That's over a million [additional] homes that can be powered by renewables because of this bill."
Furthermore, he said, "the big shift here is that there's now a prioritization with these funds to build new assets in the state of Illinois."
So that's the case for the Future Energy Jobs Bill, and the number and types of supporters certainly should carry some weight.
The opposing BEST Coalition is small (just more than 30 members, and not one that you're likely familiar with), and its perspective is a minority one. But it's worth listening to.
For one thing, although CUB supported the Future Energy Jobs Bill, other consumer advocates – including the Illinois Public Interest Research Group, AARP, and Illinois Attorney General Lisa Madigan – opposed it.
For another, BEST's Lundy said he supported fixing the state's RPS, so his opposition was not knee-jerk.
And, finally, if you spend any time reading or listening to the arguments of the bill's supporters, the claims of cost savings sound awfully slippery.
Excess Supply and "Phony" Caps
The basic problem of the legislation, Lundy said, is that "there are hard, predictable costs, and soft speculative benefits."
We know what the energy-efficiency and nuclear-plant-subsidy components of the legislation will cost. What we don't know is how those components will affect energy prices; a premise underlying the promised consumer benefits of the Future Energy Jobs bill is that everybody will pay lower rates for electricity.
As Kolata said: "If the utilities hit their [consumption-reduction] targets, and they now have an incentive to do so, it will lead to at least $4 billion in savings for consumers. Much of that because, of course, when you're lowering demand, it benefits everyone, even if you don't take advantage of the programs. ... Everyone will benefit because it's lowering market prices."
But Lundy is skeptical that energy prices will drop much because of decreased usage.
"I'm not saying that the laws of supply and demand don't apply here," he said. "They do apply here. But because you have so much excess electricity in the market, and because prices are already so low, the incremental benefit you get from lower energy prices because the aggregate is using a little bit less is dramatically outweighed by the costs that are hard."
He also argued that subsidizing the nuclear plants is unnecessary for a similar reason: "Are these plants needed? ... It [the electrical-generation system] ... was built for a different economy than the one we have today. The last full year available, for 2015, we had 41 percent more power than we needed in the state. And that's the highest I've ever seen those numbers. The reason is pretty straightforward to understand. Number one: Our economy is less industrial than it once was, and [there's] less huge commercial. And number two: Businesses, residential consumers – you and I – we're all more efficient than we once were."
His argument is that the price of energy in Illinois isn't going to change much either by decreasing consumption (through additional energy efficiency) or decreasing supply (by letting the nuclear plants close). "In central and southern Illinois, we've closed thousands of megawatts of coal plants in two, three years," he explained. "We've closed as much coal capacity in the last two, three years as we're talking about Clinton and Quad Cities [plant capacity] combined. What happened to electricity prices when those plants closed? The answer is nothing. Electricity prices, if anything, have gone down, because the broader market forces are being determined by the low price of natural gas today."
So both the nuclear subsidies and energy-efficiency programs will have little effect on the cost of electricity, he claimed. As a result, he said, the only consumers who will see substantially lower electricity bills because of the Future Energy Jobs Bill are the people who actually participate in the utilities' energy-efficiency programs.
"If you are not directly benefiting from that [reduced] energy consumption, you are not saving that money," he said. Supporters of the bill "just assume that everybody will benefit equally, but the reality is that everybody doesn't benefit equally."
It might be true that consumer electricity costs because of the legislation are relatively stable overall. But the energy-efficiency benefits won't be uniformly spread across the rate base; some people will pay significantly more, and some will pay less. The rate caps in the legislation – which are supposed to protect customers by limiting the amount that bills can increase – apply only to the average consumer bill.
Furthermore, Lundy called the rate caps "phony." The legislation was promoted as capping increases in monthly residential electricity bills at 25 cents (for ComEd customers) and 35 cents (for Ameren customers). For businesses, annual bills can't rise more than 1.3 percent.
But those caps, he said, aren't compatible with the substantial hard costs of the legislation: "I knew there was no way they could make these numbers work unless they played funny games with it."
With the residential rate caps, he said, the energy-efficiency program costs – starting at $2.33 per month for ComEd residential customers and $3.94 per month for Ameren residential customers, with both increasing 4 percent per year – are excluded from the rate-cap calculation. In other words, the actual rate cap is the stated rate cap plus the prescribed additional cost of energy-efficiency programs.
On the business side, the rate caps are calculated using an artificially high baseline, Lundy said.
And that's the basic math of the Future Energy Jobs Bill, he argued. Those $13 billion in new costs have to come from somewhere, and it ends up being customers' pockets. Some consumers will benefit from the improved energy efficiency of their homes and will end up paying less, but the average consumer will be paying more.
"We saved the 1,500 jobs in Clinton and the Quad Cities plus whatever contracting jobs were there as well," Lundy said. "And you've saved the $21-million combined annual revenue ... at a [total] cost [for the whole bill] of a billion dollars a year."
And, he stressed, that doesn't include the indirect costs the BEST Coalition is projecting for the Future Energy Jobs Bill – tens of thousands of jobs and nearly $15 billion in economic activity.
"You've saved a relatively small number of jobs that are very important – and I get it," Lundy said, "but at what cost?"