For many years, we asked our readers to fill out surveys to determine the best of the Quad Cities. We gave them categories and lines on which to write, and we tallied the results, and the winners were the top vote-getters in each category.
Our approach this fall was different. We reduced the categories to 20 and asked people to submit Tweets, videos, and short essays in support of their nominations. The aim was to give voice to individuals over the masses, and to allow people to argue for their favorites instead of merely noting them. The ultimate goal was to get past the obvious and automatic responses that seemed to often rise to the top in past surveys - to spotlight hidden gems in the Quad Cities.
People didn't seem quite sure what to make of this new Best of the Quad Cities, or perhaps they missed the comfort of completing a fill-in-the-blanks survey. We were pleased to get more than 100 submissions, but it was frankly like pulling teeth to get people to participate. We encouraged those with a vested interest in a category to actively push themselves - either by submitting nominations or asking their fans to do so - and we were surprised how few did. (Lance Dillie, on the other hand, was a model of self-promotion, attracting 15 nominations from friends, family, customers, and - it must be said - himself.)
In these pages are this fall's submissions, with only the off-topic and overly repetitive removed. In the spirit of the tool, Tweets are presented unedited. Essays have been lightly edited for spelling, grammar, and River Cities' Reader style.
Keep in mind that there are no "winners" in a traditional Best of the Quad Cities sense. We had a different purpose this time through, and we hope that these nominations help you learn new things about our community, and perhaps to check out something new.
And a final note to two people who nominated via Twitter a local tattoo artist for best local visual artist: By the time we realized that Twitter searches only go back a few weeks, your Tweets were lost to us. We'll add them back in online if you re-Tweet!
1) Local band
Kate Benson: I think currently the best band in the Quad Cities is The Candymakers. They are new to the local band scene within the past year, but you could hardly tell by the way they play. The soul/funk/blues band recently won the Iowa Blues Challenge, and will go on to compete in Memphis in February for the International Blues Challenge, so they are definitely getting noticed by many and proving their talents. Their lead vocalists, Alan Sweet and Siri Mason, provide a fun and soulful sound that keeps all the sounds interesting - both funky and sultry - and they have you applauding after each verse because they are so talented. I also love how they let all band members take turns with solos during the songs, as well as improvise at live gigs, to show off the talents of the whole band. They are one of the few bands in the Quad Cities I can see turn a whole room to dance and clap along, and their energy is outstanding. I wish them the best of luck in Memphis - I know they can represent the Quad Cities well!
Leslie Bell: Anthony Catalfano's big talent has been a magnet for great musicians for years. The quality of his playing is unmatched in the Quad Cities music scene and over the years, he's hosted or played with greats Paul Smoker, Damon Short, Jack Scott, and many others. "Deserves to be much better known".
Bruce Walters: Local bands I've seen this year include Josh Duffee & His Orchestra ('20s hot jazz) and the Quad City Symphony (Beethoven's Fifth). Both outstanding. But the best would have to be Brains! Brains! Brains! playing outside Bucktown while zombies gathered from near and far for the Davenport Halloween Parade. The show began with the immortal words, "You guys ready to turn Downtown Davenport into a chaotic war zone of death and pestilence and blood?"
Harry Walker: One Night Standards. RCReader.com/y/bestvid1
Roberta Osmers: 1st Impression. RCReader.com/y/bestvid2
Andy Harris: Skynny Skynyrd. RCReader.com/y/bestvid3
@Soduh: I vote for Spatterdash for best local band They ROCK! #BestQC 1
@jason_cherry: I vote for 3 Years Hollow for best local band because those guys kick ass! #BestQC 1
@robbi61: 1st Impression blows away the competition! http://t.co/FlZiHeYF #BestQC 1
@LanceDillie: #BestQC 1 Mother Sin, hard rock with peel off your face and spit down your throat edge! Only know member Tom Demuynck.
@jdtractorman2: #BestQC DLH Band is the best band in the area and the busiest. Saw them at the MVFair last year and have followed them ever since #BestQC 7
@RedHotTonyTone: 3 Years Hollow rocks ass! #BestQC 1
@MoonshineBearEt: #BestQC The best band in the QC is the Dani Lynn Howe Band- They play countless benefits each year to support local charities! #BestQC 7
@Willhite3: Satellite Heart should be up for best local band. #BestQC 1. Here are 2 songs for proof: http://t.co/9ThISH5 http://t.co/cViFde5
@AllieGrafton: #BestQC 1. My vote is for Dani Lyn Howe Band.They volunteered to play at MDA and Relay benefits, two org. close to my heart. #BestQC 1
@jldavison51: #BestQC 1 I love the Dani Lynn Howe Band!
@BeckyFulton1: #BestQC 1. DLHoweBand is my family's fav band. They played a benefit several yrs. ago 4 my gpa. Donated their time &raffle prizes! They r #1
@ChrisMann25: #BestQC 1 Dani Lynn Howe Band is heads and tails above the other bands in the area. Talk about a variety of songs they know #BestQC 1
@nikkifish86: Bacon!!! #BestQC 1
2) Local venue that books the best bands
Santo Pullella: My vote for local venue that books the best bands is Rozz-Tox in Rock Island. My reason why is because of the amount of heart that Ben Fawks gives to fostering local artists on the stage. The venue has opened its arms to local original musical artists in a way that perhaps no other venue in the Quad Cities region ever has, and the ingredient needed to do such work is belief from everyone at the table. Belief that being ethical pays off. Belief that giving talent a chance to grow creates more positive effects than paper can show in black-and-white. Belief in one another to work until the job is done because the job is fun, rewarding, and nurturing for the soul. Belief that, together, artists of all kinds and those of us fans who are not musically gifted can gather and smile and enjoy our part in it. Rozz-Tox found its niche in this market of live music because artists have to start somewhere, and it starts by being given a chance on a stage that will not judge them; for isn't all art to be taken appreciatively for its individual unique nature?
Leslie Bell: The RME tirelessly scours the national music scene for affordable talent. They are genre-wise democratic. Hard to complain about a venue that's hosted such diverse Browns as Pieta, Junior, and Greg; excellent jazz groups from Chicago and New York as well as the luminous and luminary Bill Frisell; singer/songwriters Jim Lauderdale, Chris Smither, and Freedie Johnston. This is great stuff for cheap from a small, clean, and accessible venue.
Kate Benson: I would like to nominate the Redstone Room at the River Music Experience as being the local venue that books the best bands for 2011. The Redstone Room not only brings in a diverse line of talent in for all groups of people to enjoy, but they are also known for bringing in bands that at the time are up-and-coming but later go on to become nationally and internationally known touring bands. For instance, in early 2011 they brought in such acts as Fitz & the Tantrums, Grace Potter & the Nocturnals, and Lissie, all of which, after their performances here in Davenport, have gone on to win awards this year as the "Best of 2011 Artists" for their albums, songs, and overall talent. It's amazing that you can catch bands of this caliber right here in the Quad Cities in an intimate room and not have to travel to a big city like Chicago or Minneapolis to see. Beyond national touring artists, the Redstone Room also maintains a well-rounded schedule to include some of the QC's best bands, as well as regional favorites as well. Never a bad show at the Redstone Room - you get to see it all here first! (Maureen Carter, also of the River Music Experience, submitted a similar essay.)
@BeckyFulton1: #BestQC 2 Redstone Room books the best bands..no question bout it
@Soduh: BEst venue, RIBCO, any place that hosts FISHBONE is tops with me #BestQC 2
3) Local venue with the best sound system
Jackie Madunic: I would like to vote for RIBCO and, more specifically, Al Dimeo, sound engineer. I will admit upfront that Al is a good friend of mine, but I will also admit that I have experienced his impressive work firsthand, and his passion for quality sound, in addition to his extensive knowledge and experience, makes him the "go to" guy for bands who want to sound awesome live. And many bands specifically ask for Al to run sounds for them ... or even would like for him to go on tour with them and run sound for them on the road. But Al has been committed to providing quality live music at RIBCO for over 10 years now, and his number-one priority is making sure that patrons who come to RIBCO will have the best possible experience listening to live music in the Quad Cities. He also loves the bands, especially the young "up and comers" who are just starting out. He really enjoys helping young bands to sound great and has no problem sharing his knowledge with anyone who needs help. If you know Al, you know he is a consummate professional and will be 100-percent committed to making you sound great!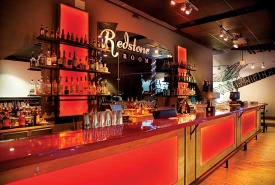 Tom Swanson: I would like to nominate the Redstone Room at the River Music Experience as being the local venue with the best sound system. One only has to attend a performance in the venue to understand why it deserves this award. I won't bother with technical details, but the Redstone Room sounds great no matter what the type of performance, be it a loud rock or hip-hop concert, a medium-volume jazz performance, or a soft solo acoustic show. That the system and room produce excellent sound despite various conditions puts the Redstone Room at the top of this list. Additionally, there isn't a bad seat in the house - for viewing and sound purposes - and the engineers are topnotch. There are other venues that sound good in the QCA, but nothing matches the sound quality in the Redstone Room. (Ellis Kell, also of the River Music Experience, submitted a similar essay.)
Leslie Bell: You can hear a pin, pick, or pint drop at the RME. Loud or soft, the sound is uniformly good with only occasional slips in subtlety with small jazz ensembles.
@dlhband: #BestQC 3 The Redstone Room has a great sound system and sound tech to boot! #BestQC 3
4) Local stage production
Jeff Adamson: So what can I say that hasn't already been said about ComedySportz and the Establisment Theatre? The venue is large and fantastic with the flexibility to go from a comedy club for the masses to a reception hall for newlyweds. Everyone is welcomed and all ages enjoy the weekly performances. Whether you are on a first date or attending a family function, ComedySportz has been Quad Cities' standard-bearer for comic entertainment for 22 years. With the addition of stand-up and sketch comedy to add to the weekly improv fare, ComedySportz has become the QC's one-stop comedy shop. (Also submitted in categories 10, 14, and 20.)
Jeff De Leon: ComedySportz Quad Cities. RCReader.com/y/bestvid4
@Soduh: Best local stage production is The Curtainbox Theatre company's Time Stands Still. Riviting performance and a great cause. #BestQC 4
@RedHotTonyTone: #BestQc 4 The best night out in the Quad Cities is @CSzQC fun for the entire family! Go see a show this weekend!!
@BeckyFulton1: #BestQC 4 District Theatre always puts on a great show no matter who is on stage.
5) Local stage performance by an individual
Jackie Madunic: I nominate my dear friend Patti Flaherty for this one for her role as Violet in August: Osage County at New Ground Theatre last October. And, yes, I know I was also in the show, and yes, I know that I am probably a bit biased, but it would be hard for anyone to argue that Patti's performance as Violet was anything but truly magnificent. She literally scared the shit out of me each night on stage. But, after each performance, she was there, ready to hug you and tell you that she thought you were wonderful. If I could give an award for best actress in the Quad Cites, it would be Patti, hands down!
@RonMorse: Mark McGinn kept the audience totally engaged and entertained as The Man in the Chair in QC Music Guild's "Drowsy Chaperone" #BestQC 5.
---
6) Local visual artist
Steve Banks: Best local artist? Easy. Terry Rathje. Terry is the epitome of a Renaissance individual. He plays fiddle, records his own music, reads, explores, hikes, fishes, designs, and most importantly he is constantly at work in the studio making new and exciting artworks. His ever-expanding curiosity with new materials such as photographic tapestries, spray foam, and Fosshape is accentuated by his fearless exploration of interesting fabrication techniques ranging from primitively built stick constructions to laser-cut metal to shaping Plexiglas in his oven. Terry is an artist in the truest sense of the word. No single medium, art movement, or source of inspiration defines his oeuvre. And seemingly no challenge isn't worth tackling. One of his more impressive self-imposed challenges was constructing a beehive structure that could be broken down and fit into three suitcases. This architectural "space" was shown in Portugal, packed up in his suitcases, and brought to the Quad Cities area for the Play show at Quad City Arts in 2010. That same year, Terry presented a paper regarding technology in the classroom in Sydney, Australia. Just this past summer he traveled to Istanbul, Turkey, for another show he was in. Vote Terry Rathje for Class President.
Leslie Bell: We all know how great the Quinn sisters are, Peter Xiao, Rowen Schussheim-Anderson, and other long-timers. But Joseph Lappie makes art books that are funny, literate, wise, and beautiful. Look him up. (Note: Jay Strickland's archives contain masses of great photography that we may [or may not] ever see.)
Andrea Shook: While yes Joshua Ford won best photographer last year, if you're the best, isn't it okay to keep dominating the category? Josh began taking our family pictures two years ago, and while there are many great "picture takers" out there, Josh is a one-of-a-kind visual artist, with a personal touch. He is always very easygoing with our kids and knows how to make them comfortable while brining out their personalities. Each year he highlights big family events we have experienced and comes up with ways to tell "our" story within the session. From the birth of a baby to my husband deploying, Josh always takes time to create a custom canvas with an array of differently sized and shaped pictures for us. We are always very excited to see the end product, as we leave the visual details up to Josh. We know he pores over the photographs, arranging and rearranging them to make sure the canvas captures the essence of who our family is, and what we have experienced since the prior year's photo session. I am constantly getting compliments year-to-year on Josh's work!
Harry Walker: Harry Walker. RCReader.com/y/bestvid5
@jbrwn: #BestQC 6, Lance Dillie, Never has a piece of art made me cry, but his designs pull at your heart strings and then cuts them with a knife.
@rogerwilson1980: #BestQC 6 Lance Dillie, He is such a good artist, his illustrations are done with such care, you can tell he puts his all into his work.
@GeneSmith11: #BestQC 6 Lance Dillie, his artwork has been touched by the hand of God, Fathers. But still, amazing artist.
@LanceDillie: #BestQC 6 Lance Dillie, my style is unique and humorous. Visit my blog: http://t.co/Bq3ktYfb
@PiperDillie: #BestQC 6 Lance Dillie, he is such a unique artist and his woodblock prints are amazing.
7) Art exhibit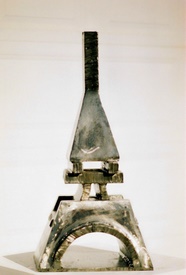 Dawn Wohlford-Metallo: I nominate Michael Johnson's black-and-white landscape photography paired with Donald Noon's steel sculptures that were on display in Quad City Arts' Art at the Airport Gallery in September and October. Noon's smooth, angular, gray steel forms complemented Johnson's large-scale landscapes, which demonstrated full use of the gray scale.
Bruce Walters: A Memorial Tribute to Jim Konrad at the Augustana College Art Museum. Jim's work is probably best known for its "realism." I appreciated it more for its thoughtful use of symbolism. A masterful exhibition.
Leslie Bell: T.L. Solien's show at the Catich Gallery at St. Ambrose University was a veritable graduate-school education in how a postmodern artist can view literary history through paint. Taking great liberties technically and riffing to great effect on Herman Melville's Captain Ahab and wife, Solien showed why he was twice included in the Whitney Biennial - brilliant, moral fiction clothed in smart, tart color with a cartoon vocabulary of forms, characters, and pratfalls.
Frances B. Emerson: Hands-down, the University of Iowa art collection housed at the Figge Art Museum is world-class. Jackson Pollack, Robert Motherwell, Picasso - no need to go all the way to Chicago to see these outstanding artists' work. Be sure to enjoy the permanent collection of the museum while you are there: Grant Wood, Andy Warhol, Thomas Hart Benton, and more. We have a gem in our midst, and it is such a shame that too few people go to the Figge.
@QC_Anime_Zing: We vote for ourselves, since we give so many young people a fun place to learn and experience a new culture! #BestQC 9, 8, 7
8) Educational exhibit
@QC_Anime_Zing: We vote for ourselves, since we give so many young people a fun place to learn and experience a new culture! #BestQC 9, 8, 7
9) Local festival
Leslie Bell: The Mississippi Valley Blues Festival is hanging in there despite the death of several complete generations of the greatest bluesmen and -women. Long gone are the days when Memphis Slim opened for John Lee Hooker or when the Holmes Brothers sang in the tent after Johnny Shines. But today's judicious mix of bar bands, authentic practitioners, future classicists, and the occasional jazz garnish continues to hold its own.
@MoonshineBearEt: #BestQC The best festival in the QC is the RI Co Relay For Life. They are helping to make a world with more birthdays! #BestQC 7
@AllieGrafton: #BestQC 9 Rock Island Co Relay For Life is an amazing event to honor survivors.I go 2 remember my aunt who passed away from cancer.#BestQC 9
@dlhband: #BestQC 9 Relay For Life of Rock Island Co. is an amazing event that brings together a community and supports those affected by cancer
@QC_Anime_Zing: We vote for ourselves, since we give so many young people a fun place to learn and experience a new culture! #BestQC 9, 8, 7
@Jamie_Wolfe: QC Anime-zing! is definitely the best festival! It's both fun, and an awesome cultural experience too!! #BestQC
@erica_bleed: QC Anime-zing! is the best local festival! It gives tons of young people a place to be themselves and make friends! #BestQC
10) Best-kept Quad Cities secret for arts, culture, and entertainment
Frances B. Emerson: The Grape Life Emporium in Davenport (Elmore and Kimberly) is a great environment to enjoy a glass of wine any day, a free chair massage on Wednesday, or wonderful local music on a Saturday night. Friendly staff and great wine selection. Fine talent drawn from blues, jazz, pop, and country. It's a true safe haven for music and wine lovers who actually want to listen to the music rather than talk over it.
Connie Drevich: I once wrote to Nadine D'Angelo, the artistic director of Wings-NYCW, here in the Quad Cities, "Your company must be one of the best kept secrets in the Quad Cities. For a location this large and only four of you in the company? Oh my gosh. People need to find out about Wings. Please consider advertising for auditions/sign-ups for your group, in our local papers like the Reader. Your vision of Wings is too good to be kept quiet ... ." I also told her that "Wings is a great night of entertainment! I would gladly pay more, for as much time and work all of you put into the show!" They put on only one show a year, because they are involved with each detail of the show along the way. They design it, practice it, make up the backgrounds, come up with their own costumes, and perform it. They do it all. They also promote dance as an art form in the schools in this area. All of it is done as a nonprofit organization. Where dancing can be a way, children can absorb and interpret the world around them.
Josh Patrick: I would like to nominate The Clubhouse for best-kept secret for arts, culture, and entertainment. I have been to just about every hot spot this year and have to say that the Clubhouse has a really good thing going here. The golf simulators are amazing, but this place has billiards and ping-pong tables! That may sound simple, but add the fully stocked bar that has about every beer, wine, whiskey, vodka, etc. that you would care to drink. The turtle races are great, the live acts keep coming, and the daily specials they put on are topnotch. The location, the parking, and the hours make this a must-see in the Quad Cities. Sure there are great bars in town, and great music acts at such places, but this place is truly unique, and our area needs a place like this if we are going to grow and become a destination spot for visitors.
Leslie Bell: Although Quad City Arts, the Phoenix, and a few other venues have their own wonderful secrets, the Catich Gallery has been building a strong national reputation for years. Heather Lovewell, the curator, has parlayed her keen and sympathetic eye with the quality of past shows into an increasingly excellent showcase for provocateurs, independent practitioners, abstract contortionists, populist wizards, and all manner of visual-art talent. It's always amazing to see a great, national review of an artist showing in Chicago, New York, or L.A. and know that he or she showed earlier at the Catich Gallery in dear old Davenport. It takes a bit of pluck and a compass to get there, but it's always worth it.
Leslie Bell: A new art space that can't be overlooked is the Eastside Bakery in Davenport. Not only do they have great, artisanal pizza and fine pastry, but the front room is a hip art gallery showing works on paper and book arts of a very high (and often funny) order. The one-two whammy of art and food is available any time, but those in-the-know get on their e-mail list and frequent the openings, dig the tunes, eat the food, and chat up the artists.
Patrick Adamson: The Establishment Theatre, home of ComedySportz, is a renovated movie house that was built in 1941, a unique venue in the Quad Cities. There are live performances every Friday and Saturday from ComedySportz improvisers. The theatre has premieres and showings of local filmmakers' work. They also host a monthly open-mic series, stand-up showcases, and occasionally bring in outside talent to perform such as Sean Morey and Tim Bedore. The Establishment has held the Metro Arts program classes and showcase, Festival of Trees designer-recruitment event, the Addys media-award ceremony, concerts by the Avey Brothers and the Late Night Blues Brothers, hair shows, and local theatre-troupe auditions, and it opened an improv-training center for actors and non-actors alike. With only a year open to the community it is definitely "the best-kept secret."
Diane Volrath: Mississippi River Valley Art Drive. RCReader.com/y/bestvid6
Jeff De Leon: The Establishment Theatre. RCReader.com/y/bestvid4
@LanceDillie: #BestQC 10 Galvin Fine Arts building St Ambrose, Art shows year round, stage productions, and new art added weekly to the halls.
@RedHotTonyTone: Aunt Hatties in LeClaire is a unique & wacky gift shop. Locally owned and operated Donna is a character herself! #BestQC 10
@RonMorse: The Establishment Theatre is the best kept secret for arts in the QC. Huge open space, great A/V system, awesome location in RI. #bestqc 10
@Soduh: The best kept secret of the QCA is the Curtainbox Theatre Company. Always a moving production! Top quality! #BestQC 10
---
11) Place for drinks
Leslie Bell: Not great drinks but a great place for them - the Boat House at dusk.
@BeckyFulton1: #BestQC 11 Barrel House in downtown DPort has best drinks.
@dlhband: #BestQC 11 Brady St. Bistro is the best place for drinks. Cheap & cold doesn't get much better than that..ok maybe their wings! #BestQC 11
12) Bartender
Frances B. Emerson: The best bartender in the entire Quad Cities is Jamie at Biaggi's. This energetic young man can throw together fantastic mixed drinks - even inventing a few of his own - speak knowledgeably about all kinds of great wines, tell you about the food, and deliver things with a smile and great service. His positive attitude and work ethic are a thing of beauty to behold.
Jim Carroll: Nerissa at Bent River is the best bartender in all of the Quad cities for a variety of reasons. She is energetic and sparkling, always greeting customers with a smile. Nerissa takes care of regulars quickly but always makes time to greet a new customer. She often sets the new customer at ease by asking what type of beer they like normally and then making suggestions based on their taste. She helps other staff in a pinch and always lets everyone know what is going on. You have no doubt if you are waiting for a beer that Nerissa is helping someone else or changing a keg. Nerissa always offers water and is extremely polite when checking IDs. Her warm and mischievous sense of humor doesn't hurt in making her a favorite of the regulars. Because of her warm personality, prompt, friendly, and courteous service, and a really great sense of humor, I have made Bent River my go-to spot. Not just because of the beer, but mostly because of Nerissa, the best bartender in the whole wide world.
Leslie Bell: Jon at RIBCO. A trooper. Indispensable.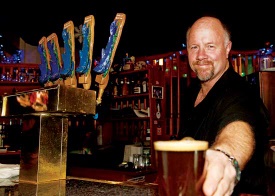 Catie Osborn: I would like to nominate Bob Murdock from the Blue Cat Brew Pub as best bartender. Not only does Bob make one hell of a drink, but he is also one of the best people I know. He genuinely cares for his customers and takes an active interest in my interests - I can't tell you how many times he has eagerly asked me how my latest play is going or asked me for a poster to hang up to advertise. (He also once custom-mixed me a drink to match my outfit. Awesome.) The Prenzie Players are regular customers at the Cat after rehearsals and shows, and when Bob took the time off work to come to see our last production, the stage manager ran back to where the actors were waiting to perform and simply yelled, "Bob's here!" Several people after the show inquired about the giant cheer that went up prior to curtain, but the cast and crew knew why. Bob, once again, proved himself not just an excellent bartender but a truly wonderful person and friend. The Blue Cat is an awesome restaurant, but Bob is what makes it truly special, and he deserves to win.
Patrick Adamson: I think that Bob at Blue Cat is the best local bartender. Bob is knowledgeable and skilled in mixing delicious drinks. A good bartender is more than that, though. Bob always has a great positive outlook and attitude. I have never had the impression in the last five years of patronage that Bob has ever been dour or seemed put off to be at work. He remembers your name, your drink, and something about you. Bob is able to talk to you in a way that's not overbearing and always seems sincere. If he knows you're celebrating an important occasion, he's even been known to bring a bottle of wine to the table, on the house. Bob isn't just good; he's consistent. That's why we keep going back.
Josh Patrick: I would like to throw a nomination for Danielle from Moline Bier Stube for best bartender. This is very tough field because you have awesome bartenders at RIBCO, Bent River, Mac's, and the list goes on. Danielle seems to turn into three people when the place is busy and really knows her customers well. I know folks that have only met her one time, and she never forgets their face or their drink of choice. I have been there before when there wasn't a place to sit at the bar and she has my favorite beer coming to me without me having ordered yet. She has a fantastic energy and is always in a great mood and really gives off that positive vibe every time you see her. Great bartender.
13) Waiter or waitress
Rebecca Young and Andrew Courtright: When we moved to the Quad Cities from a small town in Illinois, we were looking for a place to replicate the small-town bar/restaurant where all the servers knew our order and the bartender had our drinks prepared by the time we approached the bar. After several months of searching, we finally found that feeling at the Symposium Café with waitress Amanda McCarl. Every Sunday morning, we head to Symposium with our newspaper and a pen for the crossword puzzle. Amanda brings us our drinks right as we sit down and keeps the coffee mugs full. She doesn't mind that sometimes we linger longer than we should during their busy breakfast service. We love having that time to relax before the week starts, and Amanda's warm personality and easy smile only augment our experience. She is one of those rare servers who has impeccable timing and whose service never feels intrusive. She is the best of the Quad Cities!
Josh Patrick: I would like to nominate Kayla, Kaitlyn, and Dime from Bent River as a tie for best waiter/waitress. This place is one of the busiest in town on Tuesdays, and it's near-impossible most of the time to find a place to sit, and these ladies bring the A game every time. They hustle, they don't forget your drink or food orders, and they do this while waiting on nearly 35 people each at any given time. They do a great job no matter what day it is, and it is always the busiest place on the Illinois side of the river. Try getting that kind of service at any of the East Village bars or restaurants.
@RonMorse: #bestqc 13 Karl from Cafe Indigo is knowledgeable, attentive, and accommodating to his customers!
@ReneeMeyerErnst: #BestQC 13 LANCE DILLIE OLDChicago Lance is extremely personable and great to be around!
@astanto2: #BestQC lance dillie is the greatest!!
@RyFly: Lance Dillie is the boss and he looks great in a fake mustache. #BestQC 13
@jbrwn: #BestQC 13 Lance Dillie, Old Chicago, I have never been attracted to a waiter before but I married this one.
@Rachel Friemel: Lance Dillie, Old Chicago. He's such a sweetheart!!!
@LanceDillie: #BestQC 13 The best waiter is the Quad cities is Lance Dillie by far, and to be honest this should be the sexiest waiter in the QC.
@rogerwilson1980: #BestQC 13 Lance Dillie Old Chicago, I have never seen a waiter perform magic at a table I was shocked, that is my card!
@GeneSmith11: #BestQC 13 Lance Dillie, what a guy, great server kept my wifes drink full, and because of that I got lucky, I won $2 on a scratch off.
@PiperDillie: #BestQC 13 Lance Dillie from Old chicago, He is the best server I have ever had and he smells like Tim Mcgraw!
14) Place to meet people that isn't a bar
Leslie Bell: Do you mean, "place to meet people who aren't behind bars"? I suggest a college classroom.
BeckyFulton1: #BestQC 14 Cup A Jo in Moline- wonderful place to meet friends for lunch or a cup of coffee. Friendly staff, good food, nice atmosphere
dlhband: #BestQC 14 @CoolBeanzAZ is the perfect place to meet friends for a drink, dinner or a night of live music. #BestQC 14
15) Place for a first date
Jeff De Leon: ComedySportz Quad Cities. RCReader.com/y/bestvid4
16) Place to dance
Whitney Carnahan: QCSoda in Moline has a ton of sessions and lessons for dancing, and the owners are super nice! They offer zumba, salsa, swing, and have great instructors, also.
17) Locally owned store with things you can't find at chains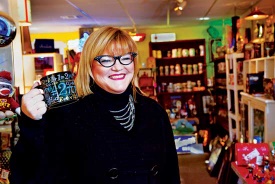 Whitney Carnahan: Aunt Hattie's in LeClaire, Iowa, is my first stop when I need something unique for a gift. They have a ton of retro items - think Darth Vader cookie jar, cat glasses, and jelly rings - and beer wares like signs, pint glasses, and mugs. I bought my brothers-in-law the "violation books" - books of fake violations to hand out to people in the office - for Christmas last year and it was hilarious reading some of them aloud. Really, if you need a random gift, it's the place to go. Oh, and don't forget to buy some gum - they have an awesome "humorous" chewing-gum collection. Maybe not for your boss, though. :)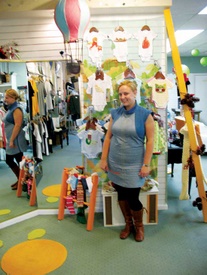 Leslie Bell: Hands down, it's Adventure Orange. DIY with style and wit.
18) Antiques/collectibles/resale store
Leslie Bell: Antiques on Brady. A carefully curated wonder.
Whitney Carnahan: Aunt Hattie's, LeClaire, Iowa, has a ton of antiques and collectibles, like old glass pitchers, beer signs, and old toys. Basically, they have the item you haven't seen in years but you wish you could find, and they probably have a better price on it than you would expect!
19) Auto service
Andrea Shook: Not a lot can be more intimidating while a husband is deployed than dealing with car issues. My husband was gone for an entire year and not one time did I feel not taken care of by my mechanic. Lyle, from Lyle's Auto Service in Bettendorf, is the friendliest, most-honest mechanic I have ever met. He not only takes care of our vehicles but does my entire extended family's also. He knows us all by name, and exactly what vehicle we are talking about. He squeezes us in for emergencies, and works with us as we rotate cars to him for routine maintenance. He is very honest about when something needs to be done, or when a part has a more time on it and doesn't need to be fixed yet. He is the only mechanic I have ever had actually tell me nothing needed to be fixed on my car. He gives advice on where to take a vehicle if it is an area he doesn't work on and what price should be charged. He is a kind, honest, and very fair mechanic, which is a rare find! Our family never has to worry with Lyle taking care of our vehicles.
Mark H. Hendricks: Perhaps it isn't fair to submit one's own company. Still, many Ace customers have been with us for 40 years. Ours is the only standard in automotive excellence they have ever known. Having been in business since 1969, Ace may be the oldest auto-repair facility in the Quad Cities, has the Better Business Bureau's highest possible rating, and is AAA approved. The end result is that Ace Auto Dr. & Repair has more online reviews than all competitors combined. Take out everyone's complaints, and that number nearly doubles!
@BeckyFulton1: #BestQC 19- Hughes Tire in Milan always fixes my car right the 1st time and they dont sell more than what it needs.
@RonMorse: Ryan at the Avenue of QC Midas always treats his customers right...even the craziest ones. #BestQC 19
20) Place for a wedding reception
Frances B. Emerson: The Black Watch Room on the Pebble Creek Golf Course in LeClaire has spectacular views, great food, and a terrific ambiance that would enhance any wedding. Kelle Schone, the owner, is a perfectionist - which is exactly the kind of person you want putting together your very special day. Perhaps best of all, the prices are reasonable. Check it out!
@LanceDillie: #BestQC 20 The University Club is such a great place to have a reception and it has a 0% divorce rate, or so I've heard.
@RedHotTonyTone: #BestQC 20 Skellington Manor excellent customer service makes planning a wedding reception simple!
@dlhband: #BestQC 20 Arsenal Island is a great place for a wedding. Have RIA's Sheridan's Island Catering do the catering! Its a Win,Win #BestQC 20