"Look into my eyes and keep still," Socibot says to me in its pleasant but mechanical voice. Before I can do anything to comply with the command, the Putnam Museum's machine continues: "I would say you are a 44-year-old man." I laugh. "Your face is happy," it says.
Clearly, Socibot needs to learn that when it comes to age, it's better to guess low - as I'm on the cusp of 43, thank you very much.
This was a demonstration of Socibot's facial-recognition feature, but the talking, moving head is no one-trick robot. It does impressions - including of some famous cinematic artificial intelligences (2001's HAL 9000, Arnold Schwarzenegger's cyborg from the Terminator series). It can play card games using QR codes - which can also be employed to tell visitors about other features in the Putnam's new Science Center.
But mostly, it shows the complexity of human expression. Using the "compose" touch-screen interface, users can program Socibot to communicate - not merely typing the words it will speak but controlling its voice and nonverbal cues that impart meaning, from the movement of the eyes and head to flushed cheeks to the set of the mouth.
This teaches the challenges and skills involved in getting machines to complete multifaceted tasks. Nichole Myles, the Putnam's vice president of education and exhibits, noted that Socibot allows visitors to "experience what early coding and programming is."
And because the Science Center is geared to children - with the goal of getting them interested in Science, Technology, Engineering, and Math (STEM) careers - Socibot has also been programmed to chide users who try to put inappropriate words and phrases into its mouth.
Socibot is undoubtedly one of the most sophisticated (and expensive) components of the STEM center, and you could spend a few hours trying to fine-tune the proper expressions involved in, for instance, Hamlet's famous "To be or not to be" monologue.
But given the breadth and depth of science-related experiences available at the Putnam's Science Center, to spend too much time at one station would be wasting opportunities. There's the feature that visibly demonstrates turbulence; the lift-yourself-up pulley; the airways fountain; ferrofluid; the gravity wall; the lever tug-of-war; the 3D-printing station; robot vision; the dinosaur dig scheduled to open this summer ... .
I've spent a lot of time as a kid, a kid at heart, and a parent at children's museums and science centers, and the Putnam's STEM center is a marvel - especially considering how quickly it came together and how little it cost.
"It Was Carefully Planned to Turn Out This Way"
When I did an article on the planned Science Center a year ago (see "Pivot and Progress," River Cities' Reader Issue 826, March 21-April 3, 2013), several things were clear. It was exciting. It was necessary. And it was ambitious.
But it was also a bit concerning. The Putnam, under President and CEO Kim Findlay, was trying to remake itself using under-utilized space and (relatively) little money. "STEM careers are growing at four times the rate of other types of careers," Findlay said back then, "and the more we're able to play a role in helping kids to see the fascinating side of science and math, and want to learn about it, I think that's a tremendous role that the museum can play."
She also said: "The need is very immediate. ... We're not embarking on a capital campaign to build a wing, add a floor, build an addition - which could cost $15 [million] to $20 million. ... The price tag on this is ... about 10 percent of what you would expect it would cost if you were trying to put an addition on."
In the end, the Putnam raised $2.2 million for its STEM center - a little larger than the budget Findlay gave last year, but that's a function of some funds being used to staff the center and pay for its long-term maintenance.
Findlay believes the need is so pressing that she made sure the Science Center opened two months earlier than its original target of June. "The majority of our classroom visits ... happen in April, May, and June," she said this week. "And when we realized that two years would take us to the end of June - from inception to opening - that just was not acceptable ... ."
The idea behind and conceptual framework of the STEM center were undeniably sound and carefully considered. What remained to be seen was whether the Putnam's execution - constrained and to an extent defined by decisions about cost, scope, and time - would match its lofty goals. One could easily see how budget, space, and schedule could result in a center that met the immediate need but felt cheap or half-formed.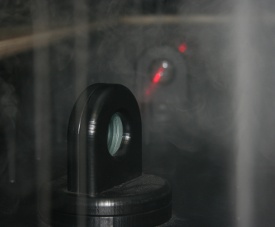 Visitors will get to decide for themselves when the Science Center opens to the public on April 12. But the center appears poised to exceed my hopes and wipe out my fears.
On two visits in March, I got the opportunity to see and sample more than a dozen new interactive components. I didn't get a full sense of the whole, as roughly half of the more than 45 components were installed and operational when I visited, and storyboarding and graphics tying the science to careers and individual stories weren't yet up.
But what I did see were thoughtful, polished, seemingly durable hands-on displays that are fun, educational, open-ended, and likely to reward curiosity and developing skills over many visits and many years.
Findlay said she "couldn't be happier" - and she'll even sing that to you from the musical Wicked. "It's everything we conceptualized and envisioned ... ," she said. "I'm not surprised, because it was carefully planned to turn out this way. But I am completely energized that it is turning out this way."
Very few science centers, Findlay said, make the leap from fun activities and cool, gee-whiz science to careers. The Putnam's, she said, will "surround the visitor with ideas for career exploration, [and] stories about how STEM-related careers and work ... make the world a better place." Beyond the hands-on science, she said, "there's an inspirational aspect to the center."
"Driving People Toward the Museum"
In the Putnam's Grand Lobby is the first indication that the Putnam has been transformed.
"We did want something that would be a hallmark in the center of the Grand Lobby - something that the visitor would come in and realize that things had changed right away," Myles said. "This is a big building, so it can be hard to communicate that."
Hovering over the lobby is a hexagonal kinetic sculpture by Reuben Margolin, made from 198 reclaimed white-plastic tubes attached with 109 unique strings to a motor. Myles described it as "mathematics in motion": "When that motor moves in a circle, it ... shows what a sine wave would look like if it were consistently moving."
The piece illustrates several aspects of Science Center.
First, it encourages exploration of a mathematical concept, as it plays differently depending on whether it's viewed from below or from the balcony.
Second, it demonstrates how the Putnam was able to accomplish so much on a tight budget. When the Putnam contacted the artist, he offered the existing piece to the museum at a fraction of the cost of building a custom sculpture; it was being de-installed from its temporary home at the Chabot Space & Science Center in California.
Third, it shows how math and science can lead to careers - in this case, admittedly, unconventionally. "The core of the center is to encourage people to explore science, technology, engineering, and math and how they might be able to use it in their lives," Myles said. "So for people who say, 'Applied mathematics. I would never want to do that.' This is an artist using applied mathematics."
Up the stairs from the lobby on the way to the Science Center proper is another hint about the new Putnam: a color wheel with two layers. Panels are either colored or clear, and while the scientific principle is obvious and familiar, it took me a while to figure out which were clear and which were colored.
"You think of something as simple as a color wheel," Myles said. "It actually turns out to be something pretty complex. We stand here as two grown adults needing to figure out how this mixing is actually occurring. That's what we're encouraging our visitors to do. ... This looks, at least to our eye, far more sophisticated than the kind of color wheel you might see at a center aimed at much younger children. It's still a color wheel, it's still going to be fun for my five-year-old, but the conversation level based on what's happening here with the multiple levels is a lot more sophisticated ... ."
As with the lobby's kinetic sculpture, the color wheel affords a glimpse into the thoughtfulness that has gone into the STEM center.
The museum was working with vendor Science Kinetics on the color wheel's location, pushing it around on a dolly and trying to figure out just the right spot for it. Somebody complimented the piece, and the vendor replied: "It is phenomenal. You should see it in natural light." And by showing it in the ample natural light leading to the Science Center, its resting place was decided.
"Not everything goes where you think it's going to go," Myles said. "Now it serves as another tease to the visitor, to keep driving people toward the museum."
Of course, the large color wheel naturally lends itself to eight-year-old boys giving it a Wheel of Fortune or Price Is Right spin, but it's made of steel and is engineered to have a 15-year lifespan, Myles said. The pieces in the STEM center will over time become worn, and many will certainly need regular maintenance or repair, but the things I saw were clearly tough and seemed designed for long lives.
"We try to take many of the exhibits ... down to their simplest, most-durable form so there's little to no maintenance," said Christopher Westhoff, design engineer and product engineer for Science Kinetics. "I know that whatever we as adults intend, we have to put our little-kid cap and go, 'Well, what happens if I do this?'"
"That Higher Level of Engagement"
That question might be the most concise way to describe both the point of the STEM center and how it works. What happens if ... ?
There's the durability aspect, for example with the Science Center's impact gauge - which measures force in Newtons. The idea is to strike the pad with your hand to see how much force you can generate. Myles, however, has seen kids head-butt it. "I was fully prepared to see somebody try to get up on this and use their body," she said. "I wasn't prepared for a young child to run up to it and go like this."
Fortunately, she added, vendors anticipate this sort of misuse - including an adult testing the impact gauge with a pro-wrestling knee-drop: "The good thing is that this ... goes through quality control."
While head-butts and knee-drops are discouraged, other "What happens if ... ?" play is strongly advised.
There's the wave tube, which challenges visitors to combine volume and frequency to create a visible manifestation of a sound wave in foam balls.
The magnetic gear wall includes unusually shaped gears with arrows printed on them. The storyboarding on the feature will include hints about why the arrows are there, but it won't explain them. Do the odd-shaped gears need to have the arrows aligned to work? Do they work with gears of other shapes?
"We want to really encourage exploration of learning," Myles said. "We don't want to give answers. We want to encourage them to find the answers. So we want [people] to see that there are arrows on the funny-shaped ones. Why are they there?"
The 10,000-square-foot center is divided into two basic sections - "How Things Work" and "Innovations" - and there are typically three or four interactive elements in each of 11 areas, such as "Simple Machines," "Electricity," "Light & Color," "Aerospace," "Robotics & Mechatronics," "Engineering & Design," and "Architecture & Structures."
Connections among interactive elements are sometimes strongly implied. For example, the "Film & Music" area offers three interrelated features: a stop-motion animation station; a track matrix in which visitors create music with pitches, chords, duration, and silence; and a video-editing station in which one can experience how sound affects and changes the mood and meaning of video.
A robotic-instruments station fuses the concepts behind the track matrix and Socibot's "compose" screen, to cite another example.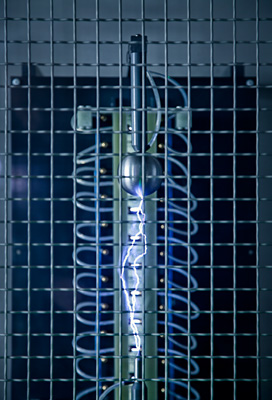 Some elements are mostly demonstrations, such as the 230,000-volt Marx generator. "You are going to see, hear, and smell lightning," Myles said.
Similarly, the flat infinity mirror gives the illusion of lights receding forever.
And the laser harp, while more interactive than those two, mostly shows how lasers can serve the function of strings on a musical instrument.
Other features will be familiar in some sense - although presented in an unusual way. A Newton's cradle demonstrates the conservation of momentum and the conservation of energy, but at eight feet tall you won't find this version on anybody's desk. While other museums have large versions of this famous executive toy, Myles said this one is special because people can reach under it to pull back and release balls to see what happens. It's distinguished by the combination of scale and touch.
The rocket launcher is also a variation on the common. Instead of launching by stomping on a plastic soda bottle, users turn a hand crank to increase the air pressure - which they can see on a PSI meter - before releasing the rocket. Beyond having a crank to accommodate people with disabilities, the station elevates a favorite play activity by connecting it directly to science.
Cub Scouts and people who have visited the Iowa Children's Museum in Coralville will feel right at home at the Putnam's Lego-racing feature, as kids are able to build cars and see whose is fastest. But aside from different components, there's a key distinction that highlights what the Putnam is doing: At the Quad Cities museum, each track is timed.
Because the Putnam is geared toward older children, it needs to facilitate deeper learning, Myles said: "We're a museum that's family-friendly ... but we're not a children's museum. It's incumbent upon us to be a little more challenging with content, because our age group is a little more sophisticated. ... We want to encourage that higher level of thinking, that higher level of engagement."
So instead of merely racing against other people, you can race against yourself. "We want people to go back and have a look," she said. "What happened? Can I beat that time? Why did my car go faster? That's open-ended learning, ... that there's more than one right solution to these things. ... There are as many possibilities as there are people who try to build it."
Other times, there's only one way to make something work. Visitors, for instance, can construct a bridge of five wooden blocks held together by gravity. "It has no glue," Myles said. "It has no nails, no anything. And yet I can get up here and walk on it."
I asked whether stability was affected if the blocks weren't perfectly aligned. Of course, Myles said that we should find out. "You have this implied cooperative activity, where it's taking us both to get this right," she said.
Most of these interactive exhibits lead to one or more key lessons of the Science Center.
First, that details matters in STEM. One small miscalculation can be the difference between success and failure - for example, with the bridge-building exercise. "You can't have imperfection," Myles said.
Second, getting the details right is a function of trial and error. "Engineering, architecture, these kinds of things are really built around failing 99 times to get it right the hundredth," she said. "That's a really difficult concept in a world where you turn it on and it works. That's what makes this kind of experience really valuable. ... They have to learn it's okay to fail."
And, third, while imperfection can be disastrous, there are often many paths to perfection and many forms it can take - such as with the rockets and Lego cars.
You can boil those down to one essential concept: problem-solving.
"In many ways that's a national crisis we have," Myles said, "because we're raising generations of kids who believe there's only one right answer, that if they don't know it, someone hasn't told them yet, they haven't gotten to that chapter in the book yet, as opposed to creating kids who are eager problem-solvers who understand the value of failure."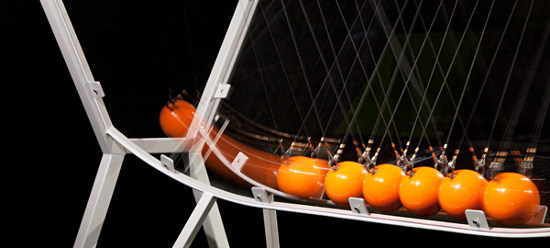 "Show How Things Work"
For its Science Center, the Putnam employed five different vendors that specialize in science-based exhibits, with the majority of interactive elements created by Science Kinetics and Roto - both based in central Ohio. (Roto was also involved in the master-planning phase of the STEM center.)
In addition to hiring outside vendors, the Putnam also worked with local partners. Genesis Systems Group is donating a robotic arm with a 3D-printed hand, for example. Another local company, Cobham Life Support Systems, created the thermodynamics exhibit.
And other local organizations have been engaged to round out features, for example providing information on specific STEM careers. While a planned outdoor water feature - which was delayed until summer because of the harsh winter - will likely be engineered by Science Kinetics, the Army Corps of Engineers and a local plumbers-and-pipefitters union will consult on career and skill information. The laser fog station is sponsored by Shive-Hattery, which Myles said is "using laser technology right now to create 3D point clouds in their surveying."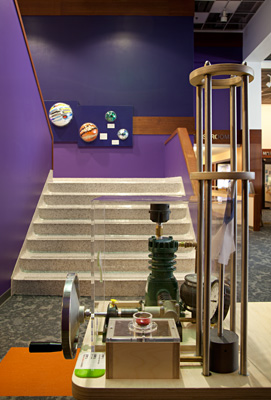 The Putnam staff - specifically Exhibits Manager Shaun Graves - has also built or will be building other interactive features, such as the Bernoulli blower that was part of the Spark Lab.
"It's not someone else's idea about what our museum patrons want or what the community wants," he said. "It's talking with visitors coming through, seeing how they play with things and break things, and what we can do to make it better the next time." (Graves could serve as the poster child for the STEM center. "I just built a lot of things and made a lot of mistakes ... ," he said. "The hands-on, the learn-as-you-do-it type of thing.")
Community partnerships and in-house capacity have been a key factor in keeping the cost of the Science Center down.
They have also allowed the Putnam to target exhibits and informational panels not just to careers generally but to local companies that offer them; there's a concrete connection between the science and jobs.
But all the noble goals will amount to nothing if the Science Center isn't fun, or if it doesn't beg for patrons to return time and time again. It is fun, and I can't imagine anybody exhausting its potential in a single visit - a result of the volume of activities, their replay value, and the attention to detail in the interactive features.
Those touches aren't always obvious. Science Kinetics' Westhoff, for example, was showing me the pulley table and pointed to the clear case underneath.
The motor, it turns out, uses magnetic fields that act as teeth to turn the wheel - meaning that there's no physical connection between the motor and what it's turning. He demonstrated by grabbing the wheel on top of the table. "When I grab this, it doesn't pinch" somebody's finger, he explained. "That's something I added in there as a safety feature."
This has little to do with the principle on display, but it's a fascinating detail nonetheless - and a demonstration of the little things that distinguish the Putnam's Science Center.
"You put it in a clear case and show how things work, it's always interesting," he said.