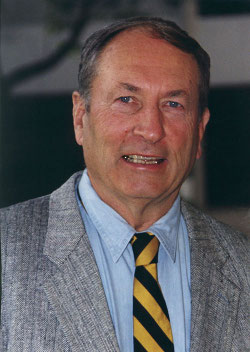 Our community lost one of its treasures, former Bettendorf football coach Merv Habenicht, on Wednesday, May 16, 2012, after a prolonged battle with pulmonary fibrosis. For many of us, we lost a surrogate father and/or lifelong friend.
Nearly 45 years ago, when I left private school to attend Bettendorf Middle School, I was befriended by its most popular cheerleader, Nan Habenicht - Merv's and Eveyln's firstborn - and was unconditionally inducted into the Habenicht family from day one. I wish I had a nickel for each time I bravely huffed out on my own family to brave the cold, cruel world for the several blocks to the Habenichts, where I nestled in until I wore out my welcome.
Most of the time, I had to get in line, literally, because Merv and Evelyn had an open-door policy for their children's friends, and Merv's students and team members. It has remained so until this day. They truly are like second parents to me and to many others who had the incredible good fortune to find their fold. I could not love them more, and losing Merv is a blow that no amount of time will ever completely heal.