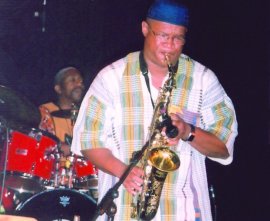 Jazz
alto saxophonist Ernest "Khabeer" Dawkins will bring his
"Straight Ahead" Quartet with special guest pianist and jazz
educator Willie Pickens to the River Music Experience's Redstone
Room in downtown Davenport for Polyrhythms' Third Sunday Jazz
Matinée & Workshop on August 17. The workshop begins at 3
p.m., with admission $3 for students and $5 for adults. The concert
begins at 6 p.m., with general admission $15 and reserve seating $20.