If you think about the type of person likely to raise backyard chickens in the Quad Cities, you might conjure a vision of somebody similar to Liz Smith. With philosophical and practical motivations and a love of animals, she did her research and educated her city's leaders.
She helped lead a year-long effort to get Moline to allow residents to raise backyard chickens, and – in barely more than 50 words – listed all the reasons behind that initiative: "We go through at least two- or three-dozen eggs a week, so that was a good start. The eggs are also a lot healthier. I've always been an animal lover, too. Self-sustainability. It's all about teaching your kids where your food comes from, and having some fun pets in the process."
In the compact yard behind her house near Prospect Park in Moline, Smith has a playhouse and a chicken coop. The playhouse is for her three children and the kids she watches as part of her home-day-care business. The coop is for the "bok boks" ("bawk bawks"?) – the name the animals are called by adults and children alike far more than "chickens" or "hens."
Nearly every morning, she said, the kids are out back with the chickens – who were purchased after Moline approved an ordinance in July allowing people to have as many as six hens. The birds roam the yard, supplementing their feed diet with bugs and plants from the garden. (They also get kitchen scraps.)
When the backyard chickens begin producing eggs, she said, the yolks will be a deeper yellow than those from the store – "showing that they're having a more-varied diet."
The kids are clearly excited to feed the chickens mealworm treats, and they handle the animals more like pets than agriculture.
"They carry them around, and they take them up there into the little playhouse," Smith said. "The other day, Cole [a friend's child] slid one down the slide."
Smith said she got chickens to be both pets and egg-producers, but at four months old, "right now they're more pets, just because they're not laying yet."
If you think about people raising urban chickens, you could also imagine somebody like Julie Schmidt Urban, who's trying to get the Davenport City Council to allow backyard hens. She has decades of experience with gardening, but she admitted that "I thought chickens in the beginning were a little creepy. They're like dinosaurs with wings."
Schmidt Urban said she began volunteering at a CSA in 2013, and her experiences with chickens there – after she got over her initial revulsion – prompted her to consider complementing her gardening with hens. "I never ever ever thought about the component of chickens," she said. "That never crossed my mind, with all the various things that I learned and did for 20-some years of landscaping. And then I saw this component happen right before my eyes [at the CSA]. ... Within about a week or two, being around these birds every single day, the creepiness fell away. ... I saw the perfection of it."
And you could also think of somebody like Michelle Ramsey-Moody, who has eight hens in Rock Island and is trying to get the Rock Island City Council to approve an urban-chicken ordinance. Four years ago, she said, "we walked into Teske – one of the five times in my life – and they had chickens and I thought they were cute, so it was ... totally random. ... Isn't that ridiculous? ... I knew probably close to nothing about chickens except ... that they were cute. ... [And] chickens lay eggs. That was about the extent of it."
It wasn't quite that simple. Ramsey-Moody said she was already gardening and composting: "I had this sense of 'I want to be more self-sufficient,' and the chickens fell in line with that."
But she conceded she didn't know how much work it entailed – and wasn't ready for the dozens of eggs she got each week when the hens she bought started producing at about six months.
"When they started laying, it was quite an abundance," she said. "All six were laying eggs, and we filled up the cartons we had in the fridge, we're giving them away, and we had bowls full."
Despite her lack of preparation, she said that "I have not had any problems with my chickens. Yesterday I came home and they were in my garden; I wasn't so happy. They were having a nice dinner. And that was only a couple, and I'm not sure quite how they snuck out. ...
"Chasing chickens is probably the hardest part. If they ever get out ... they run faster than me."
That's one thing you should consider if the prospects of plentiful eggs and cute birds get you excited: Chickens are fast and they do fly.
They also get old. From spring through fall of their three or four peak production years, hens will average almost an egg per day. But backyard chickens commonly live eight to 10 years, with some living twice that long.
The article "You Absolutely Should Not Get Backyard Chickens" at NWEdible.com stresses that chicken owners have to be prepared to either kill their animals when they're past their prime producing years or be content with hens as pets: "If you can't cull your own birds or can't provide for them all the way into their Chicken Social Security, then please do not get chickens."
That's not a problem for Ramsey-Moody, who said a couple of the birds she got after buying chicks are now past the laying stage, "so they're just kind of in their retirement home. ...
"They really do have a personality of their own," she said. "One of the older ones, she's kind of like my show chicken. She likes to be held and show off. ... I think they're a little more entertaining than my dogs and cats, honestly. They're still kind of new – four years later."
Smith, Schmidt Urban, and Ramsey-Moody are part of the urban-chicken movement in the Quad Cities, all working for change within their respective municipalities. They have each collected signatures for petitions, but their approaches and motivations are all a little different.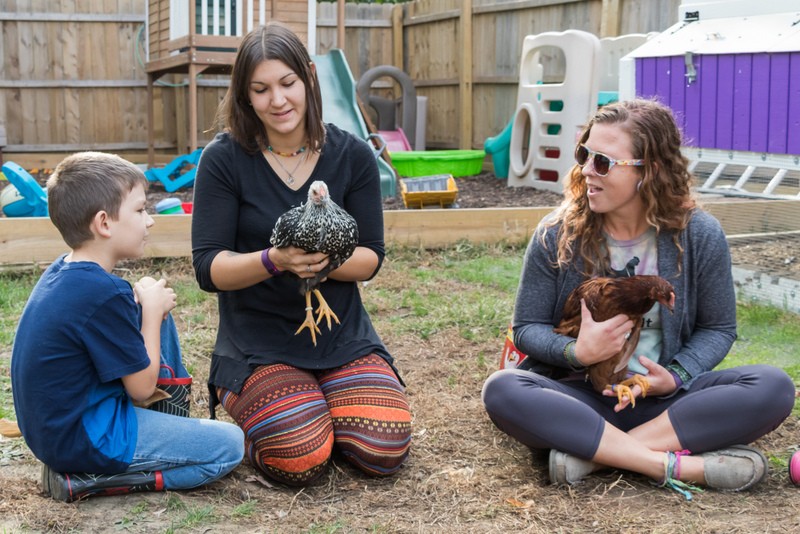 "Get It in, Start Somewhere"
Schmidt Urban is working with her neighbor Mike Angelos on the petition drive in Davenport, and they're pushing for less regulation than you'll see in other cities."Too many regulations defeated the purpose," Angelos said. "Our [suggested] ordinance, we tried to be less restrictive." Part of this, they admitted, is selfish, because they hope to share a coop somewhere on their contiguous properties near NorthPark Mall.
"A program just needs to get started ... and then as complaints come in, they tighten up the ordinance," Schmidt Urban said.
Davenport city staff has been directed to study the issue of urban hens, and Angelos said he's hopeful the council will pass an ordinance later this year.
Urban-chicken ordinances typically share some features: the licensing of owners; a limit on the number of birds (six, for example, in Moline); a prohibition against roosters (in large part because of the noise they make); a prohibition against slaughtering the animals within city limits; and required distances between a chicken coop and both property lines and structures. (In Moline, for instance, coops must be five feet from property lines and 25 feet from dwellings, churches, schools, or businesses.)
Other common restrictions include that chickens can be used only for noncommercial purposes; that licensees must take a class on raising chickens; and that neighbors must be notified if somebody intends to apply for a chicken license.
Those components were all present in the amendment considered by the Rock Island City Council in August – although it would not have forbidden the selling of eggs.
Rock Island's proposed ordinance limited the number of hens to six for properties 10,000 square feet (roughly 23 percent of an acre) or less, and to 10 for larger properties.
The proposal got four votes from the seven-member city council, but a procedural decision to suspend the rules for the required number of readings meant it needed a five-vote super-majority. Council member Chuck Austin had previously expressed support for the idea of urban chickens but voted against the amendment. (This serves as a reminder to the council: Don't count your chickens before they hatch. [Sorry, but it had to be said.])
Austin and the two other council members who voted "no" cited concerns about smell. When I visited Smith's house, I noticed no odor – but I also had a cold. However, even cursory reading on the topic suggests that proper maintenance of coops can make them inoffensive to the noses of neighbors.
And Moline's ordinance addresses the issue simply and directly: "Odors from hens, hen manure, or other hen-related substances shall not be perceptible beyond the boundaries of the licensed premises." The failed Rock Island amendment had a similar requirement.
The issue of urban chickens is expected to be brought before the Rock Island City Council again in slightly different form.
Smith, who started the Moline petition drive herself and eventually began working with Mary Petersen on it, said it's important to start small with city councils – as a way to alleviate concerns, unfounded or not.
"We went in there kind of low-balling it, because we would rather them say 'yes' to a lower amount [of hens] than 'no' just in general," Smith said.
"Get it in, start somewhere," Petersen said.
"We haven't really talked about what we would want in the end," she added, but she and Smith agreed that 10 hens would be a reasonable limit in Moline.
"If, in a couple years, there are no issues, then maybe we'll ask to revisit it," Smith said.
She also stressed that neighbor-notification or -consent requirements – absent from the Moline ordinance – represent a double standard for domestic animals: "Some ordinances say you have to notify your neighbors. Some say you have to ask permission from your neighbors. We just didn't want to have to ask permission. You don't have to ask your neighbors for permission to own a dog, which is arguably louder and smellier than a chicken."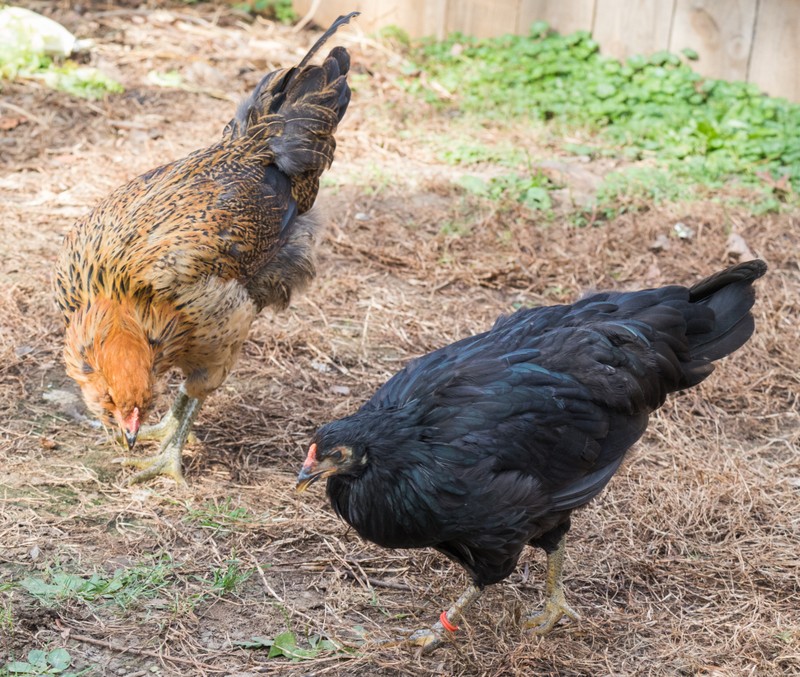 Urban Homesteading
The idea of raising chickens in cities might seem weird to some people, but in many ways the local prohibitions against it are the odd thing – particularly in an area that's so heavily agricultural.
Consider:
• Urban hens fit nicely with the concept of homesteading, which has a long tradition in the United States.
• Schmidt Urban noted that Americans were urged to create and maintain "victory gardens" – including keeping chickens – during World War I and World War II.
• Contemporary urban homesteading stands as a response to the industrialized nature of our country's food-production and -distribution systems, and in particular how poultry is farmed. It gives families some control over their food supply in the face of concerns about factory farms.
• Urban chickens are an educational tool, a way for children to learn that food doesn't magically appear at the grocery store. Ramsey-Moody said her two-year-old son "gets so excited when we go to check for eggs. And even more excited when there's an egg in the box."
• We live in the agriculture-rich Midwest, yet the default position of many city ordinances in the Quad Cities doesn't acknowledge that. Davenport's code explicitly forbids a litany of creatures – "cattle, swine (except Vietnamese or Asian pot-bellied pigs), sheep, llamas, horses, jacks, goats, guinea fowl, ostriches, poultry (domestic chickens, turkeys, geese, and ducks), or similar domestic animals" – except on land zoned for agricultural use. Rock Island's city code states – with a certain lack of clarity – that "no domestic animal, including horses, mules, cattle, sheep, swine or domestic fowl of the species of geese, ducks, turkeys, chickens, or barn fowl shall be suffered, allowed, or permitted to run at large within the corporate limits of the city."
• People concerned that backyard chickens will be a nuisance – in terms of noise or waste – neglect to remember that dogs bark and poop, and that pet owners generally range from considerate to irresponsible, regardless of the animal. "Any of the concerns [about hens] ... are mostly from people that haven't had the experience or haven't had the opportunity to meet chickens," said Ramsey-Moody. Dogs are louder and produce more waste than the permitted number of hens in urban areas, she said. "I've had a couple dogs keep me awake at night, but I've never had a chicken keep me awake at night."
Many backyard-chicken advocates also note that nearly all of the United States' largest 100 cities allow urban hens – including Atlanta, Boston, Chicago, Dallas, Houston, Los Angeles, Miami, New York, Philadelphia, Phoenix, San Antonio, San Diego, San Francisco, and Seattle. "We have all these large towns that somehow can handle it, can figure it out," Schmidt Urban said.
"We have called all of the towns in Iowa that allow chickens," she continued. "They say, 'First of all, there are very few chicken owners.' ... And 'Those people really seem to know their stuff. And we rarely get a complaint.'"
As strange as it seems that chickens are allowed in New York City but not Davenport, Iowa, that difference actually makes a little sense.
For one thing, the sprawling human congestion of our largest cities highlights the need for agricultural oases within. But if you need a taste of country in the Midwest, all you need to do is drive for 10 or so minutes. As Schmidt Urban said, "People around here never think they have to go back to the land, because the go-back-to-the-land thing is right outside of town." We don't have the heightened need for urban agriculture because rural agricultural is just down the road.
The Midwestern agricultural heritage, combined with the fact that chickens are generally unobtrusive neighbors, also leads people to keep the animals – either in knowing violation of city code or in ignorance of whether they're allowed. "We've come across a lot of people that say, 'Well, I already have birds,'" Angelos said. "Dozens and dozens of people. To me, that illustrates that people have chickens in the city already without complaint."
Ramsey-Moody said that after the August vote by the Rock Island City Council, she got a letter saying she's in violation of the law, but she also said she's been told by city officials that any action against her has been deferred until the council makes a final decision on urban chickens. As of press time Tuesday, four Rock Island officials had not responded to an October 7 e-mail requesting confirmation that existing chicken owners are, at least temporarily, being given a pass.
"I had heard it was illegal," Ramsey-Moody said of her decision to have birds in Rock Island four years ago. "I had heard it wasn't illegal. So until I actually got the letter [from the city], I didn't know for sure."
"It's an Investment"
People interviewed for this article said that fears that the Quad Cities will be overrun by hens if cities allow urban chickens are unwarranted. Residents such as Ramsey-Moody already have birds – city code be damned – and keeping chickens is simply not something that a large number of people want to do.
Moline's urban-chicken licensing began August 1, and as of September 26, only 10 licenses had been applied for and issued, said Keith Verbeke, the city's finance manager.
"People that are going to have chickens don't do it as a lark," Angelos said. "They realize that in order for it to be successful, they're going to have to keep things clean, they're going to have healthy birds ... ."
"The first thing is they're going to have money in order to get the whole thing set up," Schmidt Urban said.
That's one reason, she said, that people will sign pro-chicken petitions without any intention of getting birds themselves: "The large majority would never in their wildest dreams have chickens of their own. But they ... agree that it's time now to allow people to do things like that."
The birds might only cost a few dollars apiece, but then there's the coop and other equipment. Several people interviewed for this article said an inexpensive coop still costs more than $100.
Smith said she spent $1,200 on her coop, and she additionally installed a solar-powered door that opens at sunrise and closes at sunset.
"It's an investment," she said. "I don't plan on having this for just a year or two. Their lifespan is about five or six years," and she wanted a coop that would last.
Petersen said she and Smith both did a lot of research prior to buying hens or facilities for them: "We really were prepared, because we had to present to the city ... . We knew what we were getting into."