In 2006, Western Illinois University approved its master plan for a Moline riverfront campus, boasting that "this new location will host an initial enrollment of 3,000 students."
Last year – with two of three planned construction phases complete – Western Illinois University-Quad Cities (WIU-QC) had 1,531 students.
On the surface, this looks pretty bad. There was no equivocation in that enrollment statement, and the numbers aren't even close.
But as the campus' Fiscal Year 2015 report puts it: "Western Illinois University-Quad Cities is the fastest-growing Illinois public university for the last five years." Ten of Illinois' 13 public universities saw decreases in enrollment from fall 2010 to fall 2014 – from modest declines to alarming drops of more than 10 percent (for six universities). The head count at WIU-QC, meanwhile, jumped 11.9 percent – more than double the percentage increase for the next-best-performer, the University of Illinois at Springfield.
So the glass is probably half-full when it comes to WIU-QC, largely because its enrollment has been an exception to the exodus from college campuses nationwide over the past five years.
"Only three [public] universities have grown" in Illinois, said Joseph A. Rives, WIU's vice president for Quad Cities and planning. "There is a shrinking market for higher education. So where are the students going? They're choosing here. So it is a big deal. Is it as dramatic as it could be? Not yet, but that's why we've continued to add and build programs."
He emphasized that Western Illinois focuses on personal attention – low student-to-faculty ratios and small class sizes, which he said is one reason WIU-QC has grown while other universities shrink: "Lots of colleges and universities will say, 'We provide a small-college experience with large-college opportunities.' ... For the 26 years I've worked in higher education, it's been true [at Western]. It's an organizational value that we strongly believe in."
Damien Bertelsen, a 2006 Rock Island graduate who joined the Navy after high school, enrolled at WIU-QC after his service and is now a senior in the Liberal Arts & Sciences program. "I chose to attend WIU-QC primarily for the convenience of the location here in the Quad Cities and because they are well-known as an extremely military-friendly college," he wrote. "I ... did not know what to expect when returning to higher education. ... The campus is beautiful and well-thought-out. The greatest asset that WIU-QC has is their amazing professors. All of the instructors I have had ... have gone above and beyond. These educators have always made time for me and genuinely care about their students."
He added: "My only complaint is a rather serious matter: We need more coffee vending machines, and we need them closer to classrooms."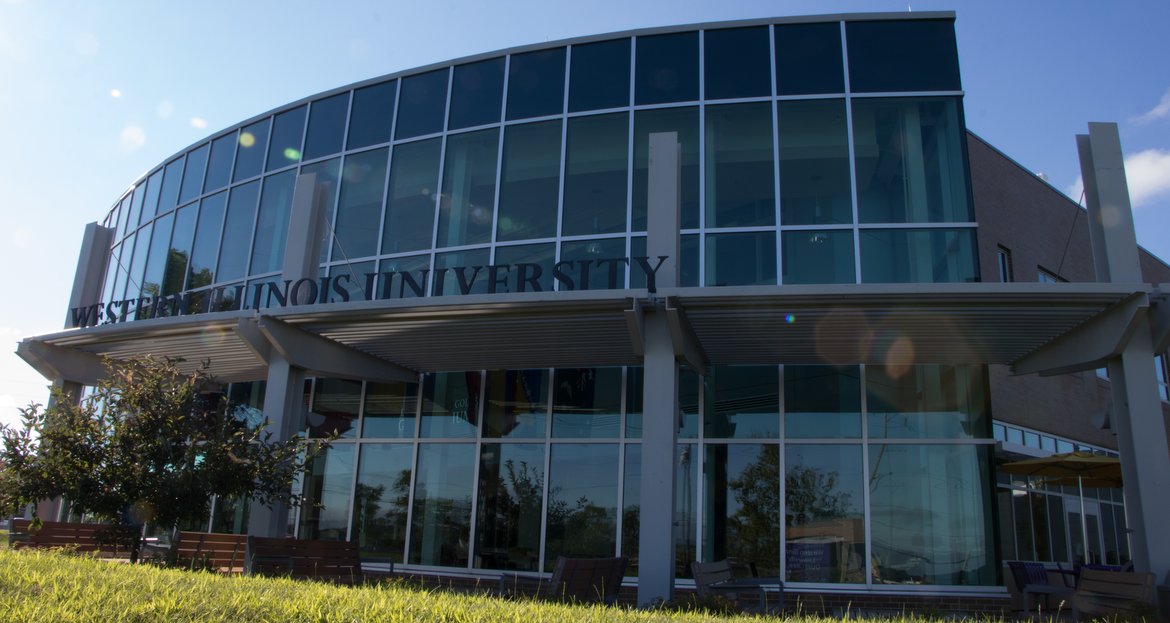 "There Was Clearly a Need"
WIU-QC's riverfront campus currently has four buildings with nearly 155,000 square feet of space on 20 acres off Moline's River Drive (north of Riverside Park in the eastern part of the city). It was built in two phases at a cost of nearly $60 million.
The third construction phase is on hold – with $5 million in funding announced in 2014 under then-Governor Pat Quinn but currently frozen. That phase was estimated to cost almost $35 million.
Rives said the four current buildings were designed to accommodate 3,000 students. Although WIU-QC is barely halfway to that target, the people interviewed for this article expressed little concern about the campus' enrollment numbers.
"There are a lot of things that have changed" in higher education and the economy since plans for the Quad Cities campus were approved, said Mara Downing, president of the John Deere Foundation and director of global brand management and corporate citizenship at Deere & Company. "We're on the right track, and I think that we're seeing the growth in demand for those facilities down there. I think we're seeing more and more economic development downtown."
Tara Barney, president and CEO of the Quad Cities Chamber, echoed those sentiments, saying she is pleased with WIU-QC so far in terms of enhancing local higher education and as a "catalyst" for development along the Moline riverfront – including the The Mills at Riverbend Commons with apartments and a pair of restaurants just to the west of WIU-QC.
Enrollment under the initial projection, she said, is a symptom of the challenges colleges and universities are facing nationwide. "The academic community is having to contract in many areas," she said. "I don't think it's going to slow that campus" in the long run.
Those are important endorsements.
In 2003, Deere donated the land on which the campus sits to Western Illinois University, and it has since donated $1 million to the Quad Cities campus – largely to support the College of Business & Technology.
And before provincial business groups merged into the Quad Cities Chamber, the Illinois Quad City Chamber of Commerce was a proponent of a four-year pubic university in the community, and it commissioned a 2003 study that ultimately supported an expanded WIU presence here. Although the Quad Cities has long been rich in post-high-school educational opportunities – with private four-year colleges and community colleges on both sides of the river – the missing component was a full-service public university: an institution that could offer beginning-to-end bachelor and graduate degrees at a lower cost than private colleges.
"This was the largest metropolitan area in the United States without access to a four-year [public] university, so there was clearly a need to build this campus," Rives said.
A key rationale for expanding WIU in the Quad Cities is the region's relatively low percentage of people with college degrees. According to the U.S. Census, slightly less than 31 percent of people 25 and older in the Quad Cities metro region have a post-secondary degree. Nationally, more than 42 percent of people 25 and older have at least an associate's degree.
The Q2030 community initiative – unveiled last month – includes among its primary goals "doubling the percentage of our workforce with education beyond high school."
That target is related to a Quad Cities initiative started in 2013 – with the Lumina Foundation and local colleges and universities – to increase "the proportion of Americans with degrees, certificates, and other high-quality credentials to 60 percent by 2025."
"I think any additional educational opportunities that we can provide for students in our area to keep them attending higher education ... is a good thing for our area and our community," said Bettie Truitt, president of Black Hawk College.

The Entrepreneurial Institution
Downing and Barney both said WIU-QC is essential to meeting those higher-education goals, and they lauded the campus' responsiveness to the local business community and its willingness to adapt.
"Earlier this week we were meeting with Joe Rives and [WIU-QC Director of Development] Paul Plagenz," Downing said on Friday. She said they were asking questions: "What does John Deere need to continue to be successful in the future? What are the needs of the employees? How can Western play a role in helping you?"
Deere's investment in WIU-QC, she said, comes from an interest both in the company's workforce and in the vitality of the community as a whole: "Clearly, we have an obligation to ensure that our business is successful first, and that we deliver a return to our shareholders. But with that business success comes an obligation to give back to our community to ensure that they're prosperous and that they continue to thrive."
Downing added that the larger higher-education community in the Quad Cities has been addressing shifting education and workforce needs, such as "a need for more engineers – not only for John Deere but in our supply base and more broadly ... civil engineers and the construction trade. ... St. Ambrose was offering an industrial-engineering program at that time, but there wasn't a broader engineering offering. And so it's been great to see Western fill that gap ... ." She also noted that "St. Ambrose has enhanced their engineering presence and their engineering program," and community colleges have made similar adjustments.
She stressed that WIU-QC is not limiting itself to Deere when evaluating its mix of programs: "We were not the first people on the list that they came to. ... Joe and Paul have done a great job of going to other businesses and saying, 'What is it that you need, and how can we help you be successful?' Not just looking to Deere to provide that direction for them, but really having a thoughtful approach."
"It's been fairly entrepreneurial," Barney said. "The leadership there has been willing to move from where they started out – which is really a heavy focus on engineering – ... to community need. I think they've been a great partner to the employer community. ... I've been very pleased with the way they've been engaged in the community, not just at Joe's level but throughout the departments."
That flexibility can be seen in how WIU-QC is approaching its planned Phase III. "As with all programs at Western, it's based on community need," Rives said. "We're waiting to see what ... retirements, occupational projections, and market demand dictate. ... We had a vision before capital funding was frozen. We had started to do some preliminary planning of what it could be," with the idea of focusing on STEM fields – science, technology, engineering, and math. "But we won't take a 2015 plan and apply it whenever that money is released. We'll update our plans accordingly at that time. ...
"We're adapting to what the market says it needs. That's how you're going to survive. Institutions as a whole are going to have to become much more entrepreneurial and responsive. And that's how we've grown ... where others have not. ...
"Our primary objective now is to build enrollment to make the compelling case that we must continue to grow the Quad Cities campus."
Bucking the Trends
Western Illinois University, of course, isn't a new player in the Quad Cities. "Western's delivered courses in the Quad Cities for over 100 years, but it was kind of a sleepy presence," Rives said.
A decade ago in the Quad Cities, he noted, Western was "primarily ... serving working adults – juniors, seniors, and graduate students – and it had about 18 different programs that it offered," although it was not necessarily possible to complete all the coursework for the programs in the Quad Cities.
Now WIU-QC offers 17 four-year majors, 20 graduate and doctoral degrees, and 13 certificates, all of which can be completed entirely at the Quad Cities campus. The campus budget (including only state appropriations and tuition) has increased from $7.1 million in Fiscal Year 2009 to roughly $10 million.
The Leadership in Energy & Environmental Design silver-certified Building One of the campus opened in January 2012 (at a cost of more than $14 million) and houses the university's College of Business & Technology – which includes the School of Engineering. The $42-million, three-building Phase II opened in 2014 and is home to the colleges of Arts & Sciences, Education & Human Services, and Fine Arts & Communication.
The second phase, Rives said, was crucial – creating "a full campus presence to the community and to the region" and diversifying program offerings.
But nearly $60 million in state construction has only modestly boosted enrollment – from 1,361 students in fall 2010 to 1,531 in fall 2015, an increase of 170.
Yet underneath are clear indications that the campus' student body is shifting toward what one might expect from a traditional four-year university – more full-time students, more underclassmen and undergraduates, and more students of traditional college age.
• In 2008, only 30.1 percent of WIU-QC students were full-time; that figure was 42.7 percent in 2015.
• In 2008, only 3.3 percent of WIU-QC students were freshmen and sophomores; that figure was 6.9 percent in 2015. The percentage of undergraduates increased from 49.3 percent to 66.6 percent over that same period.
• In 2008, only 26.2 percent of students were under age 25; that figure was 37.1 percent in 2015. The percentage of students under age 30 increased from 52.7 percent percent to 58.1 percent over that same period.
WIU-QC's enrollment numbers also need to be considered within national and local trends in higher education. Since the campus plan was approved in 2006, a lot has happened.
There was the Great Recession, which drove college attendance to record highs. According to the National Center for Educational Statistics, the number of people enrolled in degree-granting post-secondary education jumped from 17.8 million in 2006 to 21.0 million in 2010 – an increase of 18 percent.
And then came the post-recession lull in higher education, with attendance dropping 3 percent nationwide by 2013 – to 20.4 million students. (Those statistics, published earlier this year, projected a continuing slide in 2014 and 2015, but a rebound to new record levels of college enrollment by 2019.)
The local numbers – from the state organizations that track higher-education enrollment – mirror national trends:
• Black Hawk College saw its enrollment decrease from 6,677 students in 2010 to 5,782 in 2014 – a drop of 13 percent.
• Eastern Iowa Community College District had 9,365 students in 2010 and 8,143 in 2014 – a drop of 13 percent.
• Kaplan University's Davenport campus had 753 students in 2010 and 486 in 2014 – a drop of 35 percent.
• Palmer College of Chiropractic had 1,253 students in 2010 and 986 in 2014 – a drop of 21 percent.
Comparatively, the Quad Cities' two private four-year schools fared well in terms in enrollment.
• St. Ambrose University had 3,663 students in 2010 and 3,508 in 2014 – a drop of 4 percent.
• Augustana College had 2,532 students in 2010 and 2,497 in 2014 – a drop of less than 2 percent.
In that context, then, WIU-QC has done remarkably well, even considering the role the campus' novelty likely played in bucking trends.
Rives said 3,000 students is still the target for WIU-QC, although he declined to put a time frame on reaching it. "It's a longer-term goal," he said. "I don't know if I can attach a year to it based on the economic climate, but we continue to work toward that end." When I asked whether it was a five-, 10-, or 20-year goal, he said: "I really don't know, to be honest. We want the growth; there's no doubt about that. We just have to work with the market to make it happen."
He added that "we have maintained 1,200 students or more as a benchmark for sustainability."
Partnerships and Competition
Western's success so far, Rives said, has been bolstered by relationships the university has built with employers. He said WIU-QC has established 14 new partnerships with 29 regional employers – from small to large companies. He said he visits with them, asking: "What are your needs? Where do you see the future? How can we help you attract employees?"
Those partnerships, he said, help students. For example, he said, the curriculum of the engineering program includes an internship, and students need to pass the Fundamentals of Engineering exam to graduate. Those requirements of course make it more likely graduates are ready for a job, but students have already made a connection with a potential employer. "Every engineer is placed," Rives said. "That means they have a job."
Partnerships also extend to other educational institutions. Black Hawk College's Truitt said Western's increased Quad Cities presence has meant more opportunities for students to stay in the area.
Since at least the 1980s, she said, the college and WIU have had "two-plus-two" agreements – "the ability for students to come to Black Hawk College for the first two years of a very high-quality, low-cost education and then transfer directly into a Western Illinois four-year program knowing that every single one of the credits they take at Black Hawk College will transfer to Western."
She explained that although "the purpose of Black Hawk College as a community college is to make certain that our offerings seamlessly transfer to multiple institutions," Western has long been the most-popular destination for students continuing their educations – but usually the Macomb campus. "What we're seeing now is ... that we're continuing transferring our students to Western; they simply have the ability now to stay in the Moline area."
Truitt expressed some concern that, despite the cooperation among institutions of higher education in the area, continuing declines in college enrollment mean there's an increased competition for students – although she was hesitant to use the word "competition."
"A fair thing to say ... would be that we all need to put bodies in seats," she said. "Our benefit to the community is that we offer all of those transfer courses – that gen-ed-core curriculum that students can get here in multiple flexible ways – and then utilize those classes to transfer. That's really been our role. Other institutions – such as Western, such as Ambrose, such as Augustana, such as online institutions ... – are really offering those same kinds of classes. ... There are multiple options for students."
The likely-temporary stress on the higher-education system because of decreased enrollment, she said, reinforces the need to focus on preparing students for jobs while anticipating what businesses will want from their workforce – without stepping on the toes of other colleges: "I think it is incumbent upon us as leaders of institutions that we are offering the programs with high-quality instruction that the students are wanting and that the community is needing in terms of filling jobs."
Rives said WIU-QC is dedicated to that ideal, citing as examples two "hybrid" master's programs in business administration and college student personnel that were launched in 2015. Students complete 25 percent of their coursework on campus and the remainder online, and Rives said 94 percent of the programs' seats were filled last fall. A third master's hybrid program – in community and economic development – will begin this fall.
"Each of the universities in the Quad Cities brings a local niche and market that we serve," he said.