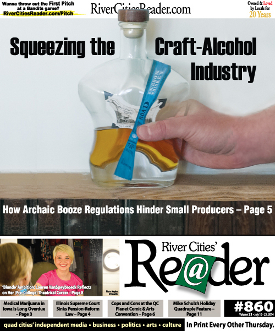 Steve Zuidema, the co-owner and brewmaster at Davenport's Front Street Brewery, called the byzantine state laws regulating alcohol distribution "laughable now. But getting them changed is going to take some lobbying and some money, because I think the distributors have a great lobby."
He was talking about the Iowa Wholesale Beer Distributors Association, and for proof of that organization's influence in the state legislature, look at the situation faced by the Mississippi River Distilling Company in LeClaire.
If you're wondering what beer distributors have to do with producers of distilled spirits, you're on the right track.
Mississippi River and other Iowa distilleries are trying (and thus far failing) to loosen state laws regulating their businesses. They want to be able to sell more bottles of spirits directly to customers on-site, and - more importantly - they want to be able to sell their products by the glass at their locations. Currently, distilleries are limited to selling any customer two bottles of spirits per day and to giving two ounces of free samples.
"Once somebody's come to our distillery and taken a tour and had their little sample, there's not much of a reason to come back," said Mississippi River owner and distiller Ryan Burchett. "You can't hang out and sit in the bar and have a drink." But the state's breweries and wineries can sell their products by the glass, and they also have more freedom with package sales.
Burchett said legislation to level the playing field has wide support, from the tourism industry to business interests to restaurants to corn growers. "There's really only one opponent, and that was the Iowa beer-wholesalers association," he said. Related to that was opposition from Anheuser-Busch InBev and MillerCoors. Bills in the Iowa House (sponsored by Representative Steven N. Olson of DeWitt) and Senate (sponsored by Senator Rita Hart of Wheatland) died in subcommittee this year.
So you might rightly ask: Why do brewing titans and the trade group for beer distributors care what happens at relatively tiny Iowa distilleries? How is it their business, considering that the State of Iowa distributes all distilled spirits? And why do legislators listen to the big-beer lobby on this issue?
The last question is actually easy to answer, as the Iowa Wholesale Beer Distributors Association's political action committee gave nearly $345,000 to Iowa candidates from 2004 to 2012, according to the National Institute on Money in State Politics. The organization spread its contributions far and wide - averaging more than $2,100 to 157 different candidates, almost exclusively incumbents. One candidate received $100 during that period, while Senate Majority Leader Michael Gronstal got $18,750.
The other two questions are a little more complicated.
The "Willfully Inefficient" Three-Tier System
The amendment to the U.S. Constitution that repealed Prohibition in 1933 restored state control of alcoholic beverages, and nearly every state adopted some variation on what's known as the "three-tier system." It requires that the different aspects of commercial alcoholic beverages remain independent: production, distribution, and retailing.
In its basic form, this system is the reason commercial brewers, vintners, and distillers can't simply make their products and directly distribute them to stores, restaurants, bars, and consumers. By law, there's a middleman. And, also by law, a producer can't be a distributor or retailer.
In recent years, these bright lines have gotten fuzzy in some circumstances, but the core structure remains in place.
The three-tier system was developed to prevent historical abuses in the alcohol industry. "It was intended to break up the monopolies that large breweries had back in pre-Prohibition [times] - where they had their own breweries, they had their own bars," Zuidema said.
But as Tim Heffernan wrote in 2012 in The Washington Monthly, the aim was actually twofold - preventing monopolies and protecting public health by increasing the cost of drinking. "Vertically integrated monopolies are very 'efficient' in the economist's sense, in that they do a very good job of minimizing the price and thereby maximizing the consumption of alcohol ... ," he wrote. "By deliberately hindering economies of scale and protecting middlemen in the booze business, America's system of regulation was designed to be willfully inefficient, thereby making the cost of producing, distributing, and retailing alcohol higher than it would otherwise be and checking the political power of the industry."
In other words, the prices of alcoholic beverages are intentionally artificially high because of sin taxes and the mandated role of distributors - companies that have costs but also the need to turn a profit. Beyond curtailing vertical integration, the three-tier system encouraged moderation - and institutionalized the financial stakes of states and distributors.
But it didn't anticipate the rise of small wineries, breweries, and distilleries - or consumer demand for specialty alcohol products.
Even when you buy an alcoholic beverage at the site where it was produced, for example, it has most likely passed through an independent distributor. (The State of Iowa is the exclusive distributor of distilled spirits in the state, while distribution of wine and beer in Iowa and all alcoholic beverages in Illinois is privatized.)
"It never has made sense to me," Zuidema said, to have a distributor "buy your beer from you and sell it back to you" at a considerable markup. He called the three-tier system "archaic" and "not based on anything [rational] for today's microbreweries."
He added that the three-tier system is "all about taxes. Making money and everybody getting a cut. I don't think it was intended for this." That might be a cynical perspective, but it's also largely true.
Another byproduct of the three-tier system is that it limits consumer access to products. Distributors dictate the selection of brews, wines, and spirits available at watering holes, restaurants, and grocery stores. If no local distributor carries a brand, for example, you won't be able to buy it in the Quad Cities.
And even if a distributor does carry a product, there's no guarantee it will reach your favorite retailer. Especially with high-demand/low-supply products (such as small-batch beers), distributors prioritize their top markets and retail outlets. Said Rich Nunez, owner and brewer of Rock Island's Against the Grain nano-brewery and bar: "If I don't show enough love [to a particular brewery], I may not be able to get that beer."
Even with those structural shortcomings of the three-tier system, states have been adapting to the current boom in craft brewing, distilling, and wine-making.
Both Illinois and Iowa, for instance, allow breweries to self-distribute their beer - which the Brewers Association says "is often an essential element that serves to provide them access to market and increase consumer choice."
For breweries with big aspirations, self-distribution is not particularly feasible - or even desirable, given the infrastructure and relationships distributors have already built. "A brewery can only distribute so far themselves," Nunez said. "It'd always be best if you could distribute yourself, but that's a lot of investment ... ."
Self-distribution can, however, be a way for startups and smaller companies to establish themselves in a market.
But changes to the alcohol-regulation system are often painfully overdue.
Illinois didn't allow brewers to self-distribute until 2011, for example.
And it wasn't until 2010 that Iowa allowed breweries to brew beers with alcohol content greater than 5 percent by weight (roughly 6.3 percent by volume).
"It took me out of a certain area of sales," said Zuidema, whose brewery obtained a license for higher-alcohol beers this year. "I was always restrained by it."
Paul Krutzfeldt, brewer and co-owner of Davenport's Great River Brewery, said the alcohol cap prevented breweries from producing 25 to 30 percent of beer styles. At the same time, he added, breweries outside the state could sell their higher-alcohol beers in Iowa: "It just didn't make sense that the state would keep us at a competitive disadvantage against our peers from other states."
Yet even with those positives, various aspects of the three-tier system are hindering local businesses in Illinois and Iowa - from the regulations holding back Mississippi River Distilling Company to franchise laws in both states that favor distributors over small breweries.
"If It Works for Beer and Wine ... "
"Iowa wineries are really the model," Burchett said of what distilleries are trying to accomplish with their proposal in the Iowa legislature. "In order to replicate the success of Iowa wineries, we'd like to play by the same rules."
Iowa has more than 90 wineries, and many import their grapes from elsewhere because of the state's climate."Meanwhile, we grow the finest grain in the world right here in our backyard," Burchett said. As a result, distilled spirits made with Iowa grain "can compete with the best in the world."
Yet even with that advantage, Iowa distilleries aren't the tourist destinations that wineries are. Because wineries can sell their products by the glass and bottle, they host parties, live music, and other events that aren't presently practical for distilleries in Iowa. Those things would become practical if distilleries were allowed to sell their products by the glass.
"This is rural tourism," Burchett said. "This is jobs in rural Iowa that our legislators ought to be fighting for like mad. ... The tourism impact that this can have is enormous for our state. ...
"We're not asking for any exceptions that are not already enjoyed by similar industries in our state. If it works for beer and wine, there's no reason it shouldn't work for distilleries."
And, he added, distilleries in Iowa are being put at a disadvantage compared to those in other places: "This is going on in almost all of our neighboring states: Minnesota, Wisconsin, Illinois, Missouri, Nebraska - you can do this. I can look out my window across the river in Illinois at real estate where somebody can come and open a distillery and do all of these things, self-distribute, and smoke me up and down the river. Less than a mile out my window."
Burchett said he can't think of any reason the Iowa Wholesale Beer Distributors Association and large brewers oppose the change - except to protect the market share of beer. "They'd sure not like to see somebody in another sector of the alcohol industry be able to take away any part of a market share from alcohol sales that might otherwise go to beer. So it's really frustrating. ... I can't think of any other reason why. ...
"There is nothing in this legislation that would impact the beer industry - not one iota. ... And ... it's privileges their industry already enjoys."
"Time-Tested Regulatory System"
Burchett makes a strong case for the change regarding Iowa distilleries, and that's underscored by the weakness of arguments against the legislation.
Sheila Douglas, the executive director of the Iowa Wholesale Beer Distributors Association, said the three-tier system has worked for more than 80 years: "The beer distributors ... want to keep this time-tested regulatory system" in place. "We just want to uphold as pure a three-tier system as possible."
But the three-tier system isn't pure - and it's less pure for breweries and wineries than distilleries.
I asked Douglas: "Why, outside of history? ... What's the importance of a three-tier system in today's world?" Instead of answering the question, she cited pre-Prohibition problems of manufacturers owning retailers - vertical monopolies in the alcohol industry.
I further asked whether the Iowa Wholesale Beer Distributors Association would prefer to get rid of laws allowing breweries and wineries to sell their products by the glass - to restore the purity of the three-tier system. She again avoided the question: "For this legislation, we are opposed to it. ... For this conversation, I'm just going to speak of micro-distilleries and the legislation that's out there."
Then I asked about the difference between the current situation of allowing free samples and two-bottles-per-day sales and the proposal allowing sales by the glass and bottle sales up to 12 per day. "I can't answer that," Douglas said. "I'm just going to go back to our position, and that is we want to protect the three-tier system. And if there's anything different that comes next session, we'll review it ... ."
It's hard to envision a situation - even with the distributors' widespread political contributions - in which those arguments work for long. The legislation being pushed by the distilleries is a common-sense idea that would put Iowa's spirits producers in the same destination situation as its breweries and wineries.
Burchett said he thinks the three-tier system "makes sense" broadly speaking, "but in a situation like this, people are hiding behind it."
"The Relationship Has Been Inverted"
State franchise laws are a larger, more-complex example of how the three-tier system hurts small producers.
These franchise laws were written to protect distributors from the caprice of large breweries. In essence, franchise laws dictate that a relationship between a brewery and a distributor continues in perpetuity except when one party engages in prohibited behavior - such as price-fixing on the part of a brewery or selling outside its defined territory for a distributor.
These laws made sense - and still make sense - with giants such as Anheuser-Busch InBev and MillerCoors, which together control roughly three-quarters of the United States beer market. A decision by one of those two to drop or switch distributors would be crippling to the wholesaler.
For that reason, Iowa's law requires that "a brewer who cancels, fails to renew, or terminates any agreement ... shall pay the wholesaler with which the brewer has an agreement ... reasonable compensation for the fair-market value of the wholesaler's business with relation to the affected brand of beer." Illinois' law is similar, although it does have a provision allowing smaller brewers to avoid the costs of arbitration or litigation through a system of written offers and expedited arbitration.
These franchise laws make it difficult and expensive for small brewers to extract themselves from relationships with distributors. And because each small brewery accounts for a small percentage of a distributor's business, it doesn't have the leverage to ensure that its product is promoted and handled well.
Distributors are dealing with many breweries, Great River's Krutzfeldt said, and they sometimes don't give each brewery's products the marketing and attention they require - such as ensuring the beer is fresh on store shelves: "It's a lot like The Bachelor or The Bachelorette. You have one person and 28 or more suitors. ... They're telling each person they really like them, and they're taking care of them and they're going to push their brands ... . So you have this feeling: 'They're taking care of me.' Wait, you have 20 other breweries, too."
It's important to stress that breweries in Illinois and Iowa cannot simply cancel or let expire a contract with a distributor. No matter the size of the brewery, it's required to pay fair-market value to buy back distribution rights. That cost is prohibitive to most small breweries, and at the least it's money that won't be reinvested in the company.
Krutzfeldt summarized: "The relationship between ... breweries ... and distributors ... has been inverted."
As the Brewers Association explains in its position statement on franchise laws: "Franchise laws were enacted to protect wholesalers from the undue bargaining power of their largest suppliers. Applying those laws to the relationship between a small brewer and the wholesaler is unfair and against free-market principles. Where franchise laws exist, ... any brewer contributing a small percentage of a wholesaler's volume should be exempted from those laws and free to establish a mutually beneficial contract with that wholesaler. Without the leverage inherent in being a large part of a wholesaler's business, a small brewer and wholesaler can negotiate a fair contract at arm's length."
Current franchise law is not a theoretical concern for Great River. Krutzfeldt said the brewery has strong relationships with nearly all its distributors, but it reached an agreement with one of its wholesalers to no longer distribute its beer.
Yet despite that agreement between Great River and one distributor - which Krutzfeldt asked not be named - the brewery is bound by franchise law. It can't start a relationship with a new distributor until it pays fair-market value to buy back its distribution rights. Until that happens, Great River beer isn't available in a big chunk of Iowa.
"I think it's legal according to what the three-tier system has built in the past 80 years," he said. Franchise law "probably would have been very meaningful years ago, when [typical] breweries were much larger. ... But now you're dealing with mom-and-pop breweries."
Franchise law and the three-tier system, Krutzfeldt added, make it possible that breweries might not have any outlet for their products in markets they want to try.
"Let's say there's four distributors in an area," he said. "If all four tell you 'no,' then you're not allowed to sell any beer in that area. ... That wouldn't make sense in almost any other industry."