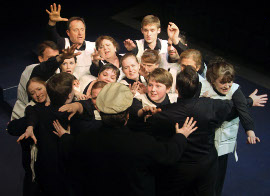 As Oregon-based playwright Michael Wehrli is the author of Titanic Aftermath - the historical drama being staged at Moline's Playcrafters Barn Theatre May 11 through 20 - I initially presume that he's seen James Cameron's Oscar-winning movie. In our April 25 phone interview, he tells me he has, and that it was even the inspiration for his play.
That's not exactly the compliment it might seem, though, considering he calls Cameron's Titanic "visually stunning and incredibly, maddeningly frustrating because of the fictional characters.
"I mean, they took up half the story," says Wehrli of the young lovers played by Leonardo DiCaprio and Kate Winslet, "and it was the actual survivors' stories, to me, that were ... interesting. That, and the corporate-negligence side to the tragedy, which is hardly ever addressed in dramatic form.
"So I thought, 'All right, well, I'm just going to write a play about all this.'" Wehrli laughs. "'How the hell do I do that?'"