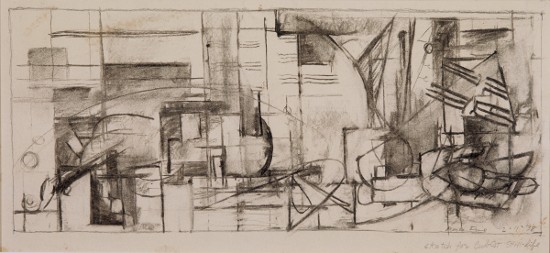 The Abstract Expressionist artist Perle Fine once said, "If I feel something will not stand up 40 years from now, I am not interested in doing that kind of thing."
Susan Knowles, who curated the career retrospective Tranquil Power: The Art of Perle Fine that closes October 23 at the Augustana College Art Museum, believes that the artist's output met that high standard.
The irony is that Fine, late in her life and until the past decade, was largely "forgotten," Knowles said in a recent phone interview.
Part of that is a function of Abstract Expressionism being distilled in the cultural memory to a few key figures. "Now it seems like all we know is Pollock and de Kooning," Knowles said.
But even though Fine was an active, exemplary, and important participant in the mid-20th Century movement, her notoriety diminished over time while many of her peers' didn't. She was interviewed, covered by the media, collected, and invited by Willem de Kooning to join the exclusive Artists' Club. Yet when the Whitney Museum of American Art in 1978 organized a show about the "formative years" of Abstract Expressionism, for example, it omitted Fine.