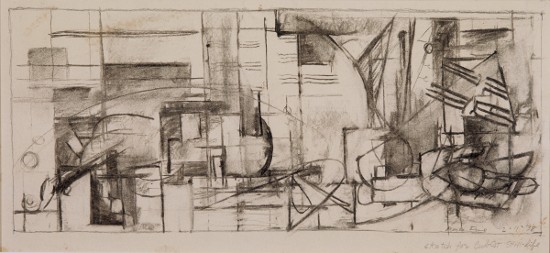 The Abstract Expressionist artist Perle Fine once said, "If I feel something will not stand up 40 years from now, I am not interested in doing that kind of thing."
Susan Knowles, who curated the career retrospective Tranquil Power: The Art of Perle Fine that closes October 23 at the Augustana College Art Museum, believes that the artist's output met that high standard.
The irony is that Fine, late in her life and until the past decade, was largely "forgotten," Knowles said in a recent phone interview.
Part of that is a function of Abstract Expressionism being distilled in the cultural memory to a few key figures. "Now it seems like all we know is Pollock and de Kooning," Knowles said.
But even though Fine was an active, exemplary, and important participant in the mid-20th Century movement, her notoriety diminished over time while many of her peers' didn't. She was interviewed, covered by the media, collected, and invited by Willem de Kooning to join the exclusive Artists' Club. Yet when the Whitney Museum of American Art in 1978 organized a show about the "formative years" of Abstract Expressionism, for example, it omitted Fine.
Fine wrote a letter to the museum, and Knowles said that's an indication of both her confidence and a need to be recognized. "Perle had the gumption ... [to write], 'I should be included,'" the curator noted, adding that the artist also got a National Endowment for the Arts fellowship in 1979: "Obviously, she wanted some sort of recognition, because you have to apply for those."
Fine died in 1988 at the age of 83, but in recent years her reputation has been resurrected. The exhibit, first shown in 2009 at Hofstra University (where Fine taught for more than a decade), followed a 2005 biography of the same name by Kathleen L. Housley. The show features more than 30 works spanning from the 1930s to the '70s, and while Fine's career has several "mature" periods and concerns, Knowles said, she "pursued Modernism her whole career - from the beginning. ... You see the progression. You see a through line."
As she wrote in the exhibit catalog: "Her overarching concern was with the way in which forms, colors, and art media intersect to create meaning. ... Critical to Fine's work is that drawing is always present and pictorial space is conceived as a three-dimensional grid."
It seemed that Fine knew early in her career what path she wanted to follow. "She put herself early in her life in a place to learn from people she needed to be in touch with," Knowles said - such as artists Hans Hofmann and Piet Mondrian.
Early pieces in the show, Knowles said, show an "exploration of abstract space; you see the influence of Cubism ... . Space is really important to her. She's trying to figure that out in the way that other Modernists ... were all trying to do."
To those concerns, Knowles said, Fine later added other dimensions and senses. "It becomes a tactile quality, and surfaces and textures are very important to her, so she's kind of coming off the canvas at you, to make you participate more," she said. The Tolling Bell, from 1954, almost visualizes sound, she added, and Fine was incorporating her curiosity about contemporary developments in other fields, such as science, music, and dance. (She had a correspondence with the avant-garde composer John Cage, for instance.)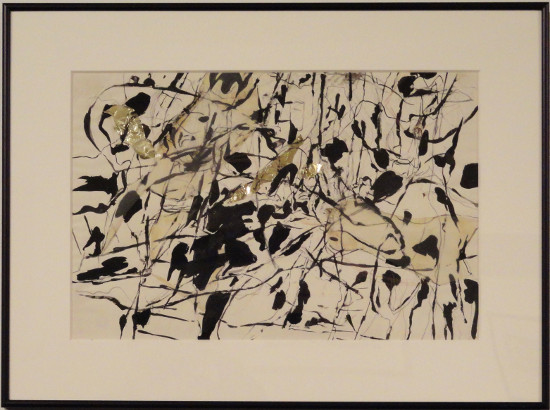 After a move to Long Island, Knowles said, Fine's work became more gestural, showed more influence from nature, grew even larger, and played with materials and the layering of them.
Finally, late in her career, Fine produced a body of minimalist work emphasizing geometry, particularly in her Accordment series. Knowles called these works "veils" - fastidious, soft, and delicate. In the exhibit catalog, she said these paintings "are a final manifestation of the abstract sensibility she developed in multiple forms throughout her life."
Knowles said Fine had "the artist's instinct - to keep making something fresh, curating another problem for themselves and trying to solve it." Even within periods of clearly related works, she added, there's often a visible progression.
Knowles said she chose pieces to help "confirm her reputation at the time" - in other words, to show Fine belonged among better-known peers. "I think anybody walking into the exhibition at Augustana would really get it, would really feel, 'This is important work. And it really speaks to these different periods in which it was made.'"
Tranquil Power: The Art of Perle Fine runs through October 23 at the Augustana College Art Museum (inside Centennial Hall, 3703 Seventh Avenue in Rock Island).