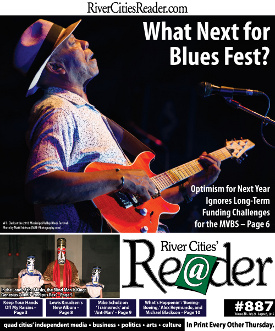 The announcement came 10 days after the final notes of the 2015 Mississippi Valley Blues Festival should have filled LeClaire Park: There would be no 2015 Mississippi Valley Blues Festival.
Citing financial difficulties, on July 15 the Mississippi Valley Blues Society (MVBS) said that it had canceled the festival. This followed a decision in February to move the blues fest from its traditional Independence Day weekend to the Labor Day weekend, and to reduce it from three days to two - changes designed to lessen the chance the event would be flooded out of LeClaire Park, to give the blues society the opportunity to raise more money, and to cut costs. The board was sharply divided on both the date-change and cancellation votes.
There are several cruel ironies here.
The cancellation comes a year after the Blues Foundation honored the festival with a Keeping the Blues Alive award for U.S. festivals, citing the Quad Cities event as "one of the longest-running, most-prestigious blues festivals in the world."
And there was no Fourth of July flooding in LeClaire Park this year, and the weather was rain-free and just about perfect. Had the festival happened at its normal time - as it had for the past 30 years - the MVBS would very likely have shored up its financial position significantly. "It would have been the best weather we've had in 16 years," said MVBS Board Member Ric Burris.
Instead, the organization now faces an existential crisis. Will the MVBS be able to put on a festival next year - as its president and many board members hope to? How will the group rebuild its board and fundraising efforts in the wake of this year's cancellation? And would a Mississippi Valley Blues Society without the blues fest be a shell of its former self - or could it perhaps be a stronger organization more focused on its education programs and smaller concerts?