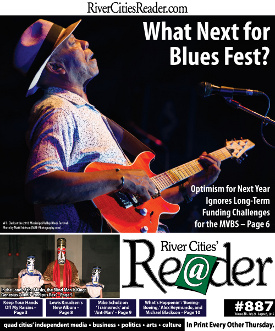 The announcement came 10 days after the final notes of the 2015 Mississippi Valley Blues Festival should have filled LeClaire Park: There would be no 2015 Mississippi Valley Blues Festival.
Citing financial difficulties, on July 15 the Mississippi Valley Blues Society (MVBS) said that it had canceled the festival. This followed a decision in February to move the blues fest from its traditional Independence Day weekend to the Labor Day weekend, and to reduce it from three days to two - changes designed to lessen the chance the event would be flooded out of LeClaire Park, to give the blues society the opportunity to raise more money, and to cut costs. The board was sharply divided on both the date-change and cancellation votes.
There are several cruel ironies here.
The cancellation comes a year after the Blues Foundation honored the festival with a Keeping the Blues Alive award for U.S. festivals, citing the Quad Cities event as "one of the longest-running, most-prestigious blues festivals in the world."
And there was no Fourth of July flooding in LeClaire Park this year, and the weather was rain-free and just about perfect. Had the festival happened at its normal time - as it had for the past 30 years - the MVBS would very likely have shored up its financial position significantly. "It would have been the best weather we've had in 16 years," said MVBS Board Member Ric Burris.
Instead, the organization now faces an existential crisis. Will the MVBS be able to put on a festival next year - as its president and many board members hope to? How will the group rebuild its board and fundraising efforts in the wake of this year's cancellation? And would a Mississippi Valley Blues Society without the blues fest be a shell of its former self - or could it perhaps be a stronger organization more focused on its education programs and smaller concerts?
Burris said he's confident next year's blues fest will happen - and that he hopes it returns to its traditional place on the calendar. If the fest isn't held, he said, "that might be the end of the blues fest, but it in no way means the blues society will go under. We have great, incredible education programs; it's one of the models for everywhere. And we do great events throughout the year. ... We don't have to have a festival. That's not our charter. The charter is keeping the blues alive and blues education."
The MVBS's Blues in the Schools program typically includes four to six residencies throughout the year, reaching 7,500 Quad Cities schoolchildren annually. The society also puts on a handful of concerts each year, such as July 27's performance at The Muddy Waters with the Golden State-Lone Star Revue.
Burris and MVBS volunteer/member Steve Pedigo both said that instead of a festival, the society could increase the number of concerts it presents each year - including at larger venues such as the Col Ballroom. Burris suggested quarterly major events - two indoors and two outdoors - while Pedigo said the organization could basically spread out the festival over the course of a year, with one show every other weekend.
But that kind of radical change would be difficult for many board members to swallow; the festival for three decades has been the public face of the organization. "I'm sick about it," said Board Member Kristy Bennett of the cancellation. "It affects the growth of the blues in the Quad Cities. It's going to be a big hit for the blues music in this community, and that's very sad for me."
That feeling will likely linger, but now it's time for the organization to move beyond this year's tumult, and to look beyond next year, too. The long-term viability of the blues festival will depend on the MVBS reinvigorating its fundraising base - or finding a way for the fest to at least break even independent of sponsorships and grants.
Short-Term Thinking
The past few years certainly helped bring about this year's cancellation. Flood-related moves from LeClaire Park to downtown-Davenport streets in 2013 and 2014 resulted in increased fest expenses, and a rainy Sunday sank last year's attendance and revenues. Those pushed the MVBS closer to the edge financially.
While those circumstances brought the situation to a head this year, a day of reckoning has been brewing for years, and it was going to arrive sooner rather than later.
The root of the problem is simple: a long-term trend of shrinking underwriting of the blues society.
But the MVBS, until now, has been unwilling or unable to attack that issue head-on. The Labor Day change and a failed fundraising campaign represented short-term thinking - an effort to limp along in the hopes of some monetary reprieve, with no eye toward sustainability.
New MVBS President Steve Heston said the decision to move the festival to Labor Day this year was based on several factors: that the event has been flooded out of LeClaire Park in three of the past six years, "and also we were running a little bit short on money. ... So we thought that would give us a little bit more time to raise money, and also avoid the flooding ... ."
The idea, he said, was that a date change could remove one of two major variables affecting the festival's bottom line: "You're always fighting the weather, and you're always fighting the Mississippi River."
The blues society on April 11 started a GoFundMe.com campaign aiming to raise $50,000 to put on this year's festival, and to provide the MVBS with a financial cushion for future festivals.
According to Burris, the campaign raised $3,000 before being halted. (Heston would only say that "we were quite a ways from that [$50,000] figure," and that contributions will be returned to donors. The campaign page has been deleted from the GoFundMe.com Web site.)
Burris said that fans of the festival figured that "we're just going to put it on, no matter what happens. [But] we've been talking to them for a year that we're having a rough time."
Bennett, who voted to cancel the festival, also expressed frustration that fans of blues festival didn't step up to fund it through the campaign. "When people see that an organization they care about is pleading for funds, they should take that seriously," she said. "If 2,000 people gave $25, we would be having a festival. But we're not. ... I think they didn't get the seriousness of our money situation, and they just thought it [the festival] was going to happen anyway."
When the board voted to cancel the festival last week, Burris said, the best-case scenario had the two-day Labor Day event generating a $17,000 profit. "That just isn't enough to risk losing everything," he said. "One bad day, one rainy day, and that money's gone."
So he voted to cancel. "I really wanted the blues society to keep going," he said. "I just didn't think that [having the festival] was the right way. It killed me to make that choice, because I live and breathe this. ... Sometimes you've got to lose the battle to win the war."
Pedigo echoed that sentiment, calling the cancellation the "best decision": "The society itself is more important than the festival."
Heston said: "With two days of good weather, we could have maybe made money" on a 2015 festival. "But there's no guarantee on that. We wanted to be more fiscally responsible than that."
MVBS Board Member Bob Covemaker voted to hold the festival in 2015, saying he believed that "anything is possible. We can make this work." But he acknowledged that "had we had rain, it would have been disastrous."
The date change and fundraising campaign were desperation moves, yet if things had gone differently, the current conversation about the futures of the MVBS and its signature festival might not be happening. A significantly more-successful fundraising campaign, a strong 2015 festival lineup, and great Labor Day weather could have forestalled the doom and gloom.
Yet the blues society faced (and will continue to face) an inescapable fact: There has been a slow and steady erosion of the money that has made the blues festival possible. As Heston said: "We could kind of see the handwriting on the wall."
A Shrinking Funding Base
The key to understanding the MVBS's financial situation is to recognize that the blues festival generally loses money.
Board Member Ellen Clow (who voted against cancellation) wrote in an e-mail that "the blues festival has been a self-sustaining event."
But that's only true if one factors in sponsorships, grants, and other contributions. Those turn what's a money-loser on a revenue-and-expense level into something that - in theory, at least - builds the MVBS's coffers.
According to its 2011 through 2013 not-for-profit filings with the IRS, the festivals those years lost a total of more than $140,000.
In those three years, the festival averaged $92,000 in admissions and almost $192,000 in direct costs. Beyond that, concessions averaged almost $77,000 and cost almost $24,000.
Using round numbers, basically the festival lost $100,000 a year on admissions compared to direct costs, and half of that gap was made up through concessions profits.
For the remaining shortfall - an average of almost $47,000 a year - the MVBS relied on grants, sponsorships, and other contributions.
And here we get to the heart of the problem. That "gifts, grants, contributions, and membership fees" revenue for the organization has been in steady decline since 2008. The MVBS reported $113,519 in that category in 2007 and $135,779 in 2008. In 2009, the number was $96,629. And after that, it dropped roughly $6,000 to $10,000 a year every year: $86,436 in 2010, $80,241 in 2011, $70,128 in 2012, and $64,279 in 2013.
"We're not good enough at fundraising," Pedigo said. "It's kind of an acquired art, and we don't have it."
And because the MVBS has been slowly but steadily losing its corporate/civic funding base, it's been depleting its assets.
Net assets for the organization were $100,558 in 2010 and $105,385 in 2011, but in 2012 and 2013 they were $77,655 and $70,951, respectively.
Heston attributed much of the fundraising problem to increased competition: "A lot of companies are tightening their belts. They don't have quite as much money to pass around for grants and sponsorships ... , and there's a lot more people seemingly going for that same amount of money, too."
The numbers show an organization with a severely diminished margin for error - with blues-fest flooding and/or rain having a potentially catastrophic effect on the MVBS.
It's also important to recognize several fallacies about MVBS finances that some board members have used to at least partially explain its situation.
First, while moves due to flooding increase costs for the MVBS, they are not necessarily responsible for poor years. Among the three festival years cited above, only one of those years - 2013 - included a festival moved from LeClaire Park, and that was the best of the three years, losing only $24,000.
There's no denying the concrete costs associated with a festival move to downtown - Heston said they were in the neighborhood of $20,000 - but weather is almost certainly a more-important factor because it depresses attendance. (Last year's festival had the double-whammy of a move from LeClaire Park and one rainy day.)
Second, board members sometimes cite the loss of a major sponsor as one cause of financial problems. From 2005 through 2010, the Mississippi Valley Blues Festival had a title sponsor - IH Mississippi Valley Credit Union - and since then it has not. Yet grants and contributions dropped in both 2009 and 2010 (when the sponsor was on-board), and they have continued to fall each year. The loss of sponsorship hurt, but the trend of dropping funding exists beyond it.
Rebuilding the Machine
The fundraising problem has only gotten worse since 2013, several board members said.
"The number-one reason we're in this position is our fundraising machine broke down," Burris said. Several key fundraisers left the organization in the past 18 months, he said, and as a result contacts with sponsors weren't made - or weren't made immediately after the 2014 festival. "It didn't happen this year," he said. "It's hard to say how we let that happen, or if it just happened without us really realizing it. To me, that's the number-one thing we have to fix right now is the fundraising machine."
"We have to find ways to better raise money," Heston said. The MVBS must "get our fundraising committee back together. Right now there's not very many people on there. ... It probably kind of went downhill a little bit this year."
Covemaker, who is on the MVBS fundraising committee, said uncertainty about the date and duration of the 2015 festival significantly delayed efforts to contact and sign sponsors. He said that despite increased competition for funds, it's still possible to attract more financial backers to the festival and the organization. "They are out there," he said. "You just have to work harder to do it."
Rebuilding the fundraising team - and the sponsorship base - will be a major challenge for the all-volunteer organization, especially considering the state of its board, which is supposed to have 14 members.
In the weeks leading up to the vote to cancel, the MVBS president (Scott Klarkowski) and its treasurer (Steve Brundies) resigned. Vice President Heston replaced Klarkowski, so the MVBS, according to its Web site, now has no vice president or treasurer.
And since the vote to cancel, at least one additional board member - Karen McFarland, who was still listed on the board as of July 21 - resigned. "The signs were there that the board wants to go in a different direction," said McFarland, who voted to hold the festival this year. "We had enough money for the festival."
Bennett stressed a need for new blood - not just to fill the current vacancies and open slots in the October board elections, but for "new contacts, ... new energy, ... new ideas on how to make the event successful - how to keep this festival going next year. ... We need people who are able to raise money."
Burris said the MVBS needs to "put a lot more focus on it [fundraising] than we have" - and he also stressed the need for new people with different approaches to generating money. "We just need to get a functioning fundraising committee with people on it that are ambitious enough to go door-to-door and talk to people and follow up on things and reintroduce ourselves to past donors that stopped."
Despite the pain of the cancellation decision and the resulting turmoil on the board, however, he said he believes the MVBS will meet the challenge: "It's going to take a little time for the feelings that got hurt [to heal] ... , but we still all care about the blues society. ... We have a president, and we have a board. We need to get on it."