Pamela J. White speaks about the painting like it's a pet.
"It doesn't like to travel," she said.
She's talking about Ad Reinhardt's Abstract Painting, which is the work most likely to get blank stares in the Figge Art Museum exhibit A Legacy for Iowa: Pollock's Mural & Modern Masterworks from the University of Iowa Museum of Art.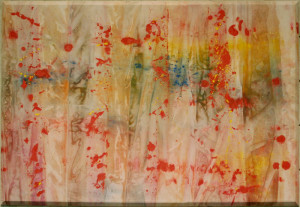 Abstract Painting doesn't like to travel because it's the most fragile work in the University of Iowa Museum of Art's collection, said White, the museum's interim director. When you get close to the piece, you can see that the paint in the corners is cracked. And because of the nature of the work, there's no obvious way to restore or conserve it.
It initially looks like a black square. On closer inspection, it reveals itself as nine black-ish squares.
Figge Executive Director Sean O'Harrow explained the painting this way: "It's about the nature of color, the nature of squares. It's about texture. It's about a general feeling that you get from the work."
But just as important for this exhibit, Abstract Painting represents the challenges of modern art; this is the sort of theoretical work that baffles and frustrates many people -- in a My kid could do that way. "Whether or not you understand it, for people it's modern art," O'Harrow said. "And people recognize that this is what modern art looks like."
Don't run away. Even if you dislike modern art (or think you dislike modern art), A Legacy for Iowa -- which technically opens April 19 even though the paintings can be viewed by the public now -- is a great opportunity to acquaint (or reacquaint) yourself with the Figge: It's an ideal match of modern work and modern venue, facilitated by last year's flood in Iowa City.