Pamela J. White speaks about the painting like it's a pet.
"It doesn't like to travel," she said.
She's talking about Ad Reinhardt's Abstract Painting, which is the work most likely to get blank stares in the Figge Art Museum exhibit A Legacy for Iowa: Pollock's Mural & Modern Masterworks from the University of Iowa Museum of Art.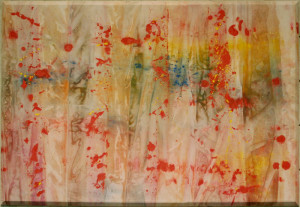 Abstract Painting doesn't like to travel because it's the most fragile work in the University of Iowa Museum of Art's collection, said White, the museum's interim director. When you get close to the piece, you can see that the paint in the corners is cracked. And because of the nature of the work, there's no obvious way to restore or conserve it.
It initially looks like a black square. On closer inspection, it reveals itself as nine black-ish squares.
Figge Executive Director Sean O'Harrow explained the painting this way: "It's about the nature of color, the nature of squares. It's about texture. It's about a general feeling that you get from the work."
But just as important for this exhibit, Abstract Painting represents the challenges of modern art; this is the sort of theoretical work that baffles and frustrates many people -- in a My kid could do that way. "Whether or not you understand it, for people it's modern art," O'Harrow said. "And people recognize that this is what modern art looks like."
Don't run away. Even if you dislike modern art (or think you dislike modern art), A Legacy for Iowa -- which technically opens April 19 even though the paintings can be viewed by the public now -- is a great opportunity to acquaint (or reacquaint) yourself with the Figge: It's an ideal match of modern work and modern venue, facilitated by last year's flood in Iowa City.
As O'Harrow said, this exhibit is "kind of what the building was designed for -- this kind of art on this scale."
The photographs and video included with this article might give a sense of the art, but they don't reflect the enormity of many pieces, or how the art looks in the context of the Figge, or how the Figge looks in the context of modern art.
The big draw for the show -- which features 25 works created between 1909 and 1979 and includes the UI museum's "top hits," in White's words -- is Jackson Pollock's Mural, 43 feet wide with an insurance value of $140 million. O'Harrow called it the "most famous painting in Iowa."
Its artistic importance is hard to overstate. A report to the state's Board of Regents last year noted: "Mural is regarded as a turning point in Pollock's career and a turning point in American art. When Mural was displayed at the New York Museum of Modern Art during a 1998-99 retrospective of Pollock's work, art critic Robert Hughes wrote in Time magazine that Mural was 'the picture in which [Pollock] broke free ... and, it now seems, took American art into a larger freedom with him.'"

Jackson Pollock @ The Figge Art Museum 1 of 2 from River Cities' Reader on Vimeo.
That report was commissioned to assist in the decision whether to sell the painting -- the most valuable artistic treasure in the University of Iowa Museum of Art's $500-million collection but also, as a result, an attractive target for bringing in cash. Those interested in selling the painting, White said, haven't considered that gifts to museums are conditional. (The Pollock was donated to the museum by Peggy Guggenheim.) "It's not like a lamp," White said. "These are given with strings attached."
The painting wasn't sold, and White said that "it seems as if that question is settled."
The flood forced the museum to move its 12,000-piece collection into four storage areas in Chicago. They've now been moved for storage -- and display -- at the Figge until a new museum space is built in Iowa City. "I was told to find a secure place for the art for five years," White said.
And a longer-term display and/or storage relationship is possible, she added: "These kinds of arrangements need to be thought about by museums."

While the University of Iowa is not paying rent, it is paying for increased utility costs incurred for climate control. (For more information on the partnership between the Figge and the University of Iowa, see "Walking the Talk: The Figge Reaches Out.")
O'Harrow said that a side benefit of the arrangement is that it's pushing some of the Figge collection out of storage and into display areas. The Winter Garden is now filled with sculptures, for example.
In the University of Iowa Museum of Art exhibition at the Figge, Mural shares a room with a small Pollock work, but it's on an opposite wall, and there's nothing to detract from the enormity of the primary piece.

Jackson Pollock @ The Figge Art Museum 2 of 2 from River Cities' Reader on Vimeo.
White said having Mural in a room barely large enough to contain it creates a living-room effect. "You're made to be thrust into this painting," she said. In the relatively tight quarters in which it hangs, "you almost become part of the painting."
Indeed, at the room's entry, you can take in the whole, but if you take a few steps forward, the effect is dizzying and enveloping. White described the painting as being "like a trampling herd," and although it's abstract, you can certainly see the animal shapes.
White said she admires the "intricacy of the web of color. ... It's this web he's constructed. ... There's a lot of forethought in this."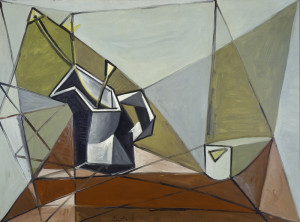 She added that the painting was formally conserved in the 1970s and that it's generally in "good shape." The veneer used to conserve Mural has made it more yellow than it was originally, and she pointed to areas that are fragile, where the paint comes up. "It's not that thick," she said of the paint. "It's just that there's so much of it."
The painting weighs 500 pounds, and when you view it in person, you can see a slight sag in the middle.
White said that the University of Iowa will "explore" the prospect of restoring the painting.
Beyond the Pollock, the exhibit includes, side by side, paintings by giants Pablo Picasso (from 1942) and Henri Matisse (from 1947). These works are representative of the artists' styles, O'Harrow said, although they're not necessarily typical: The Picasso is a still life, and Matisse's subjects are clothed.

Picasso, Matisse & Beckman @ Figge Art Museum from River Cities' Reader on Vimeo.
Those paintings are both relatively small. But there are several other large-form paintings whose scale can't be appreciated except in person. In the foyer outside the exhibit hall is Robert Motherwell's Elegy to the Spanish Republic, No. 126, dating from 1965 to 1975. It's more than 16 feet wide, and it looks like it belongs to that space.
Similarly, at one end of the exhibit hall is Sam Gilliam's Red April, a 1970 abstract painting commemorating the 1968 assassination of Martin Luther King Jr. The work is nearly 10 feet tall and more than 13 feet wide, and the dominant, seemingly spattered red appears cheery until you're aware of the subject.
Down the hall is Max Beckmann's triptych Karneval from 1943, nearly nine feet wide. This is particularly impressive considering that Beckmann was in self-imposed exile from Nazi Germany (having been labeled a "degenerate" artist). As O'Harrow said, painting large canvases is "kind of the last thing you want to do when you're a refugee."
Both those works benefit from being able to approach them from a great distance.
But given last year's flooding, it's a gift that these works can be seen in person at all. Talking about the Pollock Mural, White said: "We're just glad it's on display in a museum."
The same could be said for all these works.