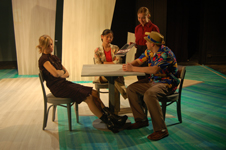 Most people - whether they've had theatrical experience or not - understand the concept of the Actor's Nightmare. You don't know your lines, you're not in costume, you don't even know what play you're in ... yet you somehow find yourself on stage, in front of an audience, and expected to perform. Now.
Nickel & Dimed, currently playing at Augustana College's Potter Hall, opens with the Server's Nightmare. In the span of five minutes, our protagonist, the newly employed Barbara (Christine Barnes), is briefly introduced to the eatery's wait staff, gets a quick tutorial on procedure, takes breakfast orders from her first (uncooperative) table, brings out their meals, and is immediately ordered to return them - the toast is wrong, the oatmeal is cold, and could I change my side dish to prunes?
At which point Barbara turns to the audience and says, with a frozen grin indicating barely concealed rage, "This is not my real life."