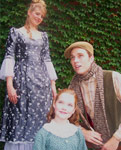 Derek Bertelsen, whose production of the musical The Secret Garden opens at St. Ambrose University's Galvin Fine Arts Center this Friday, repeats a common theatrical refrain: "It's hard being a director."
Yet it's important to understand that what Bertelsen probably means is that it's hard being a director when you're his age, as he follows that statement with, "You watch the Tony Awards and, you know, most of the directors winning awards are in their 40s. So you're, like, 'I've got about 20 years. I can fool around.'"
Yes, you read that correctly. The man directing The Secret Garden, with its cast of 19, has to wait nearly two decades before he reaches his 40s. And, for the second year in a row, this theatre major at Millikin University has a rather adventurous idea of what constitutes "fooling around" on summer break.