Once again, it was an incredibly busy, incredibly diverse year for theatre in the Quad Cities region, with 65 productions reviewed by the Reader team of Jeff Ashcraft, Dee Canfield, Victoria Navarro, Brent Tubbs, and yours truly. Clearly, there would be plenty to talk about in a year-end recap. But how, exactly, to do it?
Writing individual essays was discussed, but that was the route taken in 2015, and we wanted to try something fresh. Getting everyone together for a group chat was considered, but aligning schedules proved daunting. And then it dawned on us: We have five reviewers ... and most theatre-award bodies have five nominees per category ... so if we all picked one favorite per category ... .
Presto! Reader Tonys!
Of course, the idea couldn't mirror the actual Tonys, and not just because Hugh Jackman turned down the hosting gig. While each of us covered between 10 and 17 shows in print and online, and everyone saw numerous productions beyond the ones we personally wrote about, no one came close to seeing all 65, to say nothing of the others that debuted yet weren't reviewed. Choosing a collective "winner" would be impossible, and even picking personal "bests" would be hampered by our not seeing enough to make a fair judgment.
So consider the following shows, individuals, and moments from 2016 some of our favorites rather than the favorites – just a taste of the sensational talent and accomplishments that make the area-theatre scene such a distinct and satisfying annual pleasure.
There were a few ground rules. No one could cite a show for more than two personal mentions (the better to celebrate the year's variety), and the shows had to be locally produced (no touring musicals allowed). In the spirit of fairness, and to not look like jerks, none of us was eligible for our own stage performances or works we directed – although others who participated in those productions, or were spouses of reviewers, were indeed fair pickings.
And, for the sake of your patience, no write-up could exceed 50 words. You're welcome.
We're consequently happy to present the following reminders of just how thrilling area theatre was in 2016 through 10 categories boasting a combined 33 stage presentations produced by 14 separate companies or venues. Here's hoping you caught more than a few of them, and plan to catch more in 2017!
– Mike Schulz
Production
Chitty Chitty Bang Bang, Quad City Music Guild (Brent Tubbs). This production was my favorite for many reasons, and – because I grew up on the movie – most of them were nostalgic ones. Director Kevin Pieper's family show brought back all the best memories I have of the film, the music was topnotch ... and they made a car fly!
Much Ado About Nothing, Genesius Guild (Mike Schulz). From Lis Athas' and Jeremy Mahr's sardonic romanticism to Mischa Hooker's inspired monkeyshines to director Michael King's exuberant slapstick staging, this literal midsummer night's dream was a fizzy delight – and not only because, on the night I attended, the light rain suggested a Shakespearean shower in champagne fizz.
This Side Up, New Ground Theatre (Victoria Navarro). University of Iowa graduate Kit Grassi premiered his play about a troubled 12-year-old boy that blended pathos, humor, and complexity, and this production combined a well-written script, a talented cast, and seasoned director Chris Jansen for a thought-provoking, relatable tale.
Titanic, Timber Lake Playhouse (Jeff Ashcraft). One of the most complete musicals I saw in 2016. The set, lighting, and musical numbers were outstanding. Director James Beaudry's cast and production team, meanwhile, did a terrific job touching on nearly every possible story element, and presenting Titanic in a ghostly, haunting manner.
Vanya & Sonia & Masha & Spike, Richmond Hill Barn Theatre (Dee Canfield). I chose this simply because it made me so very happy. With its script by one of my favorite playwrights (Christopher Durang), strong direction by Jennifer Kingry, a solid cast, some greatly realized characters, and many laugh-out-loud moments, V&S&M&S made for a terrifically entertaining evening.
Direction
Lora Adams, Thrill Me: The Leopold & Loeb Story, Circa '21 Speakeasy (Victoria). In the intimate Speakeasy space, Adams provided a chilling and memorable theatre experience. Working with veteran actors Thomas Alan Taylor and Adam Cerny, and designing the set herself, she created a dark mood of suspense, and I experienced a visceral reaction to its creepy, true story.
Cait Bodenbender, Love's Labour's Lost, Prenzie Players (Dee). Having been previously directed by Bodenbender, I can personally attest to her passion, invention, and creativity – talents that were evident when bringing one of Shakespeare's early works to life through the Prenzies' signature emotional realism, great comedic timing, and a modern, upbeat tempo that delivered a lot of goofy charm.
Jerry Jay Cranford, Sweeney Todd: The Demon Barber of Fleet Street, Augustana College (Jeff). Cranford definitely had a solid vision for his production from curtain to curtain, and it included some traditional Sweeney features along with unique interpretations. Character development was evidently also on Cranford's agenda, as the leading figures had more depth than one might expect in a college presentation.
James Fairchild, Buried Child, QC Theatre Workshop (Brent). I thought Fairchild's direction of his wonderful ensemble cast brought out the best in everyone on-stage, and he utilized his actors for their particular strengths, which is what a good director is supposed to do. Taken overall, this dysfunctional-family tale made a lasting impression.
Chuck Smith, Having Our Say: The Delany Sisters' First 100 Years, Timber Lake Playhouse (Mike). I'd have cited Smith merely for eliciting sublime performances from Shayla Brielle G. and Jenia Head, two early-20-somethings who, respectively, played 101- and 103-year-olds. But author Emily Mann's two-hander was superb throughout – perfectly paced, very funny, quite moving, and boasting a truly jaw-dropping mid-play set change.
Lead Actress
Erin Churchill, The Big Meal, QC Theatre Workshop (Jeff). I could not take my eyes off her. Churchill's humble yet biting take on The Big Meal's dysfunctional Nicole was, for me, 2016's best stage portrayal. She may shine in her performances in area musicals, but I can't wait to see Churchill take on another meaty dramatic role like this one.
Patti Flaherty, Who's Afraid of Virginia Woolf?, District Theatre (Dee). Flaherty has a personality the size of Kansas, and is never better than when performing a continent-sized role, as she did here. She mastered Woolf's Martha from her boozy highs to her hostile, hateful lows, exuding intense emotional realism and raw power that never lost its believability for a moment.
Antoinette Holman, Sister Act, Circa '21 Dinner Playhouse (Victoria). Considering she's from Davenport, I couldn't believe I had never seen this terrific performer before. Holman's strong singing voice, expressive acting, and impressive dancing make her a triple threat, and her Broadway-worthy performance has me hoping that she'll soon be swooped up by some smart, lucky agent.
Shellie Moore Guy, A Woman Called Truth, Playcrafters Barn Theatre (Mike). Maybe only natural storytellers can tell stories this beautifully. As abolitionist and activist Sojourner Truth, the focused, lyrically gifted performer aged 70-ish years on-stage yet was always in the present moment, and earned deservedly raucous applause for Truth's legendary "Ain't I a Woman?" speech. Moore Guy's pretty legendary, too.
Liz Ann Terry, As You Like It, Prenzie Players (Brent). I think I'd be intrigued by Terry in any role, and as Shakespeare's Rosalind, she was funny, sweet, charming, direct, and clearly comfortable on-stage. Classical theatre may not be Terry's only forte (she was also great in the Prenzies' The Revenger's Tragedy), but she's definitely at ease with the language.
Lead Actor
Kevin Babbitt, On Golden Pond, Playcrafters Barn Theatre (Dee). Babbitt's most wonderful portrayal of octogenarian Norman Thayer was natural and realistic, and his ruminations on aging and death, laced with sarcasm and humor, never missed a beat. Most impressive was Babbitt's ability to evoke his character's interior life, letting the audience experience Norman's innermost thoughts and feelings.
James Driscoll, Who's Afraid of Virginia Woolf?, District Theatre (Mike). It's been said that Ginger Rogers did everything Fred Astaire did, just backwards and in heels. Playing George to Patti Flaherty's Martha, Driscoll delivered a magnificent backwards-in-heels portrayal, the character's tolerance, anger, self-loathing, and deep love so keenly felt that you were barely aware of the feat's inherent difficulty.
Pat Flaherty, Buried Child, QC Theatre Workshop (Jeff). Flaherty is one of those actors who seems to spin gold out of any part he's given. His portrayal of alcoholic patriarch Dodge, however, was especially hypnotic. During his performance, I was actually concerned for Flaherty's health because of his ability to play the character's physical ailments so well.
Jonathan Grafft, Flowers for Algernon, Richmond Hill Barn Theatre (Victoria). Grafft's amazing portrayal of Algernon's lead had me on my feet, joining the audience in a well-deserved standing ovation. He led us on Charlie's journey from slow-witted innocent to arrogant genius, capturing each emotion and nuance with impressive skill in this powerful performance that I hope you didn't miss.
Jason Platt, Deathtrap, Playcrafters Barn Theatre (Brent). This was the first production I'd seen Platt in, and his stage presence and subtleties drew me in to every word he said. Impressively quirky yet psychotic in this thriller that boasted lots of twists and turns, Platt's Sidney Bruhl was like a pilot trying to steer a roller coaster.
Featured Actress
Pamela Briggs and Jackie Skiles, Vanya & Sonia & Masha & Spike, Richmond Hill Barn Theatre (Dee). These actresses are tied because they kept me fit-to-be-tied with laughter. Briggs' over-the-top Russian psychic was the perfect medium for invoking Durang's absurdity, and Skiles' Sonia, channeling Maggie Smith on her way to the Oscars, delivered the most hilarious comedic knockout punch of the year.
Megan Clarke, The Tempest, St. Ambrose University (Mike). Given the rapturous design and language, I was hugely tickled by this Tempest. What I most loved about Clarke was how ticklish it was to her, with Miranda's moony amazement, infectious giggles, and delirious crush on Ferdinand suggesting, "No one deserves this much happiness!" Watching Clarke, I felt the same.
Sara Tubbs, A Christmas Carol, Quad City Music Guild (Jeff). No other actor I saw this year exhibited such energy and passion. Double-cast as Scrooge's past love and present niece, Tubbs' expressions and gestures were dynamic and her vocals pure; I couldn't help but focus on her each time she stepped on-stage. Someone please find Tubbs a leading role!
Abby Van Gerpen, Buried Child, QC Theatre Workshop (Brent). Van Gerpen lends a natural, relaxed, very "real" quality to every role she plays, and I was sucked in by her realness as confused houseguest Shelly. Actors need to believe what they're saying so audiences can believe them, and Van Gerpen's talents ensured that her every line felt believable.
Jo Vasquez, This Side Up, New Ground Theatre (Victoria). An Augustana College graduate, Vasquez has had a variety of stage experiences, and her performance as the teenage neighbor of a disturbed boy showcased her natural skill at assuming specific characters. Vasquez's scene in which she mimicked her unstable parents, her tension and anger escalating, was powerful and memorable.
Featured Actor
Matthew Collier, On Golden Pond, Playcrafters Barn Theatre (Mike). In the script, nearly every line the devoted mailman Charlie delivers is followed by the stage direction "He laughs." Miraculously, Collier seemed to make each laugh warmer and richer than its predecessor, and in the process created a fully-formed, touching, hilarious figure. This might be the year's friendliest stage performance.
Cash Maciel, South Pacific, Clinton Area Showboat Theatre (Victoria). With the Showboat's summer-stock company composed mainly of talented college students, Maciel was a comedic standout in the three productions I saw him in. His timing, expressions, and physicality were at their best in South Pacific, as Maciel's forever-scheming seabee Luther Billis never failed to elicit laughter.
Keenan Odenkirk, Othello, Augustana College (Dee). Odenkirk was awesome. His was a piercing presence as Iago, and he was consistently true in his realization and portrayal of character, providing solid interpretations of Shakespeare's words. Manipulating everything to Iago's evil ends, Odenkirk was in complete command and control, and I enjoyed his every moment on-stage.
Adam Sanders, A Christmas Carol, Quad City Music Guild (Brent). Playing Scrooge's deceased business partner Jacob Marley, Sanders seemed to come out of nowhere in this Dickens adaptation, and he completely blew me away. Although this Black Hawk College student is young, Sanders demonstrated fearless stage presence, and his vocals blew the doors off the place.
Andrew Sickel, Titanic, Timber Lake Playhouse (Jeff). In one scene, Sickel stole the entire show by exposing the devastation his First Mate Murdoch must have experienced when realizing he was to blame for Titanic's tragedy. The slow realization articulated in Sickel's facial expression is burned into my memory; this was an impressive performance by a remarkable actor.
Costuming
Into the Woods, Quad City Music Guild (Victoria). Designer Sue Woodard had the daunting task of providing costumes for 27 fairytale characters, with her work most impressive when a witch transformed on-stage from an old hag into a young beauty. The creative makeup and costuming for this metamorphosis had me wondering, "How did they do that!?"
Much Ado About Nothing, Genesius Guild (Dee). Ellen Dixon is a visual artist who weaves colors and textiles into three-dimensional art. Her designs are so creative and striking that, to my mind, she could be cited not only for Much Ado's costuming, but, because her work so enlivens the stage, for scenic design as well.
Phantom, Circa '21 Dinner Playhouse (Jeff). The best costumes always blend seamlessly into the rest of a production, and that's exactly how designer Gregory Hiatt's wardrobe worked in Phantom. His costumes were stunning and appropriately fitted for each character, but more importantly they fit perfectly into this musical's universe.
Stocking Stuffers, Playcrafters Barn Theatre (Brent). Playcrafters' holiday show featured many great Christmas costumes, designed by Donna Weeks, that covered everything from Santa to reindeer to giant talking stockings. The show's kids, meanwhile, had the best elf outfits complete with jingle bells, while four living dolls sported the most adorable yarn wigs.
The Tempest, St. Ambrose University (Mike). Are you on Facebook? Of course you are. So instead of reading my thoughts on costumer Dianne Dye's marvelous contributions, visit the page for St. Ambrose's theatre department, and gaze at her gloriously outfitted lords, fools, and island sprites for yourselves, with T.J. Green's Caliban particularly memorable.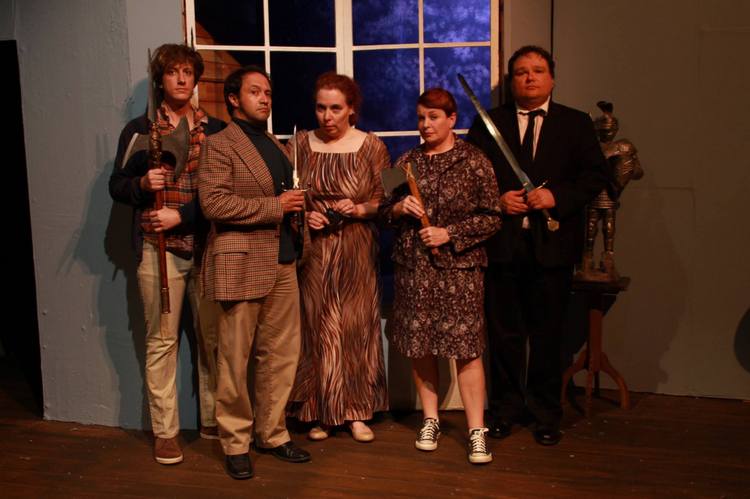 Scenic/Lighting Design
A Christmas Carol, Quad City Music Guild (Jeff). This show's scenic design was the most unique and adventurous of the year. Although it included all the necessary components for Dickens' classic story, director/designer Mike Turczynski's chaotic, cage-like structure that enveloped the stage was an analogy for the warped mind of Scrooge himself.
Deathtrap, Playcrafters Barn Theatre (Brent). From the first moment I saw the set – decorated as it was with weapons and torture devices – I was grabbed, knowing that this suspense comedy would be my kind of show. Playcrafters' six-person design/construction/props team created the sense that, at any moment, the walls might actually attack.
Million Dollar Quartet, Circa'21 Dinner Theatre (Victoria). Every vintage detail of Memphis' ragtag Sun Records recording studio was perfect, with the amps, microphones, recording equipment, and instruments all era-authentic. Erica Zaffarano's scenic design was so intimate and true-to-life that I felt like a fly on the wall witnessing a historic musical moment from 60 years ago.
On Golden Pond, Playcrafters Barn Theatre (Dee). Norman and Ethel Thayers' cabin was a most comfortable place to be. Crista Ashcraft and Bill Peiffer provided lovely interior, backdrop, and lighting design that allowed us a panoramic view of trees along a distant shore, with magical colors that shifted from those of sunset to bright sunrise.
Othello, Augustana College (Mike). Augie got a new theatre. And if you thought I'd follow that with "... and all we got were these lousy T-shirts," we actually got sensationally expansive Andy Gutshall set design and intensely dramatic Adam Pfluger lighting that mirrored the excitement of the text. For a 450-ish-year-old, Shakespeare looked freakin' great.
Music/Sound
Almost Heaven: Songs of John Denver, Timber Lake Playhouse (Jeff). I assumed I wouldn't like this revue, and boy, was I surprised. Chris Logan had an excellent cast and instrumentalists for this Denver tribute, but the show was given life by the dynamics of the musicality and the passion in the vocals – hallmarks of the work of an excellent music director.
Children of Eden, Quad City Music Guild (Brent). Composer Stephen Schwartz's music and lyrics were beautiful, but they were given especially moving life through an exceptional cast and music director Dave Blakey's live pit orchestra. With this 2016 show in particular, Music Guild hit all the right notes. I would've bought the soundtrack.
Flowers for Algernon, Richmond Hill Barn Theatre (Victoria). I must admit that I like my theatre a little edgy, and consequently appreciated director Dana Moss-Peterson's injected snippets of modern music into this powerful 1960s story of humanness and dignity. Ending the play with Mumford & Sons' "After the Storm" was genius!
Rock of Ages, Timber Lake Playhouse (Mike). For Christian Chambers' "Oh Sherrie." For Annalise Griswold's "More Than Words." For Chandler Smith's and Alec Irion's "Can't Fight This Feeling." For Luke Stewart's "Hit Me with Your Best Shot." And for the whole millennial-whippersnapper cast performing '80s rock classics with a tongue-in-cheek bravado suggesting they were, y'know, my age.
The Tender Land, Genesius Guild and Opera @ Augustana (Dee). Lincoln Park holds a special magic, especially under the stars on glorious June evenings. With its singers under the direction of Michelle Crouch, and its live orchestra conducted by Brian Dollinger, magic was also created in this wonderfully enjoyable production of Aaron Copland's American classic.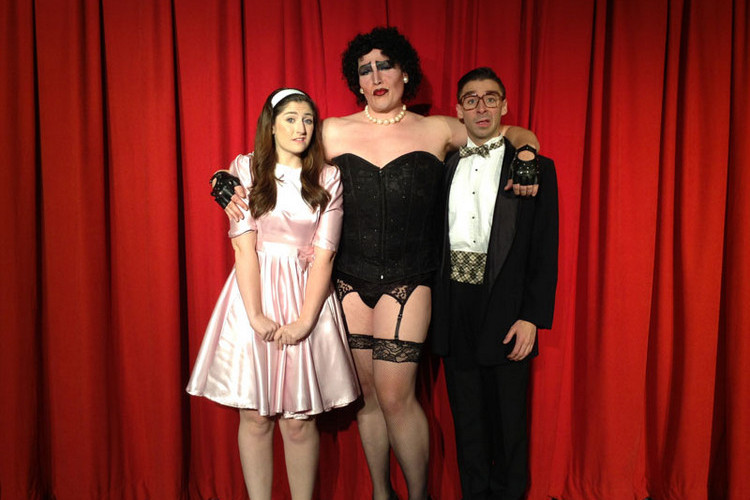 Memorable Moment
The Audience, Jingle Arrgh the Way, Circa '21 Dinner Playhouse (Dee). If all the world's a stage, so, too, is an audience. I loved Jingle's performers evoking the spirit of childhood and instilling the magic of theatre in the adult patrons of tomorrow, but also the entertainment provided by the children themselves – especially my grandson John, with his wide-eyed, captivated attention.
The Family, Chitty Chitty Bang Bang, Quad City Music Guild (Brent). My favorite moment was the lights dimming at the start of this musical, because it was my family's first outing to the theatre together – something that's easy to take for granted – in a very long time. Being there together was, and is, something I'll always be grateful for.
The Fly, In-Laws, Outlaws & Other People (That Should Be Shot), Richmond Hill Barn Theatre (Victoria). When an unwelcome fly – one visible from the audience – circled the family dining-room table, resourceful actress Diane Greenwood, playing a ditsy great-aunt, removed her gold pump, swatted at the fly, and finally slammed her shoe on the table, timing it perfectly to punctuate another character's remark.
The Kiss, Deathtrap, Playcrafters Barn Theatre (Mike). If you haven't seen Deathtrap but might someday ... SPOILER ALERT!!! Because Jason Platt and Adam Cerny planted one on each other with such comedic ferocity that the mostly senior crowd gasped, then laughed, then seemed to laugh even harder for gasping. And – personal gasp! – no one bolted the theatre!
The Time Warp, The Rocky Horror Show, Circa '21 Speakeasy (Jeff). As someone who grew up during the iconic "Time Warp" period, it was an amazing, unforgettable experience to see it performed live, with the audience allowed to dance along with the cast. Breaking the fourth wall is always dangerous, which is exactly why, on opening night, it was so electrifying.