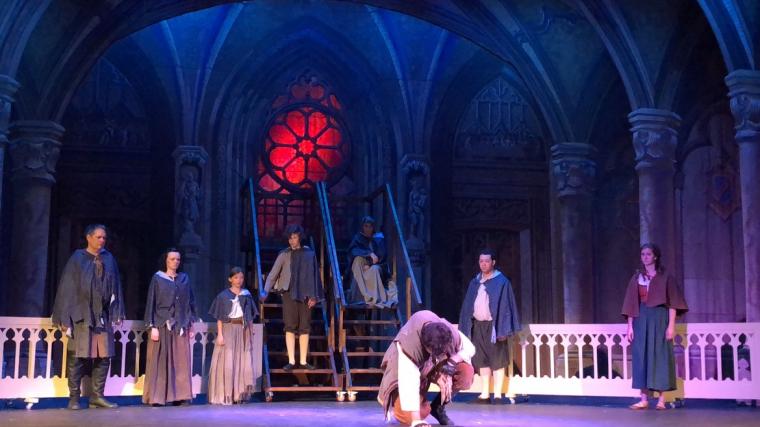 You asked for 'em! You're getting 'em!
Okay, fine, none of you officially asked for them. But 'tis the season of giving, so-o-o-o … .
Ladies and gentlemen, welcome to the Third-Annual Reader Tony Awards!
Allow me to break down that nomenclature for those of you who may not understand it. "Awards" is merely figurative, as no shiny trophies are bestowed. "Tony," as our lawyers assure me, is just some random name we came up with, and not – not – meant to suggest any kind of relation to Broadway's Tony Awards. It's pure coincidence. Really.
But "Third-Annual" is absolutely accurate! Because for the third year in a row, our paper's resident theatre reviewers – this year, it's the quartet of Rochelle Arnold, Jeff Ashcraft, Madeline Dudziak, and Mark Ruebling – and yours truly have hunkered down to highlight some of our favorite stage presentations, directors, performers, designers, technicians, and memories from another year of terrifically satisfying area theatre.
While more than 70 local and kind-of-local productions were Reader-reviewed in 2018, the sheer volume of options (many of them running only one weekend) meant that we unfortunately weren't able to cover everything. But in addition to the shows that we personally wrote about, we each also caught a bunch more that we didn't even get paid to see – that's how much we love this art form! So please consider our collective "Reader Tony" mentions an incomplete roster but a completely impassioned one – specific examples of excellence among the deeper talent pool that constitutes area theatre as a whole.
And now for everyone's favorite part of any awards presentation: a reading of the rules!
None of us could cite a production for more than two personal mentions, and all productions had to be locally produced (e.g. no touring shows). None of us could cite works we were personally involved in except in the "Memorable Moment" category, and none of us were allowed to be personally acknowledged, although the productions themselves were. And once again, for the sake of your patience, none of our write-ups were allowed to exceed 50 words. No, no, no … . No thank-you notes necessary. It was completely our pleasure. As was the chance, yet again, to share our thoughts on the incredible richness of the area-theatre scene.
Sadly, though, our celebration does come with the unfortunate news that two of our authors will be moving on from regular reviewing duties after this article's publication: Mark Ruebling, who's been with us since January, and Jeff Ashcraft, who's been with us, bless him, since October of 2015. It's been a true pleasure working with these thoughtful, talented, all-around-awesome guys, and we'll miss hearing their voices in print … though given the frequency of their personal participation with area stage productions, theatre fans likely won't be missing them for long.
I'm delighted to report, however, that the equally fabulous Rochelle Arnold and Madeline Dudziak will be continuing in their reviewing positions for the foreseeable future, and everyone at the Reader is thrilled that we'll be continuing to provide incisive, expansive, and entertaining theatre coverage as we move forward into 2019 and beyond.
But in the meantime … let's talk 2018! Please enjoy the Reader Tonys! (Seriously. It's just a name we picked out of a hat. Nothing litigious about it.)
– Mike Schulz
Production
Clybourne Park, Playcrafters Barn Theatre (Madeline Dudziak). Giving Alexander Richardson's production a mention as one of the best of 2018 seems almost too little, too late. With its thought-provoking subject matter, talented cast, and a 20-year jump in time during intermission, this was a production that was both funny and fully committed to its darker themes.
The Crucible, Augustana College (Mike Schulz). Director Jennifer Popple. MJ Mason and Jaryd Whitmore. Amy Nicholson and Peter Alfano. Ellen Dixon's costumes. RaeEllen Walker's scenic/lighting design. Tristan Odenkirk's soundscape. Act I's and II's climaxes. There. Didn't break the two-mentions-max rule. Not even for the most theatrically thrilling three hours I experienced – twice – all year.
Fiddler on the Roof, Timber Lake Playhouse (Rochelle Arnold). Director William Hayes had his hands full delivering an extravagant production – one featuring a large cast and an outstanding orchestra – loaded with traditional Jewish-dance choreography reproduced by Jessica Chen. And this unforgettable story was executed beautifully; from start to finish, the audience was delightfully entertained.
Reefer Madness, QC Theatre Workshop (Mark Ruebling). Under Aaron Randolph III's direction, everything in this production just seemed to click. An energetic, enthusiastic cast. An over-the-top parody script. Catchy songs and stellar vocal performances (and the perfect venue to perform them in). Simply put: a night of fun that may have given me the munchies.
Shrek: The Musical, Quad City Music Guild (Jeff Ashcraft). It's amazing to see a theatre firing on all cylinders, and this production was a wonderful example of how a diverse group of artists came together under one vision. Director Beth Marsoun led an astonishing amount of talent, bringing to life one of Guild's more complex productions in years.
Director
Sam Jones, A View from the Bridge, St. Ambrose University (Mike). Jones guided Bryan Woods, Sarah Goodall, Megan Clarke, Tyler Hughes, Brian Leibforth, TJ Green, and others to emotional portrayals in Arthur Miller's classic, and utilized SAU's intimate black-box space cleverly and advantageously. Oh yeah: And without Jones cutting a word, Bridge was presented as a tragic, funny, fast-moving one-act. Damn.
David Miller, Baby, Black Box Theatre (Jeff). Baby's ensemble was able to comfortably connect with the audience because of Miller's approach, guiding them to have a confident yet casual purpose. To pull this off while keeping the show's energy high and pacing brisk was the sign of a director whose vision was clear and objectives on-point.
Matthew Teague Miller, Cabaret, Clinton Area Showboat Theatre (Mark). Miller made excellent choices here, from the against-type casting of the Emcee to utilizing a canned laugh track to enhance the club atmosphere. Clever staging and brisk pacing, and the metamorphosis from risqué-nightclub antics to the dehumanizing force of Nazism, made this the most chilling production of Cabaret I've seen.
Andrea Moore, Knuffle Bunny: A Cautionary Musical, Circa '21 Dinner Playhouse (Madeline). Moore brought one of my family's favorite children's books to life in a really creative way. She was able to hold the attention of the kids without infantilising them or being needlessly silly. Moore kept the whole experience fun – exactly what I want from theatre for youth.
Curt Wollan, The Church Basement Ladies in Rise Up, O Men!, Circa '21 Dinner Playhouse (Rochelle). I went into this show optimistic, but not having previously heard of the series, I didn't know what to expect. However, I was pleasantly surprised by how funny it was. Wollan's direction provided a marvelous example of musical-comedy mastery and had me in stitches for most of the night.
Lead Actress
Chloe Knobloch, Annie, Circa '21 Dinner Playhouse (Jeff). Oh my goodness, where has this young lady been hiding? Annie is iconic, yet Knobloch made the character her own while checking off all the boxes audiences expect. With her beautiful voice, fiery characterization, and adorable freckles and ruby-red hair, she was the perfect present under Circa's Christmas tree.
Shana Kulhavy, Next to Normal, Black Box Theatre (Madeline). Kalhavy's Diana, the suburban mom battling mental illness, was a powerhouse of instability in the best way. With her perfectly imperfect vocals filling the intimate Black Box space with raw, intense emotions and a mesmerizing quality, Kulhavy was excellent.
Jessica Taylor, Dead Man's Cell Phone, QC Theatre Workshop (Mark). Watching Taylor's character in Sarah Ruhl's comedy was like watching a sunrise on a spring day: a series of barely noticeable changes in hues and tones until you realize, suddenly, that the day's fullness is upon you. In her progression from mousy introvert to fierce warrior, Taylor was pure joy.
Jessica White, King John, Prenzie Players (Mike). Witnessing her broken, pleading, ravaged desperation in the supporting role of Constance, I became convinced that White was the show's unsung star. Percentage-wise, she has about as much time to make an impression as Anthony Hopkins' Hannibal Lecter in Silence of the Lambs. White was way saner. But similarly unforgettable.
Jenny Winn, The Bridges of Madison County, Circa '21 Dinner Playhouse (Rochelle). I've had the pleasure of seeing Winn's portrayal of Francesca twice, once at the Clinton Area Showboat Theatre in 2017, and this year at Circa '21. Both times I recognized the superb talent of this leading actress who pulled off a fantastic Italian accent while singing like an angel.
Lead Actor
Adam Cerny and Andy Curtiss, The Woman in Black, Playcrafters Barn Theatre (Mike). Cerny delivered a deeply felt, applause-rewarded monologue in A Chorus Line. Curtiss was commanding – in way-different ways – in The Hunchback of Notre Dame and Reefer Madness. I loved them best when paired in Playcrafters' two-man mystery-thriller that conjoined the actors' disparate styles, and their considerable performance gifts, perfectly.
Phillip Dunbridge and Pat Flaherty, Sleuth, Black Box Theatre (Mark). King Kong v Godzilla. Thor v Hulk. Predator v Alien. All of them feckless punks compared to the war that was Dunbridge v Flaherty, whose deadly battle of wits were performed with such gleeful exuberance one might wonder if, in a previous life, they hadn't been married to each other.
Keenan Odenkirk and Tristan Odenkirk, Beginner's Luck, Mississippi Bend Players (Madeline). Playing two sides of the same person, the Odenkirk brothers were able to seamlessly transition between playful Harry and serious Harold in director Phillip Wm. McKinley's production. From the very first scene of them putting on their jeans to the prison-yard climax, Team Odenkirk was hilarious, captivating, and effective.
Adam Sanders, The Hunchback of Notre Dame, Spotlight Theatre (Rochelle). Sanders captivated my attention from the moment he appeared on-stage and became Quasimodo, and between his passionate acting and spectacular vocals, I couldn't take my eyes off him. He used every part of his body to ring that oppressive bell and made me truly feel sorry for his alienated character.
Trevor Vanderzee, The Full Monty, Timber Lake Playhouse (Jeff). Vanderzee's take on the perpetual schemer Jerry was great fun, as was watching the actor keep his energy high while bringing the character's guard (or, in this case, G-string) completely down. This rowdy production was enhanced by Vanderzee's machismo vocals and reliable comedic timing, making Jerry a priceless low-rent Chippendale.
Featured Actress
Melissa Anderson Clark, A Chorus Line, Quad City Music Guild (Madeline). In director Harold Truitt's production, Clark's "At the Ballet" performance was a beautiful highlight. A true triple-threat (masterful at singing, acting, and dancing), Clark, simply put, rocked. Six months later, I'm still mad that she wasn't a part of the "final eight" cast in the titular chorus line.
Pamela Crouch, Some Girl(s), Playcrafters Barn Theatre (Mark). Crouch's thoroughly enjoyable portrayal of Some Girl(s)' Lindsay was a textbook example of mature sensuality. Poised and confident while simultaneously intimidating and vulgar, Crouch dominated the stage as she gleefully turned the tables on our protagonist and exposed his intentions for the shallow BS they truly were.
Kelci Eaton, Cabaret, St. Ambrose University (Mike). Student theatre, understandably, can't always provide age-appropriate casting. But I'd challenge any 50-to-80-something to match graduating senior Eaton's edgy, altogether beautiful portrayal of Fräulein Schneider, a role enacted with wit, weariness, and late-in-life romantic pluck. Plus, with a nod to Cabaret's raunchiness, Eaton sang the sh-- out of her songs.
Rachel C. Vickers, Mame, Quad City Music Guild (Rochelle). Mame combined big-band music with big voices – such as that of Vickers, whose sultry pipes and sassy delivery as bosom buddy Vera Charles was outstanding. Vickers had exceptional comedic timing, impressed me with her natural acting ability, certainly stole more than one scene, and was the ultimate sidekick.
Megan Warren, Miracle in Bedford Falls, Quad City Music Guild (Jeff). Bringing soulful vocals and an unexpected amount of humanity to the role of Mary Bailey, Warren proved herself an extraordinary QC-theatre talent. As I was unable to take my eyes off her throughout the performance, I believe that every time Megan Warren sings, an angel should get its wings!
Featured Actor
Chase Austin, Baby, Black Box Theatre (Jeff). Personifying a free-spirited 20-something may not seem like a stretch for a young, talented actor. However, Austin's nuanced, comedic turn as a surprised soon-to-be-dad was fresh, witty, and heartwarming, and his ability to portray a character so genuinely, with such vulnerable tones, made him a standout in this engaging production.
Jonathan Grafft, Escanaba in da Moonlight, Richmond Hill Barn Theatre (Mike). Playing the irrepressibly motor-mouthed, powerfully flatulent, poetically funny, delightfully incomprehensible Jimmer Negamanee in Richmond Hill's 2011 Escanaba, Grafft gave one of those rare area-theatre turns that quickly becomes legendary. I, however, unfortunately never saw it, and have waited seven long years for another opportunity. Grafft's legendary status is wholly deserved.
Jeremy Mahr, All the Great Books (Abridged), Spotlight Theatre (Madeline). Owning the room with a booming voice and larger-than-life personality in his role as Coach, Mahr's sizable presence drew your eye, and his comedic timing and command of the stage made him impossible to ignore. Director Brent Tubbs picked the perfect person for the Cyclops bit.
Ben Senneff, Forever Plaid, Timber Lake Playhouse (Rochelle). Portraying Smudge, Senneff was one of my favorite performers in all of 2018 – a multi-talented young actor who can do impersonations, play the piano, and belt a song like nobody's business. My focus was always drawn to him on-stage, sometimes simply because he shines.
Tom Walljasper, Mama Won't Fly, Circa '21 Dinner Playhouse (Mark). Walljasper managed to take mediocre material and transcend it while delivering the evening's most sidesplitting moments … and did so without uttering a word. Whether it was his duck-walk on acid or his tiny-stepped, hip-shaking speed-walking, Walljasper's moves would've made the Minister of Silly Walks green with envy.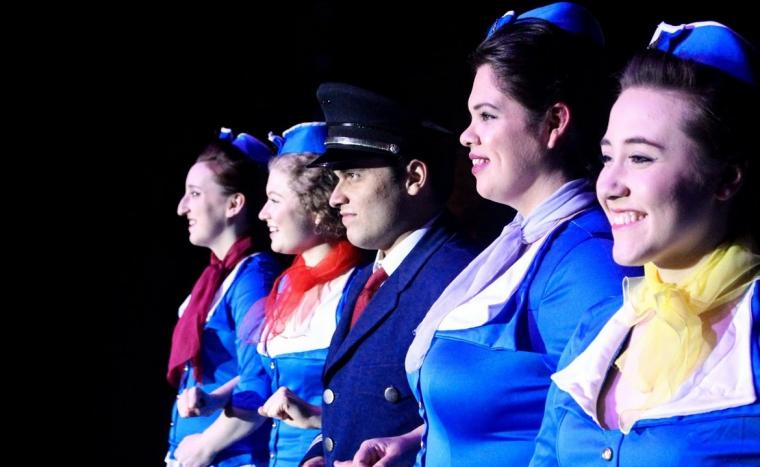 Costuming
Bailey Hager, Catch Me If You Can, Quad City Music Guild (Madeline). Designer Hager deserves many, many accolades for all her hard work, as the show's ladies' chorus almost never appeared on-stage in the same costume more than once. Ranging from hospital scrubs and lab coats to officewear, the wide variety and sheer volume of Hager's costumes was incredibly impressive.
Gregory Hiatt, Mamma Mia!, Circa '21 Dinner Playhouse (Mike). I've been dazzled by my longtime friend Greg's work for literal decades. So if you'll allow me a personal message: Dude. The blazing color schemes? The bell-bottoms? Erin's silver boots? Jeff March's Miami Vice ensemble? "Lay All Your Love on Me"?! I hope designing this was a well-earned blast.
Gregory Hiatt, Pinocchio, Circa '21 Dinner Playhouse (Rochelle). Hiatt hit a home run with some of the most colorfully creative costumes I've seen in ages. I especially adored his fancy balloon-vest design for the Balloon Seller and the bright-red ensemble that our narrator Antonio was decked out in. The show bubbled over thanks to Hiatt's playful wardrobe.
Connie McGinn, Shrek: The Musical, Quad City Music Guild (Jeff). With all the well-known costumes created from scratch, McGinn wins the prize for color, fun, organization, artistry, and volume. Clearly, she had a lot of assistance from many talented and dedicated seamstresses. It took a great visionary, though, to lead every single cohesive stitch through this fractured fairytale.
Rebecca Holcomb, Cabaret, Clinton Area Showboat Theatre (Mark). Yes, it's true: Holcomb's costuming was the most revealing of the shows I've reviewed this year. But that's not the only reason it's my pick. From her suits to her skirts and dresses, Holcomb's costuming was period-perfect, with even the band performing in fishnets and/or drag.
Scenic/Lighting Design
Lora Adams, Sleuth, Black Box Theatre (Mark). Adams' set design oozed loving detail without being cluttered – allowing the audience a glimpse into the character of Andrew Wykes before the actors took the stage – and then utilized every inch of the space to great effect. Special tip-of-the-hat to Erin Churchill for the Jolly Jack mannequin.
James Kyle Davis, Steven P. House, Jesus Christ Superstar, Clinton Area Showboat Theatre (Rochelle). Although the Showboat's stage is an intimate one, scenic designer House did a fantastic job augmenting multi-level platforms with staircases, making the production more visually interesting. And Davis' exquisite lighting effectively set the tone with beautiful silhouettes of the cross and purple hues surrounding the actors.
Mike Skiles, Escanaba in da Moonlight, Richmond Hill Barn Theatre (Madeline). The deer camp that director/designer Skiles created for his production of Jeff Daniels' comedy transformed Richmond Hill's unique theatre-in-the-square space completely. Every rustic, mismatched detail appeared thought-out, and I especially loved the way the theatre's entrances were transformed into walls featuring mounted deer heads.
Brent Tubbs, The Hunchback of Notre Dame, Spotlight Theatre (Mike). Truthfully, it would've felt like a waste of the space if the Spotlight's first musical in Moline's Scottish Rite Cathedral wasn't Hunchback. But co-scenic and lighting designer Tubbs delivered delights and surprises far beyond the venue's perfection, with a set that made Quasimodo's rescue of Esmerelda equivalent to Disney's.
Erica Zaffarano, Annie, Circa '21 Dinner Playhouse (Jeff). I really enjoyed Zaffarano's thinking outside the box on this one. Instead of creating a more "traditional" scenic plan for Annie, her hinged design opened, closed, and expanded, revealing surprises at nearly every scene change. The geometry alone was mind-boggling, and Zaffarano's colorful artistry superb.
Music/Sound
Big River, Mississippi Bend Players (Rochelle). Big River's music was phenomenal – what an invigorating score! – and the vocalists were topnotch. I've always loved the songs "River in the Rain" and "Muddy Water" in particular, and Quinn Rigg and LaRon Grant delivered inspiring renditions of both, blending their voices so they were smooth as butter.
A Chorus Line, Quad City Music Guild (Mike). I can give music director Amy Trimble and sound designer Sam Schelly no higher compliment than to publicly thank them for finally allowing me to hear and comprehend every Chorus Line lyric through exquisite vocal guidance and tonal blend. The show being sung so deliriously well was practically a bonus.
Dead Man's Cell Phone, QC Theatre Workshop (Mark). From director Thomas Alan Taylor's opening scene, Micah Bernas' original score helped set the performance's tone, punctuating a soothing, banal Muzak track with the jarring, obnoxious ringing of the titular corpse's cell phone. While never obtrusive, Bernas' score beautifully augmented the play's themes. Not an easy task.
The Drowsy Chaperone, Augustana College (Madeline). Augustana's Brunner Theatre stage was full to the brim, and the sound of 34 cast members made for an especially lovely night thanks to music director Michelle Crouch. Their record-skipping performance in the song "Toledo Surprise" was a hilarious highlight in a simply glorious-sounding production.
The Full Monty, Timber Lake Playhouse (Jeff). I love David Yazbek's score, and know the music inside and out, so I was exceptionally pleased with Lena Gabrielle's music direction and how the cast and orchestra nailed the industrialized-jazz style. Adding sound designer Jacob Almanzar's nearly perfectly balanced microphones, their partnership really put the "full" in this Monty.
Memorable Moment
The Ad Lib, Bingo! The Winning Musical, Playcrafters Barn Theatre (Jeff). Part of the thrill of live theatre is seeing what happens when something doesn't go as planned, and when Bingo's pre-recorded soundtrack failed to play for Sondra Karben's big solo, she delightfully performed the entire song a cappella, ad-lib-ing mid-dance step, "This would all be much better with music!"
The Ensemble, Elegies for Angels, Punks, & Raging Queens, Augustana College (Mike). While watching 21 ethnically, culturally, temperamentally diverse student talents act and sing their hearts out in this moving musical lament for those suffering from AIDS, I felt hopeful about the state of Augie theatre in particular, and collegiate theatre in general. I also felt kinda hopeful about the whole world.
The Experience, Beginner's Luck, Mississippi Bend Players (Mark). This past August, I got a small glimpse into what it'd be like to be a professional actor. An original script. A Broadway director. A state-of-the-art venue. A very short rehearsal schedule. A brilliant cast. Exhilarating. Terrifying. Humbling. And playwright PJ Lasker? The nicest man anyone has ever met. Ever.
The Hound, Baskerville: A Sherlock Holmes Mystery, Timber Lake Playhouse (Rochelle). It was my first time seeing a show at Timber Lake, and I was greatly impressed with the talent and special effects in Baskerville. But its most memorable moment was the arrival of the huge, Muppet-like hound with glowing red eyes that eerily appeared from the depths of the moors.
The Projector, Prometheus Bound, Genesius Guild (Madeline). I didn't realize how impressive it was that George Cornelius – who wore a mask – managed to project his voice over the night's extreme fireworks until I recalled my struggles in hearing mask-less actors under far less challenging circumstances. Director Michael Callahan chose wisely in casting his Prometheus.