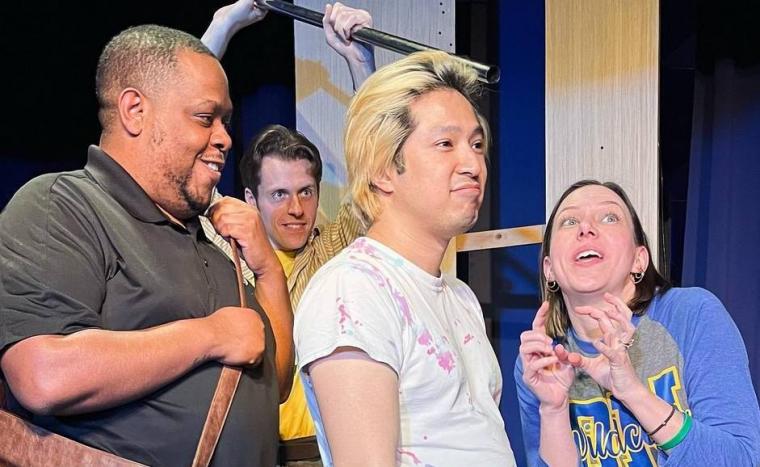 Sunday, June 11, 7:34 p.m.
The Black Box Theatre, 1623 Fifth Avenue, Moline IL
June 6 update: Following the closing of Davenport's Mockingbird on Main venue, Haus of Ruckus was forced to abandon its planned June 2 through 11 run of Funkyology. The show, however, will go on for one night only on June 11, which company co-founders T Green and Calvin Vo announced via social media:
This Sunday at the Black Box Theatre, we are performing an acoustic version of our latest play Funkyology. Our set, props, costumes, and puppets were all lost, but that's nothing that a whole lot of cardboard can't fix. While we lost one production many others lost their homes and livelihoods, donations will go to those affected by the collapse. Come see this unplugged version of the latest Johnny Fungus adventure. At the Black Box Theatre. 7:34 p.m., doors open at 6:59 p.m. Donation only! Proceeds go to those affected. If you would also like to donate directly to those affected, we have collected links to gofundmes and put them on our link tree https://linktr.ee/hausofruckus. If there are any to add, please DM or e-mail us!"
The following interview, slightly altered from its original form, was first published on Wednesday, May 24.
In describing their latest Johnny-and-Fungus adventure, the comedy Funkyology, Haus of Ruckus co-founder T Green says that the show "is sort of like our homage to Indiana Jones, The Goonies, Lara Croft, and National Treasure, with sprinklings of Legends of the Hidden Temple." But in case you were wondering whether Green's latest stage endeavor alongside Ruckus co-founder Calvin Vo was timed to coincide with the big-screen Indiana Jones & the Dial of Destiny opening at the month's end, Vo has a simple answer for you: "No."
As Vo states, "We had formulated the first scene of Funkyology a year-or-so ago, and hadn't heard there was going to be a new Indiana Jones movie yet. This was just always on the burner, and it finally made it to this season. And then after we had started officially, fully writing the show, someone was like, 'Oh, there's a trailer for a new Indiana Jones movie!' We had no idea."
Green adds, "I mean, we also took some inspiration from a Scooby-Doo movie. Like with anything we do, we sort of have a vibe, and then we will pull from references we already knew – which in this case were the interesting scenes from Indiana Jones. Which are, overall, about 15 minutes of the screen time."
"Indiana Jones spends a lot of time, like, on a motorcycle or on a tank," says Vo. "I didn't realize that until we re-watched those movies."
Regardless of your feelings toward the Indiana Jones series, Funkyology is sure to give Haus of Ruckus fans more of what we've loved and laughed at since the company's "Jacques"alope debut at the Mockingbird in the fall of 2021 – the first production to showcase Vo's and Green's stoner-slacker best buds Johnny and Fungus.
In Funkyology, says Green, "Calvin's character Johnny is really into this fake-history channel … which may or may not be a reference to a real-life History Channel that may often play fake history. And he watches this particular program about ancient aliens and how they may or may not have invented music, and how they may or may not have driven Maseratis. He gets the chance to send in $7,000 to win a contest to visit the ancient city of New Jersey, where he can hang out with the host of the show. And that sees Johnny and Fungus exploring this ancient temple and sort of uncovering the secrets of these aliens inside, as well as tracking these other characters who are all after the treasure together.
"There are some mercenaries," Green continues, "there's a professor who knows what he's doing, there's a boom operator … . And then, inside, they find some puppets, and all sorts of fun things.
"It's sort of making fun of that whole type of History Channel type of programming. When ratings were dipping, they started pulling out shows that were like: 'Are ancient aliens living among us?!' Shows that are less actual history than start with 'Did aliens do this? If so, this is what happened …!' Forty-five minutes of hypotheticals being treated like they were real."
"We sort of picked this subject," says Vo, "because of the whole underpinnings of 'Science is hiding this from you! The government is hiding this from you!' A lot of those underpinnings become sort of sinister and creep into other parts of culture in ways that aren't helpful. Where stoner talk becomes actually hazardous, I think. We wanted to poke fun at that."
"But when we do satires," adds Green, "it's never heavy or biting. It's just something silly that we take to a sillier degree, and we sort of laugh at it."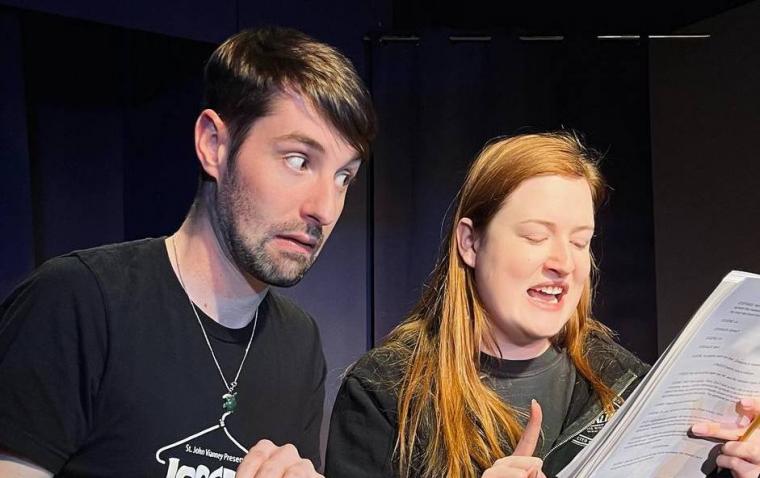 Funkyology does mark a first for the company, as it's the first Haus of Ruckus comedy to receive financial assistance from a Quad City Arts "Arts Dollars" grant, a program supported by the Illinois Arts Council Agency and the Hubbell-Waterman Foundation.
"We applied for the grant," says Vo, "because we were looking into how to continue in a sustainable way. Because we like to pay our actors, and we like the sets, and having tech that looks and sounds good – and all those things cost money. So we applied for it as a shot in the dark. Because we're sort of weird people. We didn't know what they were looking for, what they were looking to support, what they already supported … . But we put together an application and sent in a letter, and they responded really well.
"The money is supporting our entire mainstage season," Vo continues. "That's the project that they're funding. Part of the application is sending them a budget for the things you need funding for. So we figured out our whole season, figuring out how much we would need, and thought whatever we could get would be great. We've had a lot of communication with them, and thanks to them, it's been a real … . Windfall? Is that the right word? I mean, it's such a relief to not feel like we're going to have to compromise the quality of this or the quality of that."
While financial aid of this sort is new for Haus of Ruckus, Funkyology also brings with it a dose of the familiar, as the company is again staging one of its comedies – it's fifth to date – at the Mockingbird after staging Are We There Yeti? at St. Ambrose University earlier in the year.
As Green says, "There was definitely a feeling of going back to a familiar place, and as I was directing this one, I was happy to block for a stage that I already knew. But I think knowing we were going back to the Mockingbird also influenced the number of characters we knew we could have for this one, and also the amount of scenes we could have."
"It's sort of fun, too," continues Vo, "to try your muscles out by working in one space and then a different space, because the sizes of the spaces are always a kind of puzzle. Like, 'Okay, same stories – but how do we fit them in this space, and under these tech elements?' It's a neat challenge."
"When it's me and Calvin," adds Green, "with our beautiful height differences, it's always a challenge to figure out where we can stand and weave around each other."
As always, Vo and Green will reprise their roles as Johnny and Fungus in Funkyology, and also as usual, they'll be joined by a number of area talents with previous Haus of Ruckus credits: Amelia Fischer, Sarah Goodall, Max Robnett, Isaac Smith, Jo E. Vasquez, David Weaver, and Keenen Wilson. Joining this ensemble in his first Haus of Ruckus show is Race Bakeris, who first captured Green's attention as a fellow performer in ComedySportz Quad Cities.
"He was so funny," says Green of Bakeris, "and when we realized we had a role for him, we just made the offer and he said yes."
Adds Vo, "We were in rehearsal, and what's really nice is looking around knowing that everyone in the cast is someone I've seen on stage somewhere else and they've made me laugh. We're really grateful that they're willing to work with us, because everyone is an all-star in being funny and charismatic on stage."
"It's nice to have a cast of returning players but also slowly build the ensemble every once in a while," says Green, and I tell the Haus of Ruckus co-founders I agree, suggesting that they're becoming a Steppenwolf Theatre-like presence in that regard.
"Yeah," says Vo. "We do work with Gary Sinise."
Funkyology will be performed at Moline's Black Box Theatre on June 11 at 7:34 p.m., proceeds will be donated to those affected by the building collapse, and admission is "Pay what it's worth" ticket pricing. For more information on the comedy and the company is available by visiting Haus of Ruckus' Facebook page.