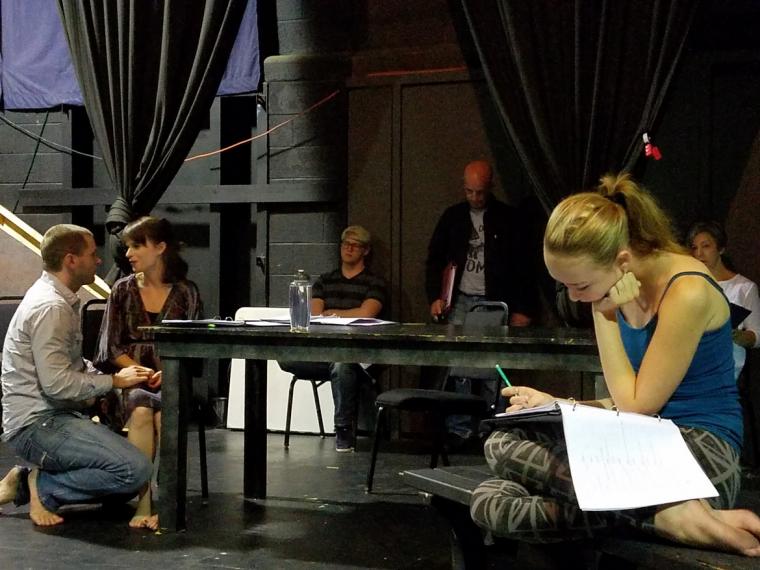 In the summer of 2013, Davenport's QC Theatre Workshop and local playwright Aaron Randolph III presented the world premiere of his one-act drama A Green River, the story of a young solider suffering from post-traumatic stress disorder whose tale is largely told through memories and flashbacks, not all of them shown in chronological sequence.
This summer, beginning on August 25, the Workshop will debut another world-premiere production in author Randolph's and director Tyson Danner's one-act Broken, a human-trafficking drama whose protagonist's journey is traced largely through memories and flashbacks, not all of them shown in chronological sequence.
"What I've thought of doing next," says Randolph during my recent interview with Broken's creators, "is writing a third play like this. Because then it's a series, and it doesn't seem like I'm just copying the same idea. It becomes a purposeful trilogy."
He's kidding. (Maybe.) But Randolph and Danner are absolutely serious about the challenge of their theatrical endeavor that opens the Workshop's sixth season – a play designed to addresses important, heart-rending subject matter, but one that, for the sake of audiences, must also avoid the traps of seeming didactic, preachy, exploitative, and/or depressing as hell.
"That was something we really keyed into," says Danner. "One of the things we didn't want to do was create a piece of documentary theatre. It couldn't be about facts and figures. It had to be a story. And while horrible things happen to people – and happen all the time, in all sorts of situations – there's always a hope to be found in a story as long as a character is alive and able to make choices. There are certainly dark moments in this, but it's going to lead to a hopeful place."
"My goal within the first minute of the play is to get people laughing," adds Randolph, "so they immediately understand that this isn't going to be like a death march. I mean, yes, it's a very heavy subject, and it deals with dire consequences. But it's a lot like A Green River in that it explores the breadth of a character's life so that we can step out of that darkness and find other moments where there's hope and happiness and joy."
The concept for Broken originated not long after the 2013 debut of A Green River (a production I was fortunate enough to appear in), and coincided with the release of the documentary short Any Kid Anywhere: Sex Trafficking Survivor Stories by area filmmakers Kelly and Tammy Rundle, both of whom serve on the Workshop's board of directors. (The film can be viewed through the Rundles' Fourth Wall Films Web site at FourthWallFilms.com.)
"Tyson and I talked about it and thought that was a really intriguing subject to write about," says Randolph. "And for me, any time I learn about something and my preconceived notions prove to be just really wrong, that's something I want to explore."
In regard to sex trafficking, Randolph says one of his biggest preconceived notions was "the idea that this doesn't happen here. It's easy to think that trafficking is something that only goes on in big cities or third-world countries. But it happens all the time in areas like the Quad Cities," partly because, as Danner adds, what constitutes sex trafficking extends far beyond the realm of sensationalism.
"I think the average person thinks of it as one-off and bizarre – like a serial killing. 'Oh, what a weird, unique event!' But in reality, it's not uncommon for a boyfriend/girlfriend relationship to turn into human trafficking," as Broken examines in its tale of a teenage girl forced, via threats and extortion, into becoming a paid sex worker.
"Human trafficking is more than just someone getting abducted and locked in a basement somewhere," says Randolph. "And I felt that what really needed to be explored is the kind of trafficking that, from the outside, tends to get ignored because it looks almost consensual, or looks like the woman's fault.
"I think it's easy for people to go, 'Oh, that woman is a prostitute either because she wants to be doing that or because she's made bad life decisions, and this is what she deserves for her stupid choices.' Or they ask, 'Why doesn't she just leave that situation?' But there are other chains beyond physical chains. And that's what we wanted to explore – the circumstances that would keep someone bound to that kind of situation."
After a couple of years spent with their project on the back burner, Randolph and Danner were finally ready to press forward with Broken in spring 2016. It was at that point that they made contact with Cathy O'Keeffe, executive director for the Quad Cities' Family Resources program Braking Traffik, a bi-state alliance dedicated to eradicating human trafficking through education, legislative advocacy, and community partnerships.
"We knew we wanted to do research on the subject and have the writing come out of that," says Randolph. "So we went to Cathy and basically said, 'Here's what we're thinking: We'd like to write this play, but we really need to get in touch with resources, and Braking Traffik has the resources. So if you can provide some and help us develop the play, we'll write it, and you can use it as a fundraising tool for your organization."
"And Cathy was gung-ho from day one," says Danner. " She was like, 'Great! Let's do it! Let's take it around the country!' And we were like 'Oh my God ... we've actually got to write it now!'"
Randolph and Danner applied for, and received, a grant from the Regional Development Authority that would help cover production, performer, and crew fees, and began assembling a team that would eventually include stage manager Lis Athas and Broken's cast: Jessica Denney, Laila Haley, Michael King, Keenan Odenkirk, Jennifer Popple, and Thomas Alan Taylor. But the actual writing of the play wouldn't begin until earlier this year, and only then after a great deal of research and improvisation.
Danner explains that early in the rehearsal process – which began months before there was anything to rehearse – everyone involved was asked to read as many books and articles on sex trafficking as they feasibly could. "We'd all kind of go away and read all this stuff on our own," he says, "and then when we came back together, we'd share what we read – 'Oh, I read this amazing thing, so everyone be sure to check this out.' And then we'd go away again."
"But we also had a few interviews," adds Randolph. "We met with some folks from Braking Traffik. We met with an examining nurse at Trinity who works with women who report sexual assault. We got in contact with an FBI agent who investigates human trafficking, and Lis conducted an interview with her. So between that and reading and documentaries, we had a lot of information we were able to pull in."
And as with A Green River, improvised scenes among cast members were employed to help shape Broken's script – even though that process did come with inherent challenges.
"There weren't any preconceived ideas of who these characters were going to be, or what kind of archetypes they were going to be," says Randolph. "But the hard part of that ... was that without a strong idea about the character, it was easy to fall into stereotype – the stereotypical girl, the stereotypical pimp.
"So we finally just decided to embrace the stereotypes, even if they were wrong, and we'd sift out the bad from the good later. Because at one point, we found ourselves trying so hard to fight against the stereotypes that it almost became a way of acknowledging the stereotypes, and we were like, 'What are we doing here?'"
"But this group is talented enough, and had done enough background research, that it never got too clichéd," adds Danner. "As soon as we gave them the freedom to do whatever they wanted, they created all these kinds of whole, genuine, honest characters. So we'd try an improv where a girl's at a mall, and she meets a boy who's going to become her first boyfriend, and there'd be this funny, delightful scene. Or we'd set up a scene with the victim who's been prostituted by her quote-unquote 'boyfriend,' and they're living out of a hotel where her only solace in life is drawing, and the actors would take that and really go with it."
"So little snippets from those improvs made their way in," says Randolph, "plus some important lines that I think are really critical to the play. And the actors are especially great at adding humor. Like Keenan is just a funny guy by nature, so you wind up keeping some of his stuff just because it's so funny."
As both Randolph and Danner understand, Broken needs moments of levity in such a frequently harrowing tale, with some of them designed to come from the nature of the show's presentation.
"I find that when you're trying to explore the entirety of a character's life, it's really hard to do that chronologically in a way that's not kind of boring," says Randolph with a laugh. "So aside from committing to the humor of the play, what we're trying to do is not obfuscate the subject, but use theatricality to make it all more engaging. So we have the humor, we have flashbacks, we have Jess Denney and Laila Haley playing the same character at different ages ... ." He laughs. "I refuse to do 'normal' theatre!"
"Statistics are great," says Danner. "But statistics aren't emotional, and they're not personal. So hopefully what we're doing with Broken is giving people some awareness of its topic, but also some understanding on a very personal level.
"And from the start," he continues, "we were all really fascinated by the concept of resilience. When you hear firsthand accounts from trafficking survivors, they all seem to have this one thing in common: being able to reach back into their past, or reach inside themselves, to find something – a memory, a belief – that's still very pure that they can hold onto for strength. And I think that speaks to everyone. Regardless of where you're at in your lives, if you can hold onto that, you can make your life better."
"Hopefully people will walk away from this with a hopeful message," adds Randolph. "That even in the darkest of situations, there's still possibility, and you don't have to be stuck forever."
Broken runs at the QC Theatre Workshop (1730 Wilkes Avenue, Davenport) August 25 through September 10, with 7:30 p.m. performances Friday and Saturday and 3 p.m. performances on Sunday. For more information and tickets, call (563)823-8893 or visit QCTheatreWorkshop.org.
For more information on Family Resources' Braking Traffik program, visit FamRes.org/services/braking-traffik.