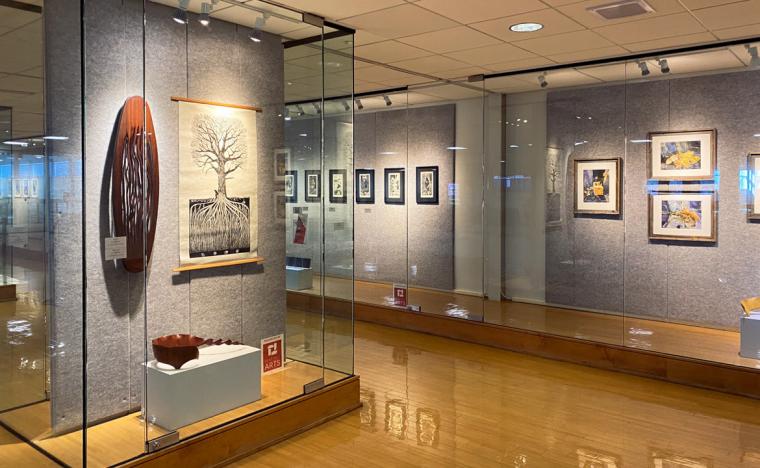 Through Tuesday, July 4
Quad City International Airport Gallery, 2200 69th Avenue, Moline IL
No fewer than four gifted Midwestern artists – two based in Iowa, two in Illinois – are currently showcasing beautiful works at the Quad City Arts International Airport Gallery through the fourth of July, with the collective exhibition Boros, Hatchet, Schneider, & Stratton housing woodblock prints by Gabriella Boros of Skokie, Illinois, wood reliefs by William Hatchet of Ankeny, Iowa, stitched textiles by Barbara Schneider of Woodstock, Illinois, and wood sculpture by Jay Stratton of Bettendorf, Iowa.
Boros is a Jewish-American artist whose work focuses on the ties between humans and plants. Her woodblock prints use the stark contrast between the white and black of the prints to convey her message. This series in particular focus on the complex role of plants in the microcosm of this world. It depicts plants acting as healing agents, as a reflection of human societies, and expands ecological needs to the animal world. Boros states, "I have a fascination with the simplicity of woodblock printmaking, its stark imagery, the beauty of line and pattern are challenges that I embrace."
Hatchet is a self-taught wood artist, originally from Chicago, whose wall-mounted wood reliefs explore a balance of somber and subdued with sleek and sharp. Inspired by the textures, character, sense of weight, and history of man-made objects, Hatchet's work utilizes different carving, painting, and staining techniques to create his textured and geometrical designs. The artist is fascinated with the various, non-verbal ways that humans have documented the collective knowledge from their daily lives and significant events. Documenting, for the well-being of future generations and to be remembered by them, is a significant and emotional process. Through his work, Hatchet aims to recognize this process and honor how collective knowledge impacts human development.
Schneider is a textile artist with ongoing interests in the Japanese concept of Wabi-Sabi, finding beauty in things that are imperfect, impermanent, and incomplete. Her current series of stitched textiles are an interpretation of traditional still life paintings through creating small, intimate interpretations using personal objects and Schneider's collection of boro fabrics, boro essentially being the practice of using a simple running stitch to reinforce a textile item using spare or would-be-discarded scraps of fabric. Each artwork is an exploration of color, texture, and form in a way to make the viewer see nature with new eyes.
Stratton is a wood sculptor of more than 30 years, beginning in construction and later becoming a full-time woodworker, and his work is often described as wood ribbons as his sculpture captures the feel of ribbons in the breeze. Alongside the ribbon sculptures is high polish sanded furniture with natural edges, with both styles aiming to bring out the natural beauty of the wood Stratton uses to heighten its aesthetic qualities. As the artist explains, "When someone asks me how long something took to make, like my ribbon forms, it can't be measured in hours or days. It has taken a lifetime of experience, developing skills and techniques, as well as failures, to create a work of art."
The Quad City Arts International Airport Gallery is located opposite the airport's gift shop and restaurant, there is a $1 fee for parking, and more information on the Boros, Hatchet, Schneider, & Stratton exhibit on display through July 4 is available by calling (309)793-1213 and visiting QuadCityArts.com.