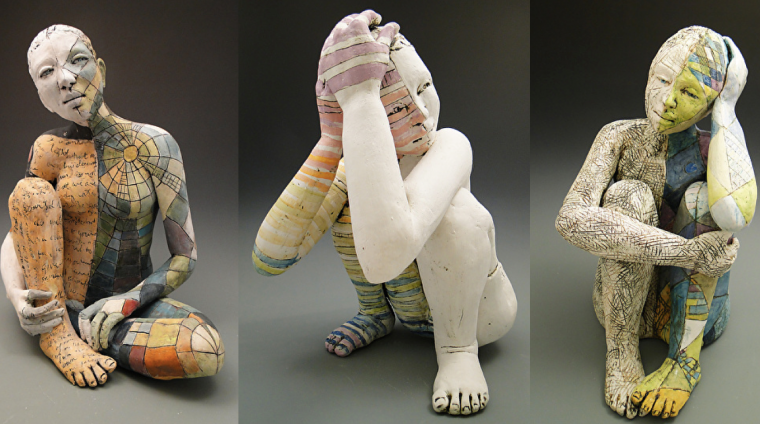 Wednesday, November 1, through Sunday, December 31
Quad City International Airport, 2200 69th Avenue, Moline IL
For its final exhibition in the 2017 Arts @ the Airport gallery series, Quad City Arts presents works by a trio of Midwestern artists: landscape paintings by Annawan's Broadbent and Rockford's Gates, and ceramic sculpture by West Des Moines' Lewis.
Broadbent's gestural and interpretive landscapes employ line and color to show movement and evoke emotion, and as the artist states at BroadbentArt.com, "I enjoy how lines, shapes, colors and texture combine to make my eyes move around the piece of work. I also love that a combination of colors can make a piece of work or section of that work jump out at you and grab your eyes.
Gates' structured and geometric paintings are created with heavy, vigorous brushwork applied thickly to give what she calls a "sensuous, tangible quality of mass" to the suggestion of landscape and atmosphere. Her collection in the Arts @ the Airport exhibit is titled Landscape: A Portrait of the Artist, and as the artist explains in her RhondaGatesPaintings.com mission statement, "The experience of being immersed in the landscape evolves into a contemplative, almost spiritual experience for the viewer."
Lewis expresses common threads of the human experience through clay, using the figure, imagery, and gesture as powerful narrative tools in her ceramic sculptures. "Working with clay allows me to create a world in which a story can unfold," says Lewis in her LindaLewisArt.com mission statement. "I work with the human form because while the figure can be approachable, the presentation of its inner psyche is infinitely complex. The pieces become a bit like three dimensional watercolors – fluid, textural, and spontaneous – providing enough details to draw the viewer in but leaving individual interpretation."
For more information on the combined Broadbent/Gates/Lewis exhibition, call (309)793-1213 or visit QuadCityArts.com.